Canadian singer accuses Apostle Suleman of impregnating her
- A big scandal has rocked the Omega Fire Ministry church
- The founder, Apostle Johnson Suleman has been accused of extra-marital affairs leading to pregnancy
- The lady, Stephanie Otobo, is suing the pastor for a sum of N500 million as damages
A Canadian based musician, Stephanie Otobo has accused founder and leader of Omega Fire Ministry, Apostle Johnson Suleman, of impregnating and dumping her.
Otobo, who goes by the stage name, Kimora has enlisted Nigerian top law chamber, Festus Keyamo chambers to help in her lawsuit against the Suleman, Sahara reporters report.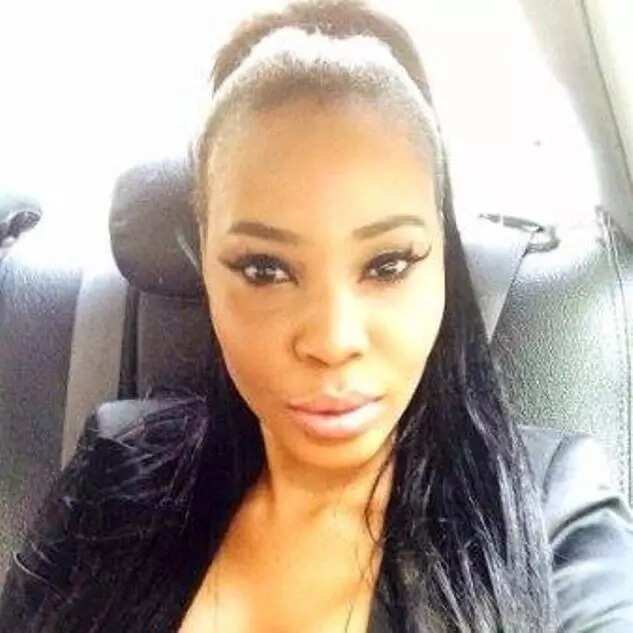 Festus Keyamo chambers, in a letter to the Inspector-General of Police, said Otobo was arrested on March 3 at a United Bank of Africa (UBA) branch by heavily armed policemen from Federal Criminal Investigations Department (FCID), Alagbon, at the Anthony Village area of Lagos. She has since been in detention, where she has been denied food and visitation by her lawyers.
READ ALSO: List of courses offered by University of Calabar in 2018
According to Keyamo chambers, Suleman and Otobo met in September 2016 when she visited Nigeria and the Apostle allegedly told her he has divorced and needed more male children.
Apostle Suleman reportedly proposed marriage to the girl and went on to meet her family members for introductions.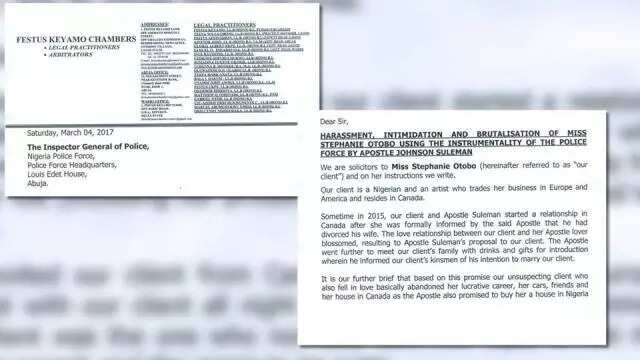 On the occasion of her introduction, Apostle Suleman took along drinks and gifts and informed Miss Otobo's family in Delta state of his desire to marry their daughter.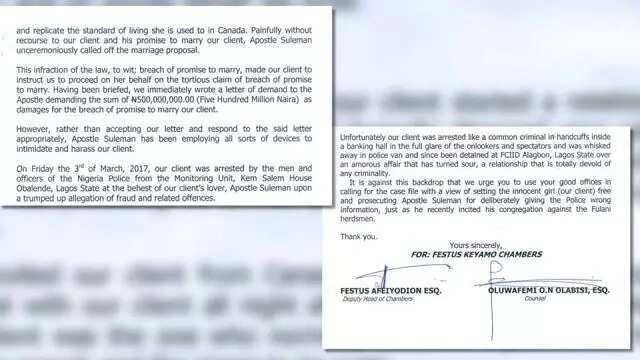 Otobo allegedly moved back to Nigeria after the introductions with the mind that her marriage to the man of God is forthcoming.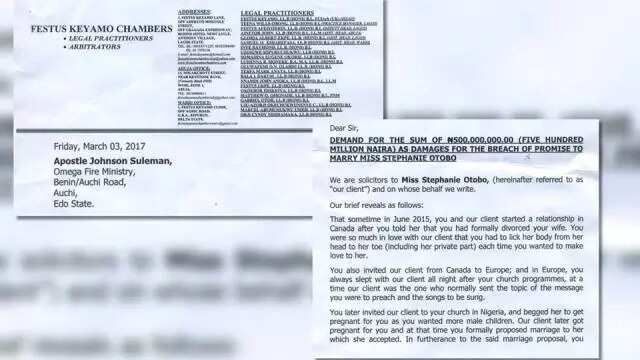 When Otobo eventually informed Suleman that she was pregnant for him, the Apostle was reportedly angered by the news and feared the scandal that would follow it.
Suleman allegedly demanded that she has an abortion and proceeded to give her a local concoction to drink, which led to her bleeding profusely.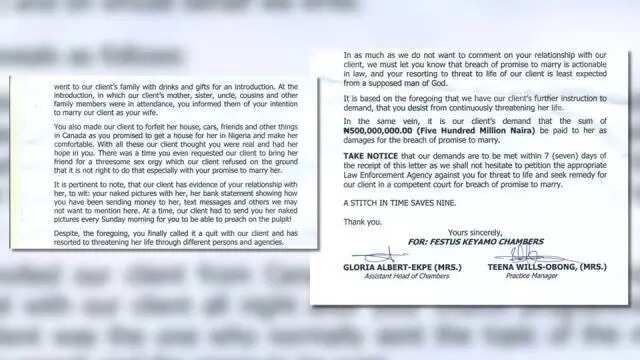 The Apostle reportedly abandoned her after this and cancelled the marriage plans. which led Otobo to report him to a Pastor in Warri, Delta state.
The pastor in Warri recorded Otobo's story and started using it to extort money from Apostle Suleman.
After Otobo returned to Nigeria, Apostle Suleman allegedly called her to apologised her invited her back to Nigeria. when she returned, he paid some money into her bank account reportedly in a bid to silence her.
Otobo returned to Nigeria and while trying to withdraw the money paid into her account by Apostle Suleman, she was arrested by the police on the orders of Suleman.
Miss Otobo, through her lawyers, warned Apostle Suleman that she has their naked pictures together, raunchy text messages, bank statements, and other implicating items.
They lawyers disclosed that Miss Otobo used to send naked pictures to Apostle Suleman every Sunday, just before he went on the pulpit.
Otobo through her lawyers has now demanded Suleman to pay her N500 million as damages for not honouring the marriage agreement between them.
Otobo through her lawyers has also demanded that Suleman stop harassing her and threatening her life.
Her lawyers have given the preacher a seven-day ultimatum to meet the demands or get reported to law enforcement agencies for the threat to her life and face trial for breaching the promise to marry her.
Meanwhile, South south chapters of CAN and PFN recently affirmed their support for Apostle Johnson Suleman, over his recent alleged inflammatory statement which pitted him against DSS.
The national vice president PFN (South-South), Bishop Simeon Okah, who briefed newsmen following a closed door meeting said Christian leaders will no longer fold hands and watch while Christians are being killed.
Source: Legit.ng