Emir Sanusi pushes for bill to prevent poor men from marrying many wives
- The Emir of Kano, Muhammadu Sanusi has said he will propose a law that will restrict poor men in the emirate from marrying many wives
- Sanusi said he has established connection between polygamy, poverty and terrorism
- He said he would make sure that a law would be passed by the state government to ban such moves by men who would not be able to cater for many wives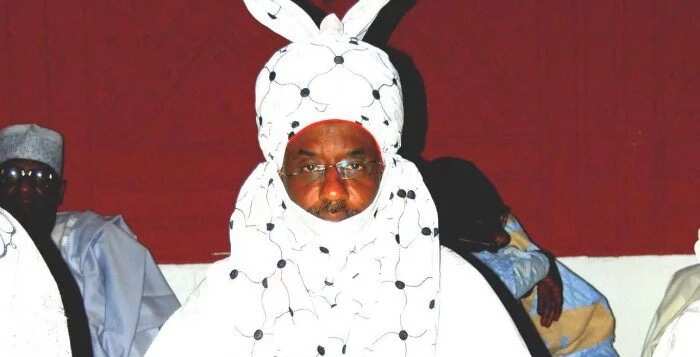 The Emir of Kano, Muhammadu Sanusi has said he will propose a law that will restrict poor men in the emirate from marrying many wives.
While speaking in Abuja on Sunday, February 19, at the 50th anniversary of the death of Ambasador Isa Wali, a former Nigerian High Commissioner to Ghana, Sanusi said he has established connection between polygamy, poverty and terrorism.
He said he would make sure that a law would be passed by the state government to ban such moves by men who would not be able to cater for many wives.
READ ALSO: President Buhari's medical vacation is affecting Nigeria's politics - Report
He said the law would be passed to immortalize the late ambassador who was one of the first northern leaders to advocate for gender equality.
Sanusi: "Those of us in the North have all seen the economic consequences of men who are not capable of maintaining one wife, marrying four. They end up producing 20 children, not educating them, leaving them on the streets, and they end up as thugs and terrorists."
"It is perhaps a tribute to Mallam Isa that today, as I speak, in the palace in Kano a sub-committee of scholars, which I set up and has been working for about a year, is finalizing the final sections of a family law we intend to introduce in Kano which will address some of the issues that Mallam Isa was concerned about," Sanusi said.
Sanusi said the law will address the law will address the real position of Islam on marriage., outlaw forced marriages and make domestic violence illegal.
READ ALSO: UPDATED: Osinbajo in crucial close door meeting with Okorocha, Emir Sanusi
He also said it willput conditions to be met before any man can marry a second wife and spell out the responsibilities of a father beyond producing a child
"It is a big law which covers a whole range of issues from consent to marriage, to maintenance to divorce, to maintenance of children and inheritance. It will be the first time in northern Nigeria that a Muslim law on personal status will be codified," Sanusi said.
The Emir said while there is nothing wrong with polygamy, women must be given the opportunity to thrive.
Source: Legit.ng