Fresh crisis between Fulani herdsmen and Benue farmers
- New crisis has erupted between Fulani herdsmen and Benue farmers
- Five Benue farmers have been reported dead and several others injured
- Most residents of the disturbed community have fled their homes
A fresh crisis between Fulani herdsmen and Idoma farmers at Okpokwu local government in Benue on Tuesday, January 3, has left no less than five people dead and several others injured.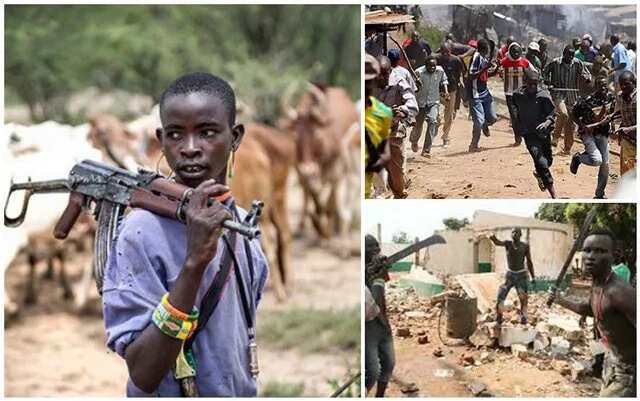 READ ALSO: Why Fayose has reduced governance to lies
According to Punch, an eyewitness, who craved anonymity said that the herdsmen besieged the area on Tuesday with a large number of their cows which grazed indiscriminately on farmlands in the community.
The eyewitness said: "Our people went to their farms on Tuesday morning only to discover a large number of cows and herdsmen grazing and destroying their farms.
"The people tried to stop them but the herdsmen resisted them and in the process attacked and inflicted many of the farmers with machete wounds.
"The people were forced to flee their farms, and later today (Wednesday, January 4, 2017,) they mobilised youths of the community to chase the herdsmen out of their farms not knowing that the invaders were armed with sophisticated weapons.
"Unfortunately in the ensuing fracas, the herdsmen opened fire on the local farmers leaving about five of them dead and many sustaining varying degrees of injuries.
"As I speak with you many of the wounded have been taken to hospitals in the local government area while the remains of those found dead have been deposited at the mortuary. Many are still missing and unaccounted for.
"Many of the people have also fled their homes for fear of being killed by the well-armed herdsmen."
Less than a year ago, more than 100 people were killed in a similar clash between Fulani herdsmen and Benue farmers.
READ ALSO: Fayose writes CJN over alleged plot to sack him as governor
When contacted, the state police Public Relations Officer (PRO), ASP Moses Yamu, said he had yet to get details of the incident.
Meanwhile, David Umaru, the senator representing Niger east senatorial district, has revealed that bandits and Fulani cattle rustlers killed 400 people within the region in 2016.
According to Umaru who briefed journalists on the deteriorating security situation in the crises-ridden area, on Wednesday, January, 4, in Minna, the bandits defiled and abducted several women and girls, while thousands of livestock were rustled.
Watch a video of Benue leaders lamenting the invasion of Fulani herdsmen:
Source: Legit.ng