- The Indigenous People of Biafra (IPOB) have sent a key message to its members
- IPOB wants its members to remain steadfast
- The group believes its agitation for Biafra will pay off soon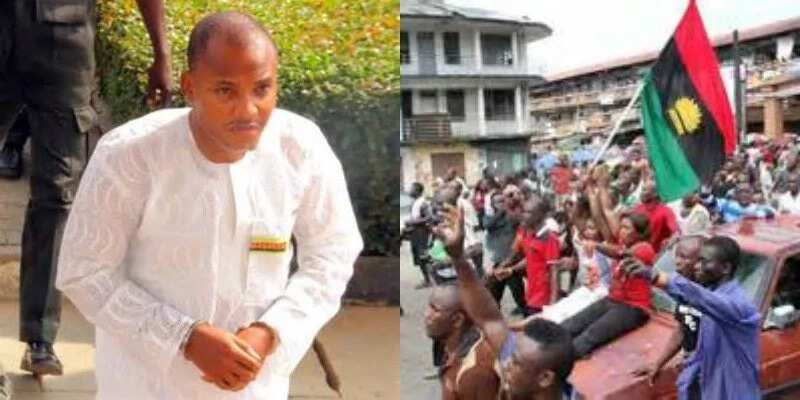 The Indigenous People of Biafra (IPOB) have asked its members to remain steadfast in their agitation for a sovereign state of Biafra.
The group urged its members to be mentally and spiritually strong in the struggle, adding that freedom fighting is not a child's play.
In a statement sent to Legit.ng and signed by its spokesman, Powerful Emma, IPOB reiterated its commitment to making sure Biafra becomes a reality.
Part of the statement read: "Freedom fighting is not a child's play, if one is not mentally and spiritually strong or has the toughness to stay the course that person is advised to stay away.
"We are hitting the target and we want to restore Biafra to stop the suffering of this generation and those unborn from the hands of Hausa Fulani Islamic fundamentalists.
"The mission of IPOB is to get Biafra regardless of the human and material cost. We want a nation of free people where our people will be unshackled from the chains of slavery.
"We IPOB wish to clarify again that there will be no talk of negotiation until our leader prophet Nnamdi Kanu and other IPOB members detained illegally are released unconditionally as two courts of competent jurisdiction have ruled in Abuja."
The group however restated its resolve not to resolve to violence no matter the provocation from federal agents.
"Nevertheless, as long as anyone or group of people are genuinely and wholeheartedly fighting for the freedom of our people we must expect some challenges.
"Our leader prophet Nnamdi Kanu is making his own sacrifices for the sake of 70 million Biafrans worldwide. We the followers of his gospel of restoration of Biafra must make our own sacrifices in one way or the other in order for Biafra to come.
"With our peaceful approach, IPOB will continue to expose the corrupt edifice that Nigeria has become internationally. No aspect of this corrupt enterprise will be left unchallenged because we are all over the world with a potent media to drive home our message.
"IPOB will maintain the non-violent approach come 2017 as long as the shoot to kill policy of Buhari is put to an end. We shall continue to peacefully protest and agitate for our freedom and that of our leader.
"Nigeria will never know peace until all those illegally kidnapped and detained are released and an international panel of enquiry constituted to investigate the various massacres carried out by the Nigerian Army at the orders of Buhari," the statement concluded.
Meanwhile, IPOB recently listed its conditions for peace talks with the federal government.
They are:
1. Buhari must release the leader of IPOB, Nnamdi Kanu, along with other Biafran detainees.
Other political detainees including Ibrahim Yaqoub El Zakzaky and Sambo Dasuki must also be released.
2. Buhari must announce a date for Biafrexit Referendum, and
3. Buhari must convene a public inquiry into the massacre of IPOB family members as documented by Amnesty International.
In a related development, The Imo state governor Rochas Okorocha has said that the lack of peace among past leaders and families led to discord among Nigerians.
Speaking at a Christmas service at Holy Trinity Catholic Church in Ideato South, Imo state, Okorocha said families fail to preach peace to members and thus the emergence of various agitating groups in the country.
He said: "If peace and love had flown from the families in the country since the nation's independence there would not have been the Civil War or Boko Haram or IPOB or Niger-Delta Avengers"