On Tuesday, December 13, a Federal High Court sitting in Abuja approved an application made by the Nigerian government to protect witnesses in the trial of Nnamdi Kanu the leader of the Indigenous People of Bifara (IPOB).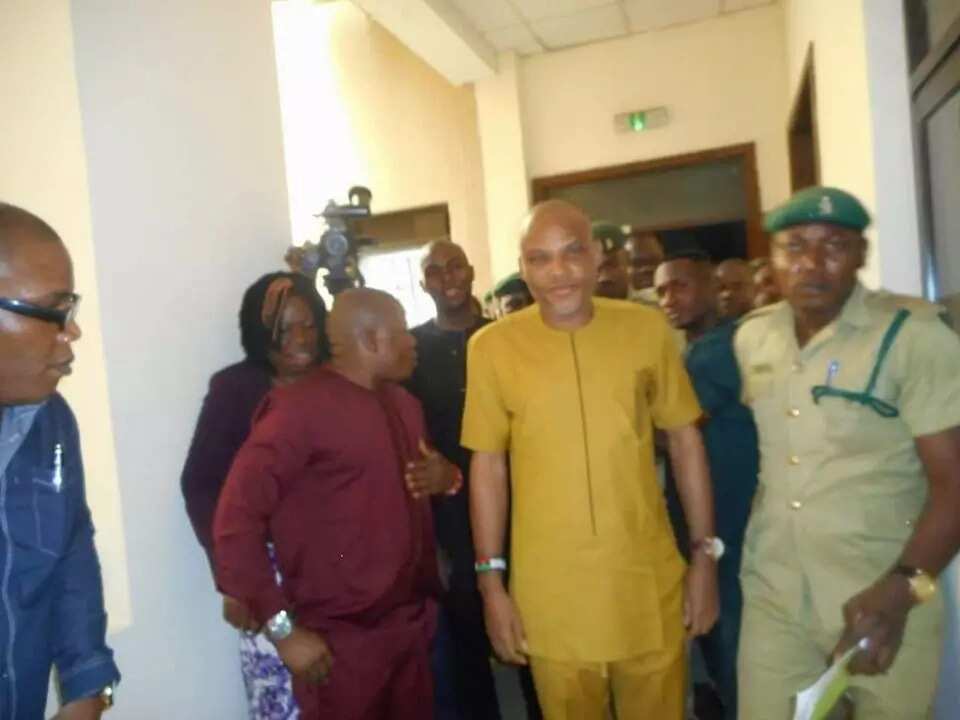 The judge over the case Binta Nyako in her ruling said the witnesses will protected behind a screen that would be provided by the court.
At the ruling, many supporters of the IPOB leader were seen – some protesting, others grumbling at the judge's ruling.
However, some other group of supporters – over 10 of them - were seen around the court premises in an unusual dressing.
READ ALSO: JUST IN: Nnamdi Kanu's secret trial, judge under FIRE!
These supporters dressed in Jewish robes and led by a man who simply identified himself as 'Nwa Chineke' meaning son of God in Igbo, a tribe in Nigeria said, they were Jews from the South-East region of Nigeria.
However, denouncing Christianity, the popular religion practised in the region, Nwa Chineke said: "This is the dressing of my forefathers before they fell into apostasy; we are not Christians, we are Yahudis."
"It is Christianity that led us into this slavery till today, we are messianic Nahodim, go to the 613 laws of Moshe, that is tutora, that is our tradition; check all of them one after the other," Nwa Chineke said.
READ ALSO: Secret trial: 5 things Nnamdi Kanu said about Buhari, number 2 sounds ABOMINABLE (video)
"Christianity came and told us that we are no longer under the law, and for that reason, we inherited and incurred the curse of Yahweh Elohim in Dueteromony 28," he said.
"And we have gone back to that, this is the regalia I am putting on, I am an Israelite by birth, from the tribe of Gaad...
See photo below: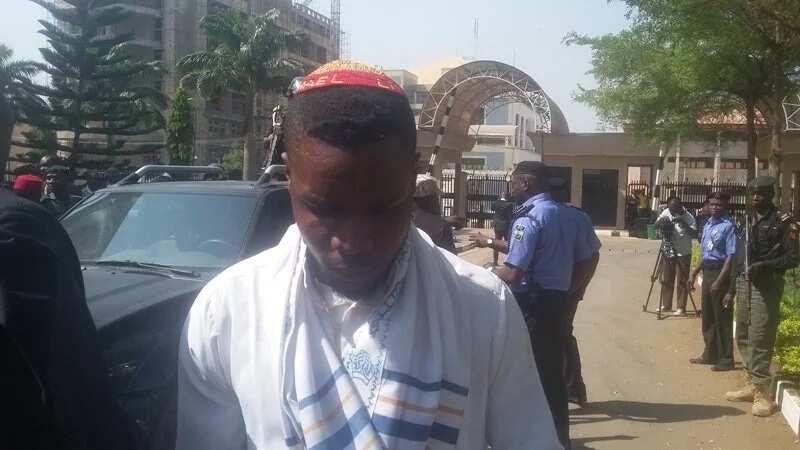 "And we also have other tribes... the people they call Ijaws are the 'Ephrayim', from the descendants of Ephraim," he said.
Meanwhile, the IPOB leader has vehemently rejected the ruling by the Federal High Court.
Kanu said he cannot be subjected to a secret trial especially when all allegations against him were made before the public.
Watch video below: