Army declares 46 soldiers missing after Boko Haram attack
- The Nigerian Army has officially notified families of one officer and 45 soldiers that their loved ones are nowhere to be found
- The Army was said to have sent notice to all Army bases across the country to notify them of the inability to find 46 of the 83 soldiers initially declared missing after a Boko Haram attack weeks ago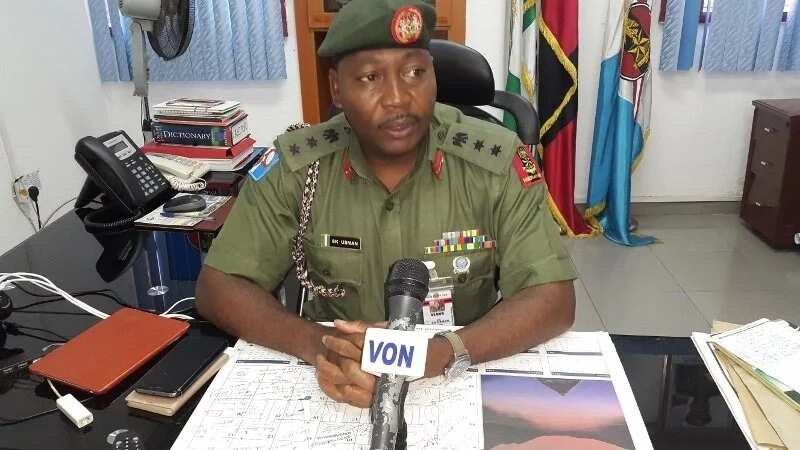 The Nigerian Army has officially declared 46 soldiers missing following a Boko Haram attack on their base in Gashigar, Borno state around five weeks ago, Premium Times reports.
The Army is said to have just officially informed the families of one officer and 45 soldiers and has asked their loved ones to send in the bank details of their next of kin for 'remittance of accrued payments'.
READ ALSO: Nigerian soldier steals bullets to spend 18 months behind bars
Premium Times quotes sources as saying that a notice containing all these were sent by Lieutenant-Colonel Jimoh, the new commander of the Nigerian Army 145 Task Force Battalion in Damasak, Borno state.
He was said to have informed all Army bases from where the 83 soldiers initially declared missing came.
He sent the signal to the 145 Battalion rear base in Ohafia, Abia State and also copied the Army 7 Division Headquarters in Maiduguri and 82 Division Garrison in Enugu, 5 Battalion in Kano; 20 Battalion in Serti, Taraba State; 103 Battalion in Enugu and 119 Battalion in Malam Fatori, Borno state.
READ ALSO: Nigerian Army denies kidnapping and murdering pastor in Rivers state
Also copied were 143 Infantry Battalion for Special Forces in Borno state; 144 Battalion in Asa, Abia State; and 146 Battalion in Calabar.
Premium Times reports that the missing troops were on deployment in Gashigar located on the northernmost edge of Borno state as part of the 'Operation Gama Aiki' aimed at displacing insurgents hiding around Nigeria's border with Niger and Chad.
Legit.ng recalls that the insurgents reportedly stormed the camp on Monday, October 17, wounding 13 soldiers and taking away several number of soldiers.
According to a statement made by the army on Wednesday, October 19, an operation to get back the missing soldiers is still ongoing as the army has gone after Islamic extremists that attacked the camp.
Source: Legit.ng