Governor Udom Emmanuel sacks 5,000 teachers
- Governor Udom Emmanuel has sacked at least five thousand teachers in Akwa Ibom
- The governor cites lapses in their recruitment processes as the reason for their sack
- Udom assures affected persons who have the necessary qualifications of been considered at the commencement of fresh recruitment
Governor Udom Emmanuel of Akwa Ibom state has sacked at least five thousand teachers in the state, Premium Times reports.
According to the report, the affected teachers were recruited under the administration of Godswill Akpabio, former governor of the state.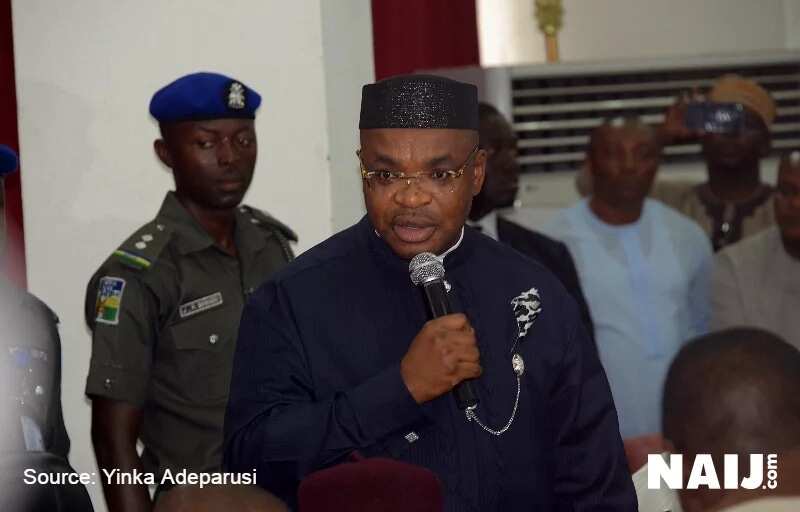 READ ALSO: Akwa Ibom gov reveals God asked him to sack commissioners
It was gathered that the governor decision to sack the teachers comes on the heels of lapses noticed in the recruitment process of the affected teachers.
Governor Udom said that fake appointment letters were issued to the teachers who were not qualified.
He said: "It was discovered that the syndicate which had since been apprehended was involved in printing fake letters of appointment and fake school certificates at outrageous amounts ranging from 150,000 to 200,000 naira.
"Even the bible says if the foundation is not right, what can the righteous man do? We have tried to see how we could get something out of that recruitment process, but believe me, the foundation was very faulty.
"If we are putting people to teach our children, please let us leave sentiments apart and go for the right people. We need to make sure they went through the right process and have the right qualifications."
However, the governor assured affected persons who have the necessary qualifications of been considered at the commencement of fresh recruitment.
He said: "We are assuring the 5,000 people that they need not worry, when we are calling for aptitude test, you need not re-apply, just walk into the venue of the exercise with that appointment letter and justify that you are qualified to teach our children."
The cancellation of the teacher's appointment was first announced few days ago by the Head of Civil Service in the state, Ekereobong Akpan, before the latest remark by the governor.
It is believed to be an unexpected blow to the affected teachers who for about two years now have been putting pressure on the government to assign them to public secondary schools across the state.
Source: Legit.ng