Russia Will Attack Other Countries, Zelensky Warns World Leaders
Vladimir Putin will not stop only in Ukraine, President Zelensky says as he sent message to world leaders
The Ukrainian president said this while asking western countries to impose a no-fly zone in Ukraine
He said this must be done because missiles are hitting civilian structures including universities and pediatric clinics
Ukrainian President Volodymyr Zelensky warned Western countries that the war will not stop at Ukraine -- and an attack on freedoms there will affect the rest of the world.
During an interview on ABC World News Tonight with David Muir on Monday, Zelensky again highlighted the need to secure Ukraine's airspace -- something he has urged the US and NATO to help do, to no avail.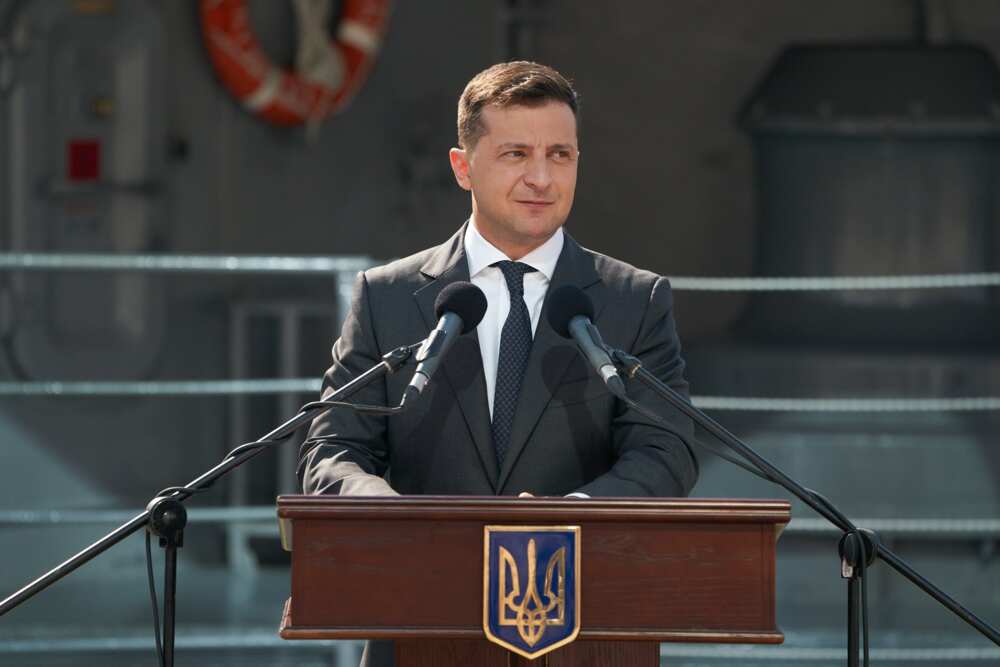 "We cannot allow Russia to be active there only, because they're bombing us, they are shelling us, they are sending missiles, helicopters, jet fighters -- a lot of things," Zelensky said. "We don't control our sky."
He added that he believes US President Joe Biden "can do more" to stop the war. "I am sure he can and I would like to believe that. He is capable of doing that," Zelensky said.
Do you have a groundbreaking story you would like us to publish? Please reach us through info@corp.legit.ng!
The US stance: The US and NATO oppose creating a no-fly zone in Ukraine, warning that such a move could lead to "full-fledged war in Europe." Russian President Vladimir Putin said Saturday countries imposing such a no-fly zone would be considered to be participating in the conflict.
On Monday, the White House said Biden remains firm in his commitment to keep US troops out of the conflict.
Zelensky's response: The Ukrainian president said missiles were hitting civilian structures including universities and pediatric clinics. If a missile is flying overhead, "I think there is no other answer ... they need to be shot down. You have to preserve lives," he said.
And he warned the war would affect the rest of the world:
"Everyone thinks that we are far away from America or Canada. No, we are in this zone of freedom. And when the limits of rights and freedoms are being violated and stepped on, then you have to protect us. Because we will come first. You will come second. Because the more this beast will eat, he wants more, more, and more."
Amid Russia's invasion, Ukrainian, 17 others receive huge award in Nigeria
Meanwhile, Legit.ng reported that amid the intensified invasion of Ukraine by Russian military troops the country seems not to be deterred in its effort to shine bright in the film industry. Olesya Morgunets-Isaenko from Ukraine won the award for Best Picture in the film Carol of the Bells at the Women's International Film Festival Nigeria (WIFFEN 2022) on Saturday, March 5.
The award ceremony which took place at the International Conference Centre in Abuja was organised by Girls Voices Initiative's Girl Nation Academy in partnership with the French Embassy's PISCCA Program and other partners.
All the ambassadors of various countries in Nigeria who were present at the event including the French Ambassador represented by Rafael Pont, head of cooperation and cultural affairs at the embassy and Esmond Reid, the Jamaican High Commissioner to Nigeria received the award on behalf of Morgunets-Isaenko.
Foreign minister finally reveals Nigeria's position
In another report, the Nigerian government finally revealed its position on the Russian war against Ukraine.
Foreign affairs minister, Geoffrey Onyeama, said the Nigerian government does not condone Russia's invasion of Ukraine.
Onyeama added that the Nigerian government would act in accordance with the United Nations.
According to him, the Buhari-led administration will comply with UN resolution should sanctions be imposed on Russia.
Source: Legit.ng