Top 10 Richest Countries in the World: See Where Your Country Ranks
If you're wondering how rich your country is compared to others, take a look at this list of the top 10 wealthiest countries.
Countries with the highest G.D.P.s in the world rank high on many people's lists of desirable places to live and visit, but what about those most successful at creating wealth?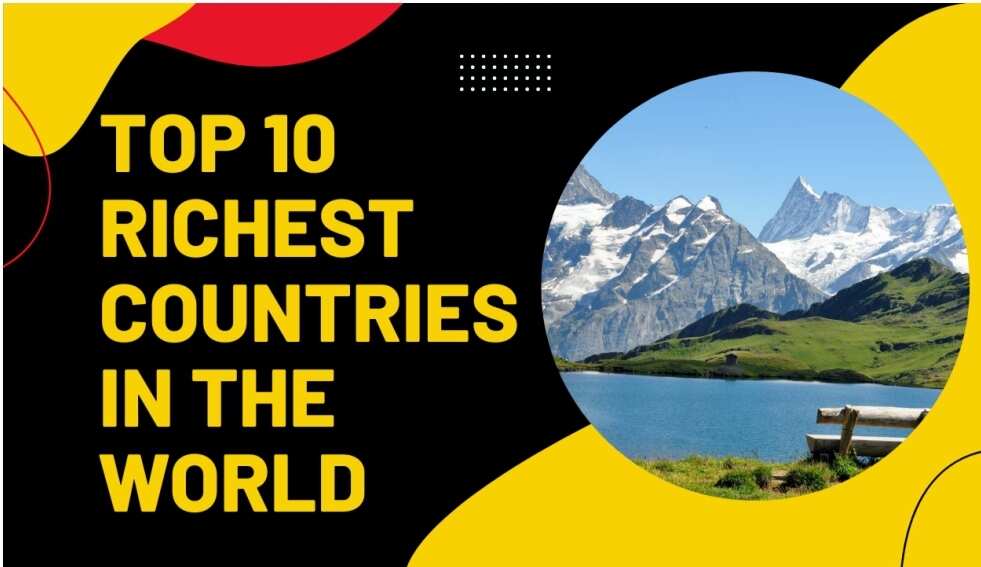 To determine which countries are richest in terms of G.D.P. per capita, we calculated G.D.P. (P.P.P.) based on purchasing power parity (P.P.P.), which is an estimate of the relative value of a country's currency that takes into account the price level in the country compared to the rest of the world. Get Latest Nigerian Music here.
In this post, we will talk about the ten wealthiest countries globally, starting with the least. Be sure to read through below.
Top 10 Richest Countries in the World:
10. Switzerland
This country is home to some of Europe's most expensive cities, but it's still relatively affordable compared to its neighbouring countries.
The cost of living here is 11% higher than America's average. Despite being one of the world's wealthiest countries, Switzerland has a low tax rate and offers generous social services, including free childcare and education for all children until age 16.
It also boasts an unemployment rate of around 3%, well below America's current 5%. In other words, you don't need to be rich to live in Switzerland, but if you are rich, you'll probably like it here.
Switzerland is one of the happiest and wealthiest countries globally, their home to German, French, and Italian-speaking citizens, living peacefully and thriving together for over 800 years.
While there are downsides, like the country's high cost of living, expensive products and services, and the Swiss Frank's very high value with a high conversion rate to other currencies, people stream to Switzerland to engage with this country through business or tourism.
Switzerland is often regarded as the best place for investment by those seeking such a place, a haven with strong economic growth, a stable currency, and great tax rates.
9. Australia
The ninth-richest country in the world, Australia has a strong economy and an even stronger history of business success. Recently it's been seen growth across several industries, including tech and mining.
Today, Australians have an average G.D.P. per capita of $59,904 (USD), making them some of the wealthiest people on Earth. Australia has 24 million people and is geographically located within South East Asia.
The country's largest city is Sydney, with a population of 1.5 million people, making it top marks for one of the most densely populated areas in Oceania.
The other major cities are Melbourne, Brisbane, Perth, and Adelaide. Aussies enjoy free education up to Year 12 (high school) and free healthcare services through Medicare.
And while they may not be among the richest countries in terms of income equality or wealth distribution, their national life expectancy at birth is almost 83 years old, which puts them ahead of many countries by more than two years!
It's also worth noting that Australia was recently ranked as one of the happiest countries in the world to live in!
8. United States
The U.S. remains one of the richest countries in the world, with a per capita G.D.P. of $65,279.5.
The country's diverse economy makes it a major trading partner with many nations across the globe.
Americans also enjoy some of the highest average incomes globally, although low taxes mean relatively high-income inequality. Land of opportunity indeed.
With its rich supply of resources and the largest economy globally, the United States can spend more money than any other country. They export oil and gas for-profit and sustain a very large and rapidly growing economy.
A country with virtually no state-owned enterprises and an economic system that shields investors. Their law is always fair.
It also attracts talented people worldwide to try and earn a fortune, making it one of the top countries where wealth is not shared equally.
7. Norway
Norway is home to $375 billion worth of natural resources, has a population of 4.8 million, and generates about $260 billion per year.
Much of its wealth comes from Norway's approximately $900 billion-worth oil and gas reserves.
It exports nearly 1.5 million barrels of oil every day, netting it $40 billion per year.
The Scandinavian country also gets over $2 billion each year from other industries like aluminum production, shipbuilding, and hydropower plants. Its unemployment rate has remained steady at around 4% since 2012, but its economy grows quickly.
In 2017 alone, Norway reported a G.D.P. growth rate of 3% at about $67,978.7. It also had an average annual inflation rate (of 1%).
Norway boasts a top-rated standard of living on Earth and is also ranked among the best nations in human development, with its advanced education systems, universal healthcare, and different social security systems.
Norway also possesses large oil and gas reserves, including natural gas, crude oil, seafood, lumber, minerals, and freshwater, which allow it to lead the world economy while also securing its prosperity in the future. Norway has been collecting fortunes with exports like petroleum since the 1970s.
The government provides free education for its citizens, and parents teach their children the importance of productivity in school.
Being busy with work is an important part of Norwegian culture, and if citizens are not engaged in work, they are unhappy. Telecomms and technology form the bedrock of Norway's main sectors.
With unemployment and poverty at 3% and 0.5%, respectively, it's not hard to see why Norwegians can count themselves lucky and affluent.
Although Norwegians spend a lot on necessities in Norway, they do a good job investing back into their economy while retaining their spending power thanks to high wages.
6. Germany
Germany is famous for its beer, but it's also one of Europe's biggest economies and has a population that ranks among some of the wealthiest countries in Europe.
A large part of that wealth can be attributed to Germany's export-driven economy, which relies heavily on manufacturing goods such as automobiles and medical instruments for sale worldwide.
And with a stable government that emphasizes research and development, it's not hard to see why Germany has become one of today's richest countries.
When measured by G.D.P. per capita and living standards, Germany is seen as one of the world's richest countries and also the world's biggest exporters.
As Europe's largest manufacturing economy, Germany exports various goods like automobiles, chemicals, electronics, and machinery.
5. United Arab Emirates
The United Arab Emirates has a gross domestic product (G.D.P.) of $406 billion and is one of the richest countries in G.D.P. per capita at $69,957.6.
The U.A.E.'s economy relies heavily on oil, which makes up almost 30% of its G.D.P.; however, it also diversifies to encompass industries such as construction, banking, and tourism.
Dubai is an example of a wealthy city within The U.A.E., making approximately $60 billion from tourism alone each year!
At one point, the pearl industry dominated this country. In the Trucial States, from the 1770s until the late 1930s, pearl-diving was once a hobby before it became a significant source of income for the people living in the small villages.
Fortunately, having established some of the most luxurious resorts globally, Dubai, along with the rest of the country, has moved on to tourism. They are investing in tourism through ongoing growth and popularity.
Finding oil in the late 1950s sparked tension between Abu Dhabi and Dubai citizens, with the latter claiming more of the oil fields.
However, Sheikh Rashid bin Saeed Al Maktoum, ruler of Dubai, saw the potential for success and took out loans worth tens of billions of dollars to reinvest in Dubai's infrastructure in 1958.
As the state began to recover, Sheikh Rashid completed its first airport in 1960.
4. Iceland
The fourth-richest country, according to I.M.F. data, is Iceland. The island country has a G.D.P. of $20 billion and a population of just 300,000.
This G.D.P. per capita of $62,400 is nearly four times that of Iceland's neighbor Norway. A significant portion of Iceland's wealth comes from exports, particularly aluminum exports to the U.S., worth around a billion dollars each year to Icelandic businesses.
Additionally, with 320 natural thermal springs and more than half its electricity generated from renewable sources, it's easy to see why many consider Iceland an ideal tourist destination and a rich nation (with about 5 million tourists per year).
For example, as seen in 2007, nominal G.D.P. measured Iceland as the world's 7th most productive country and the 5th most effective regarding Purchasing Power Parity.
It is estimated that 85% of the country's primary energy supply is met with domestically produced renewable energy sources.
Thanks to hydroelectric and geothermal power, Iceland is one of the largest per-capita producers of electricity and one of the world's greenest economies.
Iceland's mixed economy is heavily dependent on the government's involvement, as well as on the strengthened rates of free trade.
Among the major industries of Iceland, tourism, manufacturing, aluminum smelting, fisheries, and agriculture are some.
Nevertheless, economic growth due to the increasing tourism market assisted Iceland's economic recovery in 2011. Incase you are reading from Nigeria, checkout Naija Celebrity News.
3. Qatar
Qatar's tiny Persian Gulf nation is a big player on several fronts. As an international finance hub,
it's home to two of the world's largest stock exchanges, accounting for billions of dollars in daily trades; and with a gross domestic product (G.D.P.) per capita of $124,400, more than seven times that of developed countries.
Qataris are also among some of the wealthiest people worldwide. This immense wealth can be attributed to oil and natural gas production and foreign investment by Qataris living abroad.
Qatari citizens earn more than twice what their Saudi Arabian neighbors make annually and have no income tax to pay!
According to research, fifty years ago, the peninsula off the eastern coast of Saudi Arabia, one of the region's wealthiest states, boasted almost no schools and just a small fishing industry.
Since the turn of the millennium, Qatar has moved on to oil production and then set itself up as one of the major natural gas producers in the region. After fifteen years and fourteen natural gas plants, Qatar has seen its G.D.P. growth exponentially increase from $30 billion to over $200 billion.
Qatar's G.D.P. growth is driven primarily by its natural gas reserves which exceed those of Russia and Iran and account for 60% of its total G.D.P.
After gaining independence in 1971, Khalifa bin Hamad overthrew his father and significantly increased spending on social programs, housing, health, education, and pensions, cutting back the Royal Family's allowances.
The country also has seen significant returns on investments in foreign brands, banks, and even the Paris Saint-Germain soccer team and real estate in London. Checkout latest Big Brother Naija Updates in Nigeria.
2. Singapore
Singapore sits atop Bloomberg's list of richest countries with a gross domestic product (G.D.P.) per capita of more than $101,936.7. The country is part of an economic bloc that includes Malaysia, Indonesia, and Thailand known as ASEAN (Association of Southeast Asian Nations).
Its position makes it a key area for business activity between China and India. Singapore is heavily involved in international trade; about one-third of its economy involves commerce.
It also benefits from a highly educated workforce. More than half its citizens have received at least some college education; by comparison, only 30% of Americans fit that description. One downside to Singapore? Due to high taxes and other factors, it's pretty expensive to live there.
Even though they had no natural resources, they turned their country into the second-richest in the world. Its central world hub for global financial services firms drives the economy.
Well-paying jobs are in manufacturing, service, transport engineering, and logistics, while electronics, biotechnology, and chemicals are the major exports.
1. Luxembourg
The G.D.P. per capita of Luxembourg is $120,962.2. The nation's economy is dominated by its role as a global financial hub.
Companies based there take advantage of relatively low corporate tax rates and a stable political environment to outsource their financial services to other countries.
And despite having only about 500,000 people, Luxembourg has consistently ranked at or near the top of worldwide well-being rankings for more than 20 years now, making them one of the richest countries in the world.
Thanks to initiatives like policies designed to attract foreign investment, it's not surprising that one of its biggest sources of revenue is money management.
Businesses with headquarters in Luxembourg are responsible for an estimated $3 trillion in assets under management from clients located all over Europe and around the world. You can also read about latest celebrities biographies here too.
Final Thought
Many countries worldwide are affluent, but which one can lay claim to being among the richest?
Some of you might be surprised to learn that while it's certainly true that wealth is concentrated in some places, other parts of our planet are much richer than we realize.
Here we just dropped a list of ten (well...maybe 11) of this incredibly richest country in the world you may not have heard about before. How rich is your country? Find out!
[SPONSORED]
Source: Legit.ng