NBA Africa to Host Second Edition of 'NBA Meets Art' in Nigeria
NBA Africa today announced that the second edition of "NBA Meets Art" – an invite-only evening reception bringing together industry leaders from fashion, music, art, business, and sports, curated to celebrate the game of basketball through the lens of Nigerian art and culture – will be held in Lagos, Nigeria on Saturday, Nov. 4.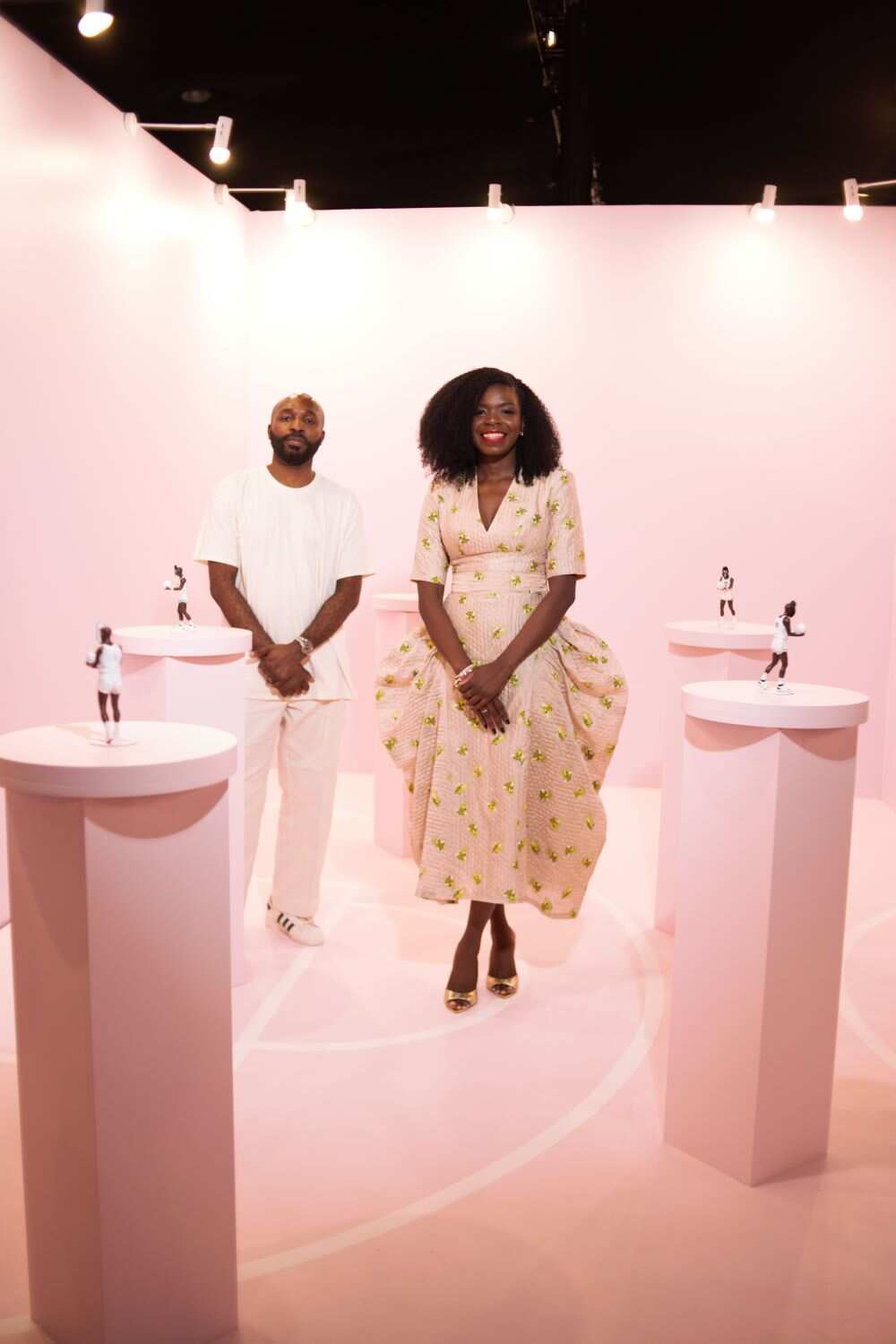 For this edition, NBA Africa will collaborate with Nigerian artist Dennis Osadebe to curate an installation titled, "Passing / Building / Victory," which explores the key role of teamwork on the court and how similar collaboration can help develop communities, aligning with the NBA's mission to inspire and connect people everywhere through the power of basketball.
The installation comprises of five figurines representing basketball players wearing the artist's distinctive mask, a recurring symbol in his visual language that speaks to Nigeria's basketball heritage. Drawing from the universal childhood memories of playing with toys, the figurines will be in dynamic motion, symbolically passing the ball through their unified, outstretched arms, encapsulating the spirit of victory through teamwork and emphasizing the importance of every person's contribution to the development, growth, and prosperity in their communities.
The installation will also be open to public viewing from Nov. 3-5 at the Balmoral Convention Center at the Federal Palace Hotel in Lagos as part of "ART X Lagos" 2023.
"We are excited to host the second edition of "NBA Meets Art" as we continue to use basketball as a tool to inspire and connect people across Africa," said Vice President and Head of NBA Nigeria, Gbemisola Abudu. "Given Nigeria's vibrant art scene, it was essential we create a platform to celebrate basketball through the lens of the country's rich heritage and culture. The theme of our collaboration with Dennis Osadebe – "Passing / Building / Victory" – specifically speaks to how we can use the teamwork displayed in basketball as inspiration when building our communities, which also aligns with the essence of our work in Nigeria and Africa."
The NBA's history in Nigeria spans more than five decades, dating back to when Naismith Memorial Basketball Hall of Famers Kareem-Abdul Jabbar and Oscar Robertson held basketball clinics in Lagos in 1971. There have been nearly 50 NBA players either born in Nigeria or with at least one Nigerian parent, including Hakeem Olajuwon, who was selected first overall in the 1984 NBA Draft and became the first African player to be selected first overall. In 2013, the NBA, ExxonMobil, and PanAfricare launched the Power Forward youth development program, which uses basketball to teach health literacy and life skills to secondary school students in Abuja. To date, Power Forward has reached more than 250,000 boys and girls across 40 schools. The NBA Nigeria office launched in January 2022.
About NBA Africa
NBA Africa is an affiliate of the National Basketball Association (NBA), a global sports and media organization with the mission to inspire and connect people everywhere through the power of basketball. NBA Africa conducts the league's business in Africa, including the Basketball Africa League (BAL), and has opened subsidiary offices in Cairo, Egypt; Dakar, Senegal; and Lagos, Nigeria. The NBA has a long history in Africa and opened its African headquarters in Johannesburg, South Africa in 2010. The league's efforts on the continent have focused on increasing access to basketball and the NBA through youth and elite development, social responsibility, media distribution, corporate partnerships, NBA Africa Games, an NBA Store, the BAL, and more. Last year, NBA Africa reached more than eight million youth across the continent through basketball development, life-skills programming and social media engagement.
NBA games and programming are available in all 54 African countries, and the NBA has hosted three sold-out exhibition games on the continent since 2015. The BAL, a partnership between the International Basketball Federation (FIBA) and NBA Africa, is a professional league featuring 12 club teams from across Africa that completed its third season in May 2023. Fans can follow @NBA_Africa and @theBAL on Facebook, Instagram, X and YouTube.
About Dennis Osadebe
Dennis Osadebe is a Nigerian multidisciplinary artist, based in Lagos. Osadebe's vibrant post-pop style is centered around the idea of reimagining Africa through the use of positive, provocative and progressive imagery, and narratives, forging a dialogue where tradition meets invention and innovation. Through juxtaposing elements of the past alongside the present, while utilizing his Nigerian heritage as a starting point, Osadebe places Africa in the context of the future and its limitless possibilities.
[Sponsored]
Source: Legit.ng