Match Official Suspended for Asking for Dortmund Star Erling Haaland's Autograph During Game
- Octavian Sovre was one of the match officials in the Champions League game involving Man City and Dortmund
- For this reason, the assistant referee was heavily criticized for asking Haaland for an autograph in the tunnel
- The Romanian referee committee has since suspended the official for this weekend's matches
PAY ATTENTION: Join Legit.ng Telegram channel! Never miss important updates!
The assistant referee who asked for Erling Haaland's autograph during the Champions League game between Dortmund and Manchester City has been suspended.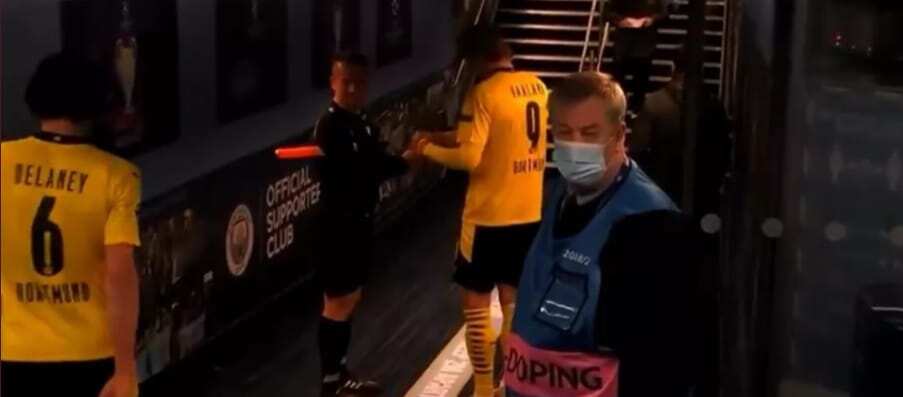 Haaland's signature is one of the most sought after in the world of football at the moment, with a number of clubs including Barcelona and Manchester City interested in the youngster's services.
The 20-year old certainly did some signing recently but it was for courtesy purposes solely for one of the match officials in the Champions League quarter final first leg which Manchester City won 2-1.
Romanian assistant referee Octavian Sovre's decision to risk it all to get a signature from one of the hottest properties in Europe has now come back to bite him.
Sovre earned a lot of criticism for his actions, with many branding it unprofessional to seek an autograph from a player whose team you officiated.
The Romanian referee's committee has now suspended him, and he won't be taking charge of any games this weekend in the Romanian league.
UEFA referees chief Roberto Rosetti UEFA referees chief Roberto Rosetti was among the first people to thoroughly criticize Sovre's actions with a brutal statement.
"You are responsible for your behaviour and that of your team members when on a UEFA mission," he started.
"UEFA has strived to get you respected as much as the players and you have helped with that by looking the part: athletic, commanding, respectful and professional.
"If you want to be respected as much as the players, why would you ask for their autograph or their shirt? Do they ask you for the same?
"This is simply unacceptable, this is a matter of dignity and don't forget about the number of TV cameras at UEFA matches - they catch everything."
Initial reports suggested that the autograph was actually for a good cause as Sovre intended to help raise funds for an autism charity.
Perhaps he was hoping thing would work out the same way they did when a stadium worker donated Cristiano Ronaldo's arm band, which has since been auctioned for a stupendous amount of money which all went towards the treatment of a six-month old.
Source: Legit.ng