Katsina State Governorship Election Results 2023: Live Updates as Announced INEC
The Independent National Electoral Commission (INEC) has commenced the final collation of results for the Katsina State governorship election at the Katsina State INEC office.
The top candidates are Nura Khalil (NNPP), Dikko Radda (APC) and Yakubu Lado of the PDP Results are expected from all 34 Local Government Areas (LGAs).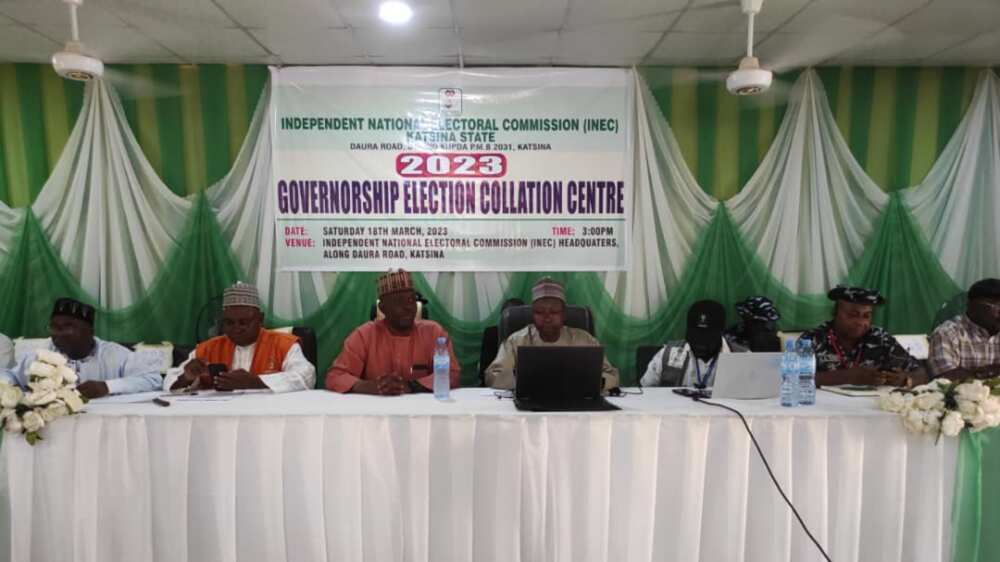 Follow Legit.ng's live updates of the results.
KATSINA GOVERNORSHIP ELECTION RESULT: Dikko Radda of APC WINS
After the collation of results from the 34 LGAs, Radda of the APC scored 859,892 votes to defeat his closest opponent, Senator Yakubu Danmarke, of the People's Democratic Party (PDP) who polled a total of 486,620
KATSINA GOVERNORSHIP ELECTION RESULT: DUTSIN MA LGA
APC - 23,878
PDP - 14,328
LP- 27
NNPP- 755
PRP: 924
SDP - 12
REGISTERED: 11,649
ACCREDITED: 40,902
VALID: 40096
REJECTED: 779
CAST: 40,875
KATSINA GOVERNORSHIP ELECTION RESULT: FASKARI LGA
APC - 27,366
PDP - 22,565
LP- 10
NNPP- 152
PRP: 20
SDP - 07
REGISTERED: 122,407
ACCREDITED: 51,218
VALID: 50,245
REJECTED: 524
CAST: 50,768
KATSINA GOVERNORSHIP ELECTION RESULT: KANKARA LGA
APC - 21,652
PDP - 27,984
LP- 01
NNPP- 151
PRP: 28
SDP - 01
REGISTERED: 135,809
ACCREDITED: 50,688
VALID: 49,912
REJECTED: 564
CAST: 50476
KATSINA GOVERNORSHIP ELECTION RESULT: MALUMFASHI LGA
APC - 43,522
PDP - 24,676
LP- 41
NNPP- 519
PRP: 50
SDP - 55
REGISTERED: 173,064
ACCREDITED: 70062
VALID: 69,219
REJECTED: 707
CAST: 69,926
KATSINA GOVERNORSHIP ELECTION RESULT: DANJA LGA
APC - 28,040
PDP - 16,302
NNPP - 39
LP - Nil
PRP - 39
SDP - 02
REGISTERED: 102,801
ACCREDITED: 45,187
VALID: 44,578
REJECTED: 482
CAST: 45,060
KATSINA GOVERNORSHIP ELECTION RESULT: MATAZU LGA
APC - 18,363
PDP - 10,551
LP- 02
NNPP- 09
PRP: 07
SDP - 00
REGISTERED: 69,565
ACCREDITED: 29,207
VALID: 28,970
REJECTED: 195
CAST: 29,165
KATSINA GOVERNORSHIP ELECTION RESULT: BAKORI LGA
APC - 29,892
PDP - 19,592
LP- 07
NNPP- 294
PRP: 793
SDP - 34
REGISTERED: 132,698
ACCREDITED: 54,499
VALID: 50,824
REJECTED: 840
CAST: 51,664
KATSINA GOVERNORSHIP ELECTION RESULT: KATSINA LGA
APC - 47,241
PDP - 28,982
LP- 94
NNPP- 305
PRP: 915
SDP - 529
REGISTERED: 294,103
ACCREDITED: 80,627
VALID: 78,991
REJECTED: 1636
CAST: 80,627
KATSINA GOVERNORSHIP ELECTION RESULT: DANMUSA LGA
APC - 20,145
PDP - 12,514
LP- 00
NNPP- 23
PRP: 07
SDP - 00
REGISTERED: 86,170
ACCREDITED: 33,106
VALID: 32,755
REJECTED: 351
CAST: 33,106
KATSINA GOVERNORSHIP ELECTION RESULT: SABUWA LGA
APC - 16,224
PDP - 11,340
LP- 01
NNPP- 27
PRP: 08
SDP - 15
REGISTERED: 69,794
ACCREDITED: 28,031
VALID: 28,031
REJECTED: 329
CAST: 27,990
KATSINA GOVERNORSHIP ELECTION RESULT: KURFI LGA
APC - 18,750
PDP - 10,545
LP- 19
NNPP- 2,134
PRP: 14
SDP - 02
REGISTERED: 73,078
ACCREDITED: 32,743
VALID: 31,549
REJECTED: 207
CAST: 31,756
KATSINA GOVERNORSHIP ELECTION RESULT: CHARANCI LGA
APC - 20,782
PDP - 7,539
LP- 05
NNPP- 66
PRP: 11
SDP - 0
REGISTERED: 73,766
ACCREDITED: 30,695
VALID: 28475
REJECTED: 272
CAST: 28747
KATSINA GOVERNORSHIP ELECTION RESULT: KANKIA LGA
APC - 18,249
PDP - 14,830
LP- 01
NNPP- 16
PRP: 22
SDP - 00
REGISTERED: 78,224
ACCREDITED: 35,156
VALID: 33,210
REJECTED: 441
CAST: 33651
KATSINA GOVERNORSHIP ELECTION RESULT: JIBIA LGA
APC - 21,216
PDP - 13,259
LP- 08
NNPP- 22
PRP: 34
SDP - 05
REGISTERED: 98,311
ACCREDITED: 35844
VALID: 34,729
REJECTED: 1035
CAST: 35,764
KATSINA GOVERNORSHIP ELECTION RESULT: BATSARI LGA
APC - 20,053
PDP - 10,247
LP- 11
NNPP- 239
PRP: 158
SDP - 02
REGISTERED: 106,955
ACCREDITED: 31,535
VALID: 30,796
REJECTED: 738
CAST: 31,534
KATSINA GOVERNORSHIP ELECTION RESULT: MASHI LGA
APC - 28,793
PDP - 8896
LP- 08
NNPP- 74
PRP: 11
SDP - 102
REGISTERED: 100,191
ACCREDITED: 38,756
VALID: 38,091
REJECTED: 620
CAST: 38711
KATSINA GOVERNORSHIP ELECTION RESULT: DAURA LGA
APC - 26,548
PDP - 10,689
LP- 08
NNPP- 78
PRP: 27
SDP - 08
REGISTERED: 97,136
ACCREDITED: 38,186
VALID: 37,549
REJECTED: 492
CAST: 38,041
KATSINA GOVERNORSHIP ELECTION RESULT: FUNTUA LGA
APC - 31,924
PDP - 19,849
LP- 39
NNPP- 314
PRP: 218
SDP - 03
REGISTERED: 147,391
ACCREDITED: 53,353
VALID: 52,601
REJECTED: 705
CAST: 53,306
KATSINA GOVERNORSHIP ELECTION RESULT: SAFANA LGA
APC - 15,417
PDP - 10,450
LP- 02
NNPP- 09
PRP: 53
SDP - 143
REGISTERED: 83,882
ACCREDITED: 26,879
VALID: 26,129
REJECTED: 715
CAST: 26,844
KATSINA GOVERNORSHIP ELECTION RESULT: MANI LGA
REGISTERED: 114,440
ACCREDITED: 47,718
VALID: 46,347
REJECTED: 974
CAST: 47,321
APC - 29,678
PDP - 16,180
LP- 16
NNPP- 231
PRP - 28
SDP - 10
KATSINA GOVERNORSHIP ELECTION RESULT: KUSADA LGA
APC - 13,750
PDP - 11,151
LP- 04
NNPP- 05
PRP: 17
REGISTERED: 61,313
ACCREDITED: 25,602
VALID: 24,984
REJECTED: 392
CAST: 25,376
KATSINA GOVERNORSHIP ELECTION RESULT: RIMI LGA
APC - 28,202
PDP - 13,823
LP- 13
NNPP- 397
REGISTERED: 95,642
ACCREDITED: 43,188
VALID: 42,629
REJECTED: 538
CAST: 43167
KATSINA GOVERNORSHIP ELECTION RESULT: ZANGO LGA
APC - 19,757
PDP - 10,477
NNPP- 04
PRP - 14
REGISTERED: 73,235
ACCREDITED: 30,659
VALID: 30,324
REJECTED: 268
CAST: 30,592
KATSINA GOVERNORSHIP ELECTION RESULT: MAI'ADUA LGA
APC - 28,436
PDP - 11,506
NNPP- 68
PRP - 10
REGISTERED: 88,617
ACCREDITED: 40,768
VALID: 40,130
REJECTED: 435
CAST: 40,565
KATSINA GOVERNORSHIP ELECTION RESULT: KAITA LGA
APC - 24,121
PDP - 9,824
NNPP- 53
PRP - 20
REGISTERED: 76,526
ACCREDITED: 35,568
VALID: 34207
REJECTED: 912
CAST: 35,119
KATSINA GOVERNORSHIP ELECTION RESULT: BINDAWA LGA
APC - 28,997
PDP - 12,165
NNPP- 957
PRP - 47
REGISTERED: 88,793
ACCREDITED: 42,922
VALID: 42,305
REJECTED: 436
CAST: 42,741
KATSINA GOVERNORSHIP ELECTION RESULT: SANDAMU LGA
APC - 21,055
PDP - 10,641
NNPP- 01
PRP - 03
REGISTERED: 74,399
ACCREDITED: 31,877
VALID: 31,738
REJECTED: 132
CAST: 31,870
KATSINA GOVERNORSHIP ELECTION RESULT: BAURE LGA
APC - 32,802
PDP - 17,888
NNPP- 62
PRP - 12
REGISTERED: 11,3640
ACCREDITED: 52,678
VALID: 50,894
REJECTED: 1486
CAST: 52,680
KATSINA GOVERNORSHIP ELECTION RESULT: DUTSI LGA
APC - 15,631
PDP - 8,419
NNPP- 10
PRP - 10
REGISTERED: 64,743
ACCREDITED: 24,298
VALID: 24119
REJECTED: 161
CAST: 24,280
KATSINA GOVERNORSHIP ELECTION RESULT: ƊANDUME LGA
APC - 23,710
PDP - 14,792
NNPP- 220
PRP - 146
REGISTERED: 97,406
ACCREDITED: 41,071
VALID: 39,115
REJECTED: 529
CAST: 39,645
KATSINA GOVERNORSHIP ELECTION RESULT: BATAGARAWA LGA
APC - 26,326
PDP - 13,510
NNPP - 212
PRP - 81
REGISTERED VOTERS: 100,069
ACCREDITED VOTERS: 41,301
VALID VOTES: 40,355
REJECTED VOTES: 768
VOTES CAST: 41123
KATSINA GOVERNORSHIP ELECTION RESULT: INGAWA LGA
APC - 22,080
PDP - 12,255
NNPP- 209
PRP - 217
REGISTERED VOTERS: 86,957
ACCREDITED VOTERS: 36,034
VALID VOTES: 34,929
REJECTED VOTES: 1,066
VOTES CAST: 35,995