Fashola finally opens up on his relationship with Tinubu, lists 5 legacies of APC candidate in Lagos
Babatunde Fashola of the ministry of works and housing has disclosed that he first met with Bola Tinubu, the APC presidential flagbearer on the street of Surulere, a suburb of Lagos
Fashola, who took over from Tinubu as a 2-term governor of Lagos state, listed about 5 legacies of the APC flagbearer and the number of states that have emulated them today
The minister said those who running against Tinubu have also been in government before, challenging them to come out and list their legacies in the past too
Babatunde Fashola, the minister of works and housing, has opened up on his relationship with Bola Tinubu, the presidential flagbearer of the All Progressives Congress (APC).
Speaking with BBC Yoruba, Fashola, who was chief of staff to Tinubu when he was the governor of Lagos state, disclosed that he first met his former boss at an event on Surulere street, a Lagos suburb.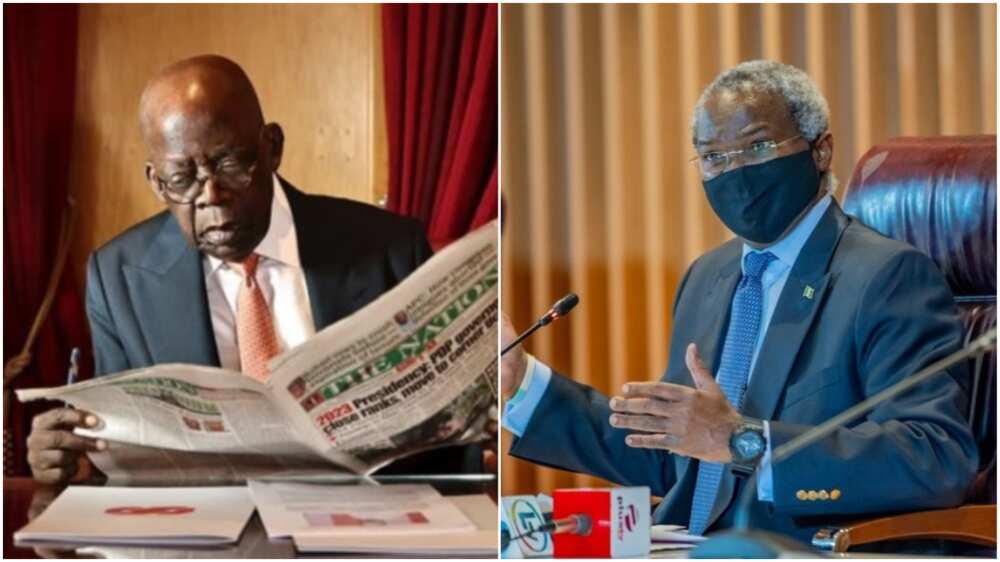 Fashola reveals how he met Tinubu on Surulere street
The former governor of Lagos state said he was told that his predecessor was performing wonders at the event and that he had to go there as an onlooker to see with his eye.
He said he met Tinubu for the second time when his nephew, Wale Tinubu, came to work in his area, who always wanted him (Fashola) to follow him (Wale) to Tinubu's office on the Island.
Speaking on the chances of the APC candidate in the forthcoming poll, Fashola revealed that Tinubu has many legacies that can be pointed at in Lagos as a former governor of the state.
List of Tinubu's legacies in Lagos
According to Fashola, many of Tinubu's challengers have once been in government, they should point at their legacies if they can.
The minister then went further to list out some of Tinubu's legacies in Lagos.
They are:
Judicial Reform
The minister said Tinubu was the first civilian governor to begin judicial reform over their meagre allowances, renovation of court facilities and other developments in the judiciary.
He maintained that when Tinubu started, people thought it won't work but many states are taking in his footsteps today.
Using taxpayers' money for development started under Tinubu
The minister disclosed that the former boss started the institutionalisation of collecting tax to build the state, adding that many states are now doing the same.
Lagos State Traffic Management Authority (LASTMA)
Fashola also stated that Tinubu started the idea of traffic management as a state governor, adding that no less than 16 states in Nigeria have similar agency in Nigeria today.
LASAA
The former governor of Lagos state also disclosed that the Lagos state advertising and signage agency (LASAA) was a legacy of the APC presidential candidate.
He added that about 15 states have similar agency in their states as of today.
Office of Public Defender
Fashola also disclosed that Tinubu founded the office of public defenders where citizens who cannot afford to pay lawyers on legal issues can approach for assistance.
He said Tinubu founded the agency under his administration as a governor, adding that about 10 states have a similar institution in Nigeria as of the present.
Source: Legit.ng