Anambra 2021: Major Hotspots For Violence Police, Army Should Look Out For
The expectations are high amid palpable fear and tension among voters and residents as the Anambra governorship election is just days away.
Threatening activities from the Indigenous People of Biafra (IPOB) has already necessitated the heavy presence of armed security agents in most local government areas of the state.
This of course coincides with disturbing reports of violence and even the killing of policemen by gunmen in some LGAs.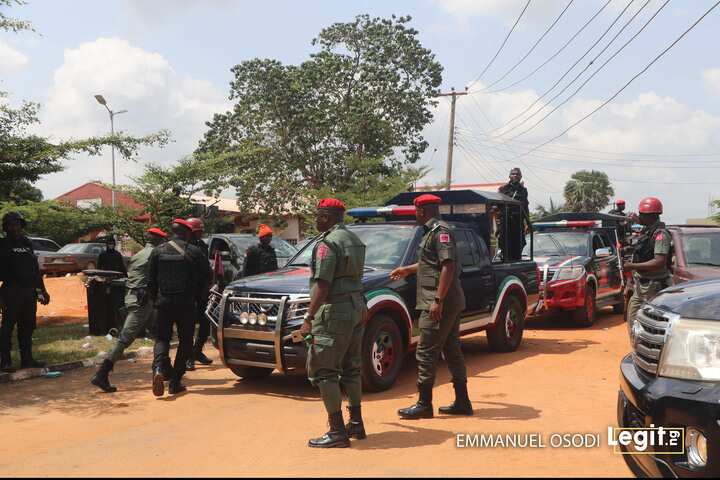 Areas where serious political and electioneering activities have taken place may become target spots for criminals to launch their attacks during the Saturday, November 6, election.
Some of these areas where the police, the Nigerian Army, and other security forces should look out for to thwart possible disruption of the voting exercise are given below:
Ekwusigo
Orumba North
Anambra East
Aguata
Idemili North
Dunukofia
Onitsha South
Ihiala
Nnewi
Njikoka
Ogbaru
Onitsha North
Onitsha South
Oyi
Meanwhile, concerning the forthcoming election, National Security Adviser (NSA) Babagana Moguno has warned persons who are planning to make trouble during the election to have a rethink.
Moguno said:
"We want to offer brotherly advice to our brothers who want to destabilise the process to think again; we are all eager to achieve results that will be acceptable to everybody. I don't think it will be right for anyone to ignite a crisis. Please, think again.
"The law enforcement agencies will not sit by idly and allow people to terrorise people, commit homcide. They have been told to watch out for these elements. I am appealing to you to stay in your wards and behave yourself. Anyone that wants to disrupt the process will be brought to book."
Anambra election: US issues strong statement ahead of poll
Earlier, the United States of America had said that the government would be watching the activities surrounding the poll very closely.
A statement by the US government on Wednesday, November 3, said it looks forward to a peaceful and transparent gubernatorial election in Anambra.
The US also said that it is expecting that the results from the polls on Saturday, November 6, would be one that accurately reflects the will of the state's residents.
Source: Legit.ng