Senate Faults FG Over Embargo on Employment, Amid Soaring Wage Bill
Lawmakers of the Nigerian Senate have raised alarm over the recurrent expenditure in the country's annual budget
The lawmakers also queried the embargo placed on employment by the federal government of Nigeria
According to the lawmakers, it is wrong for the National Salaries, Income and Wages Commission not to have an explanation on the details of Nigeria's workforce
The Nigerian Senate on Thursday, October 21, condemned the recent embargo placed on employment by the federal government.
The Guardian reports that the senator representing Borno south (APC), Ali Ndume said he would leave the country should the relevant authorities fail to address some of the issues bedevilling the nation.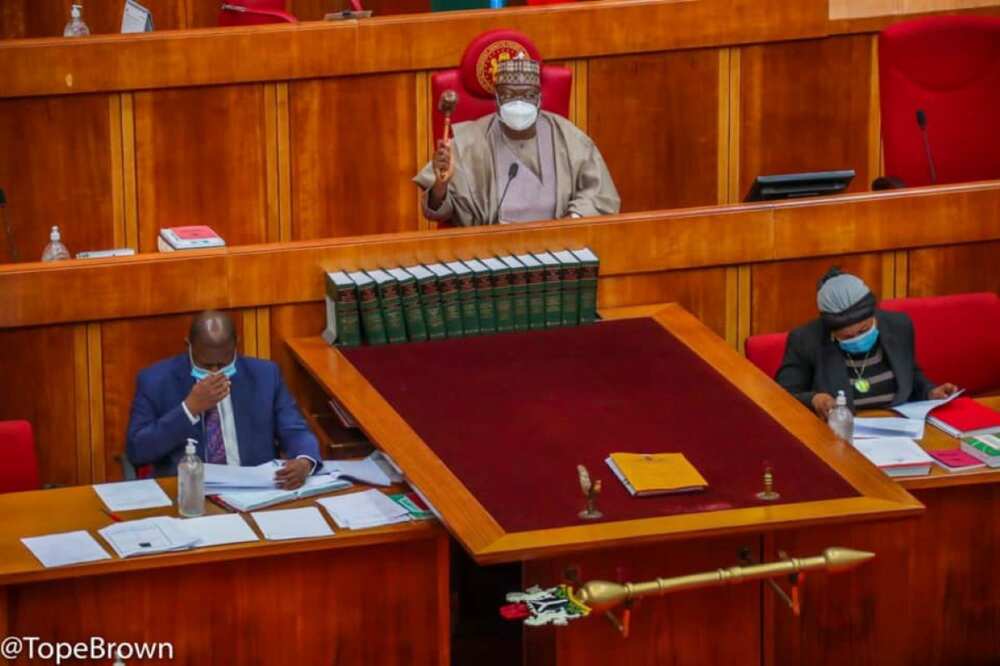 Ndume's remarks over the unemployment rate in Nigeria and the increasing wage bill following the submissions by the chairman of national salaries, income and wages commission, Ekpo Nta before the Senate Committee on Establishment.
Nta had failed to explain to the committee the number of salaries and wages the federal government spends on its workforce.
PAY ATTENTION: Install our latest app for Android, read best news on Nigeria's #1 news app
The committee said it was impossible to understand why the recurrent expenditure in yearly budgets is not decreasing on account of the embargo at various agencies.
Ndume lamenting said:
"A time bomb is ticking because of the doors shut against millions of youths seeking employment. Making it worrisome is the fact that despite the policy, since 2018 till now, recurrent expenditure components of yearly budgets have been increasing."
According to Ndume, the nation spent N3.5 trillion, N4 trillion, N4.5 trillion and N5.6 trillion in 2018, 2019, 2020 and 2021 respectively.
He added that in 2022, N6.83 was projected for salaries and emoluments in the projected N16.39 for the fiscal year.
He said:
"It is bad for recurrent expenditure to be increasing on yearly basis without an increase in the number of workforces through required recruitments."
The senator warned that the embargo on employment is turning to a time bomb that could explode at any point in time.
Other lawmakers including; Suleiman Kwari (APC, Kaduna North), Nicholas Tofowomo (PDP, Ondo Central) and the Chairman of the committee, Ibrahim Shekarau (APC, Kano North), aligned themselves with Ndume's submission.
Meanwhile, Legit.ng previously reported that the Senate has said it would insist that professionals would now be consulted and involved in various infrastructural projects across the country.
The Senate president Ahmad Lawan said architects are the designers of the world and Nigeria's local content should be allowed to take charge in major activities of the economy.
He said the Senate would continue to ensure that Nigerian get the best from the best developers across the country.
Source: Legit.ng