"You Better Be Careful": Beautiful Lady Holds a Lion With Chain And Walks on The Road, Video Emerges on TikTok
A video shows a beautiful lady walking on the road alongside a giant lion which she held with a leash
In a hair-raising video posted on TikTok by @humaidalbuqaish, the lady clutched the chain around the lion's neck and followed closeby
The video has sparked reactions after it went viral on TikTok, and some people say they can never try such a thing
A video posted on TikTok shows a very courageous lady walking a lion like a pet dog.
The video posted by @humaidalbuqaish showed the lady holding the dreaded animal with a leash.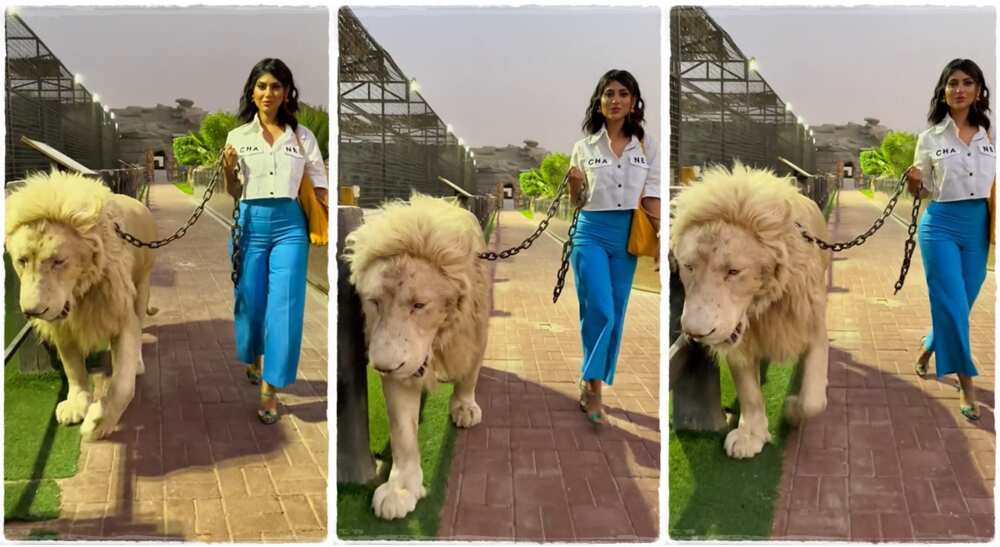 In the video, which lasted six seconds, the lady was behind while the lion was in front, galloping gradually like a horse.
The lion is fully grown, making many people wonder how it was tamed and made friends with humans.
She had a smile on her face as she held the lion's leash like one would hold that of a pet dog.
The fierce-looking lion did not look as if it wanted to attack anyone or turn on the lady as it walked in a friendly manner.
Watch the video below:
TikTok users react to video of lady walking lion
However, some TikTok users found the video very scary, and others warned the lady to be careful.
J@w said:
"I don't know Hamid, what are you holding onto?"
@user9256299802295 commented:
"Wow! You better be careful, lady. You may find yourself the food of that animal, but you look cool."
@hyl86.com said:
"I'm going to tremble with fear, that's for sure."
@idckaforever said:
"Is this true or am I dreaming?"
@jioo24 commented:
"Every woman needs one like this, really the sweetest thing."
@Mahawyas4 asked:
"Is it possible that she was not afraid of him?"
Dog refuses to leave its owner in the hospital
In a related story, Legit.ng reported that a wise dog stayed with its owner when he was hospitalised.
In a video that trended for many days, the dog stayed with the man in the hospital ward.
The man said his dog was helpful because it kept him company through the treatment period.
Source: Legit.ng