"See My Son": Wife Disappointed as Husband Shows up at Home With His Child 13 Years After Wedding
A married woman could not believe her eyes as her husband brought home a child he had outside of wedlock
The man introduced the 11-year-old boy to her, saying he was his son, urging his wife to accept him
The woman got angry and slammed the man for not telling her, wondering how he had a child outside when they had been married for 13 years
A marriage of 13 years is set to hit the rocks after the husband brought home his 11-year-old son he had out of wedlock.
The man tried to convince his wife into accepting his son but the woman refused and expressed her disappointment at his action.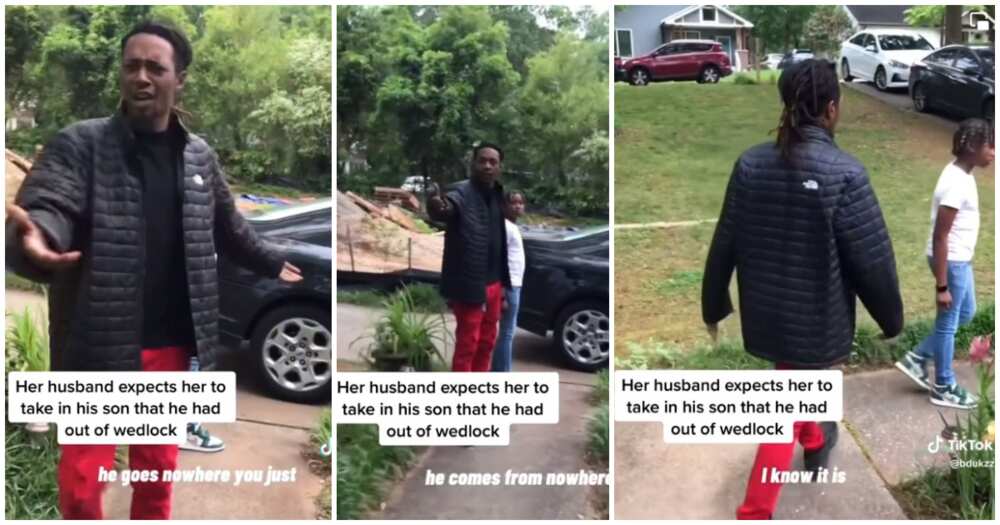 She began recording him as she hinted at filing for divorce over his action, wondering how he got someone pregnant and was able to father a son when they have been married for years.
She recalled how the only time they had a misunderstanding, it lasted for four months. She asked the boy who his mother was and resisted her husband, saying she could not be a step mum to the lad.
According to her, the boy was grown and wouldn't listen to her. She sent away the angry man as she said she wondered what else he kept from her.
The TikTok video has sparked a debate on social media.
Watch the video below:
Reactions on social media
Brandii said:
"Dayum! Not in front of a the kid yo! The dad should have done a better job of communicating with the wife. Dad wrong for this."
Unnoticed said:
"It's crazy bc if the woman was bringing a child In his home by a stranger it would've been a different story."
Jen said:
"Yes. Over…that's a deal breaker for me…she is Right and she asked all the right questions. My husbands knows this. Wow."
Naenae72 said:
"Divorce and I'm sorry I'm putting him out or moving out ‍♀️bc if the table turn 90% the man would leave."
blacknwoke said:
"Y'all shouldn't have done this in front of the kid."
Angel Nicole said:
"Why they having this conversation in front of him."
TheVSpaTallahassee- Pegues said:
"Conversation should have took place outside of him."
Man finds out single mum locks baby outside whenever her boyfriend shows up
Meanwhile, Legit.ng previously reported that a man had discovered that a single mum kept her baby outside whenever her lover came around.
According to a story shared by Choco on Twitter, the man said he noticed the strange actions of a baby who lived close to him.
Whenever he returns home, and the baby sights him, the kid starts crying at the top of his voice. After a quick investigation, he discovered that the mother of the baby, who's a single mum, locks the child outside whenever her lover comes to visit.
Source: Legit.ng