"He's Too Fake": Baby Sleeps Off in Akward Position After Mum Puts Him in a Jumper, Video Emerges on TikTok
59k TikTok users have liked a video of a baby who slept off in an akward position when mum put him in a jumper
The video showed the child deeply asleep where his mother put him to play when she was away from the room
TikTok users are talking about the baby in the comment section with some sharing their own experiences with children
TikTok users are reacting to the video of a baby who slept off in an akward position.
The child's mother put him in a jumper and she said she was away from the room and expected him to be playing.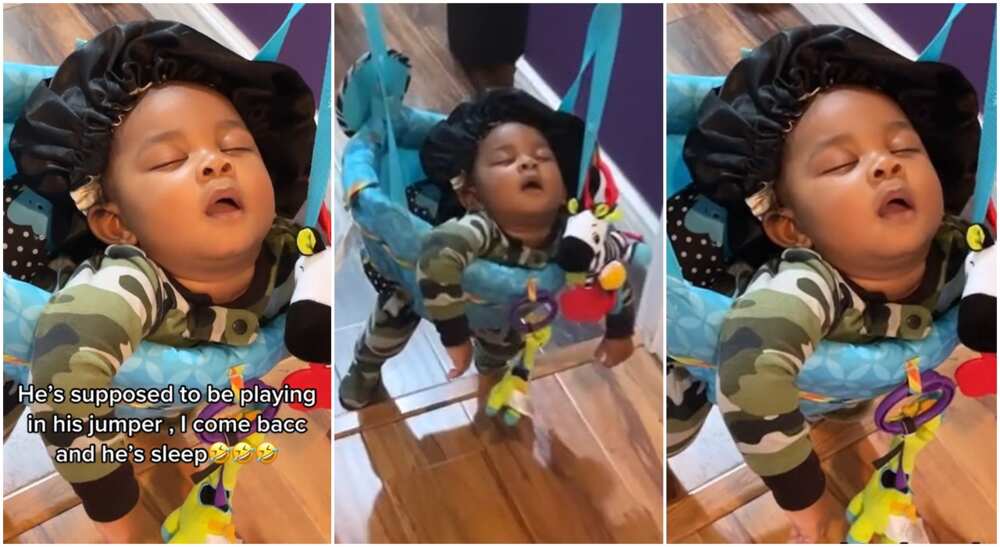 She was however surprised when she returned and met the baby sleeping very deeply inside his jumper where he was kept.
Viral video of a baby sleeping in jumper
He dozed off and was completely not away that his mother had returned. His sleeping position surprised his mother when she returned.
The mother said the baby refused to play in his jumper but instead opted to doze off in it. She said the child is too fake.
The video has generated a lot of laughter in the comment section. TikTok users are talking about the baby with some comparing him to their own children. The video was posted by @777luvaa.
Watch the video below:
Reactions from TikTok users
@Lisa Lisa said:
"He done jumped himself right into a nap."
@user7982116397679 said:
They be acting like they worked a double shift."
@Heather commented:
"That's some good sleep."
@keishaganderson reacted:
"They fall asleep standing crawling anywhere."
@YumDaGreat3824 said:
"Awww...dat bonnet will do it everytime."
@scoop18034 commented:
"Hey he had a rough day so he deserves some sleep."
@Meliann Lew said:
"Baby's knocked out sleeping and puppy's doing yoga in the background. Peaceful vibes at home."
Video of a baby who went to fetch water
In a related story, Legit.ng reported that a baby girl who went to fetch water danced at the tap.
She went to the tap with a brown clay water pot but instead she left it and started dancing.
Her beautiful dance steps made the video to go viral when it was posted on TikTok.
Source: Legit.ng