Baby Cries for 45 Minutes After Failing to Recognise Her Mum Because She Made New Hair, TikTok Video Trends
A baby cried profusely for 45 minutes after she could not recognise her mother who came home with a new hairdo
The child's mother was stressed by the unending cries and she had to wear a cap for the baby to recognise her
TikTok users are relating with the video which currently has over 90k likes as some parents share similar experiences
A video of a baby who did not recognise her mother because she made a new hair has gone viral on TikTok.
The mother explained her predicament in the video after her baby cried and refused to stop. She obviously presumed that her mother is not around.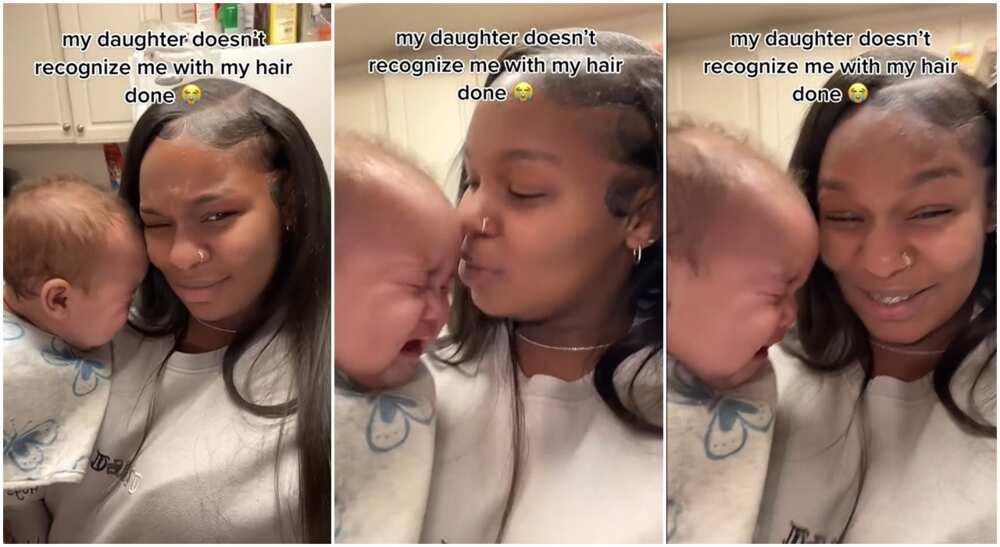 The child's inability to recognise her mother's face led to a serious cry and the mum has to do something after 45 minutes.
Viral video of a baby crying after failing to recognise mum
She explained that she had to put on a cap which the child is familiar with so that she will stop crying.
The trick worked because the baby instantly stopped wailing after seeing the familiar cap on her mother's head.
TikTok users are reacting to the video by sharing similar experiences with their own children. The video posted by @alaiyaandapril currently has over 90k likes.
Watch the video below:
Reactions from TikTok users
@heathen_ heart_ said:
"She like "you cannot trick me."
@Trevito Harlee commented:
"Help this stranger is trying to kidnap me - baby."
@bri. said:
"This how my baby was. Mama hair been nappy since he been here he was confused."
@Ally said:
"That's what happen with my daughter when I kept changing my hair."
@Joma Rose Cisse said:
"It really be like this I got my hair done and my son was just looking at me.:
@Rican gg said:
"Y'all have to expose them to different hairstyles young."
Video of a man braiding his daughter's hair
In a related story, Legit.ng reported that a man painstakingly braided his daughter's hair.
It was a nice bonding moment between the man and the child as he carefully braided each thuft.
A lot of people praised the man for his caring attitude after the nice video went viral on TikTok.
Source: Legit.ng