"This is the Life I Want": Lady Shows off Her Rich Aunt's Penthouse in Banana Island, Stunning Video Trends
A young lady has caused a commotion on social media after she flaunted her rich aunty's penthouse which is located in Banana Island, Lagos
The lovely edifice had a mind-boggling interior with artworks hanging at almost every turn in the place
Social media users wanted to know what her rich aunt does for a living and the lady didn't shy away from the question
Video showing the lovely interior of a penthouse in Banana Island, Lagos has sent social media into a frenzy.
A lady named Dayo Olabode shared the video on TikTok as she took netizens on a tour, saying the property belonged to her rich aunty.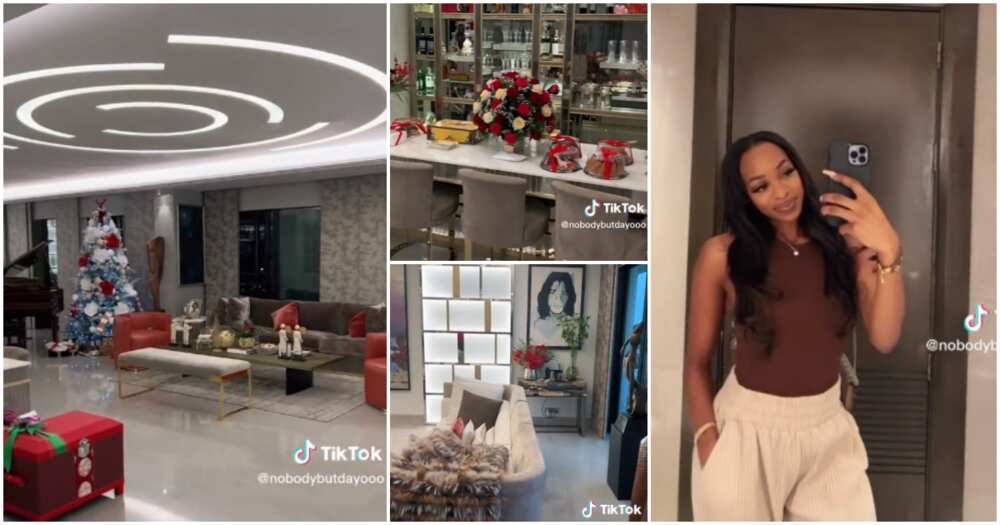 Her video was captioned:
"Come with me to my Really Rich Aunt's Penthouse on Banana Island in Lagos Nigeria."
The interior gave off its owner as a lover of art owing to the many artworks adorning different parts of the place.
The lighting, furniture and fitting of the house would definitely not be cheap. A bar-like area with different wine collections was observed in the majestic abode. Two adorable pets were seen playing at one point in her video.
Responding to a netizen on her aunt's occupation, the lady wrote:
"She works in the oil industry in Lagos Nigeria."
Watch the video below:
Social media reactions
Paige Noelle said:
"I love everything about this. The dogs are the cherry on top."
"All of the artwork is amazing!"
wethriftyo said:
"The way i would be so delusional & acting like it was all mine when i was just visiting."
KeepinupwitCrys said:
"When I stepped foot in Banana Island I realized that I lived in poverty and never returned that was over 10 years ago."
JUANITA said:
"THIS Is what I Mean When I Say "GOALS" and I'm NEVER Impressed by what I see on SM these days BUT THIS."
Couchpotato said:
"Hey cousin! I'm sure your aunt is looking for a young girl to adopt."
Sugar Moments Photography said:
"This is the life I want. Lord!!!!!!"
Video of a village house with gold furniture trends
Meanwhile, Legit.ng previously reported that a video of a village mansion with gold furniture had gone viral.
A member of the family, a young man, shared the video on TikTok with the caption, "billionaire in the village but managing in Lagos."
Showing off the property in the video, the man started from the building's entrance and gave a quick view of the spacious and tiled compound.
The Lagos resident then recorded himself while taking a tour of some parts of the mansion.
Source: Legit.ng