"Life is so Fickle": Last Chat of Nigerian Man and Girlfriend 3 Days Before She Died Stirs Emotions
A man who recently expressed his love and admiration for his girlfriend on social media has tragically lost her
The young lady was involved in a fatal accident on her way to work, leaving her boyfriend devastated
Netizens reacting in the comment section sympathised with the man and prayed for strength to bear the loss
In a tweet posted on Sunday, September 24, on X, a man shared his adoration for his girlfriend, describing her as an incredible person.
However, he had no idea that something tragic was about to happen to the woman he adored with all his heart.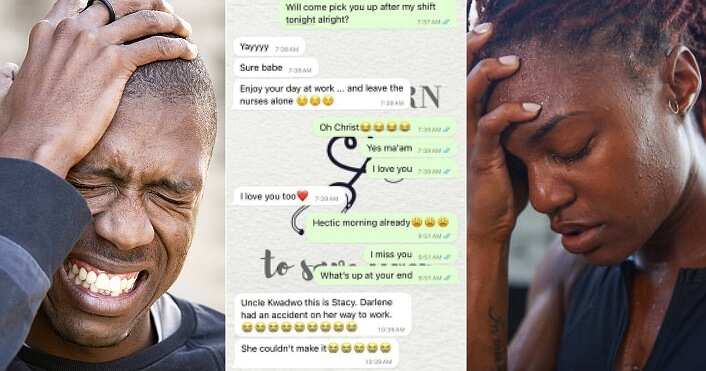 In the now-viral post, the man penned a touching note to his girlfriend with the caption;
"Fall in love okay. Women are the best things to happen to us. My babe is really that girl fr!!! Love you bubbha."
Tragic accident claims her life
Three days later, devastating news was shared that the man's girlfriend had passed on.
While on her way to work, she encountered a fatal accident. The sudden loss has left the boyfriend in deep sorrow.
Netizens react to heartbreaking news
The news of the woman's passing stirred emotions as netizens dropped condolence messages.
Many expressed sympathy for the boyfriend and shared messages of comfort during this difficult time.
@arimaboots said:
"Omg, life is so fickle. I'm so sorry for his loss. Show love to people while they're alive, because tomorrow is not promised. May God protect us from Untimely death."
@steveheadmaxter reacted:
"Nothing is guaranteed."
@theeadufe said:
"I cover my partner with the blood of Jesus, I hope the good lord gives him strength to grief his loss may we not be victims of death untimely ijn."
@hayuurr reacted:
"I pray our happiness won't turn to our source of sorrow cause wif is this?"
@asuku1984 reacted:
"If you like them, they don't like you and if they like you, you don't like them but if you both like each other. Something will come and mess it up. Sorry man."
See the post below:
Man loses fiancee on wedding day
Meanwhile, Legit.ng previously reported that a bride-to-be, Nadia Joseph-Gosine, died of liver failure just a few hours before her dream wedding in Trinidad.
Shortly after her death, she was described by her heartbroken partner and sister as 'beautiful', 'caring', and 'happy'.
Nadia reportedly spent a few weeks in the country with her lover and 10-year-old son Emari.
Sadly, she lost her life just hours before her wedding while her fiancé slept next to her.
Nadia's fiancé, Devon, described his late lover as 'the most loving, caring, and genuine person' and the love of his life.
Source: Legit.ng