"Best Day": Woman Excited to See Prime Minister Walking Freely on Street Approaches Him, Video Goes Viral
A woman's encounter with the Dutch Prime Minister Mark Rutte on the street has become a viral sensation on Twitter
The video shows the woman's delight and the prime minister's enthusiasm as they greet each other
The woman says she is heading to work and expects a great day after meeting him, while the prime minister says he is going to change his spectacles
A heartwarming video of a woman who stumbled upon the Netherland Prime Minister Mark Rutte working on the street has caught the attention of many people.
The video captures the woman's joy and gratitude as she walks with him and thanks the prime minister for his service, and the president's friendly and humble response as he indulges her.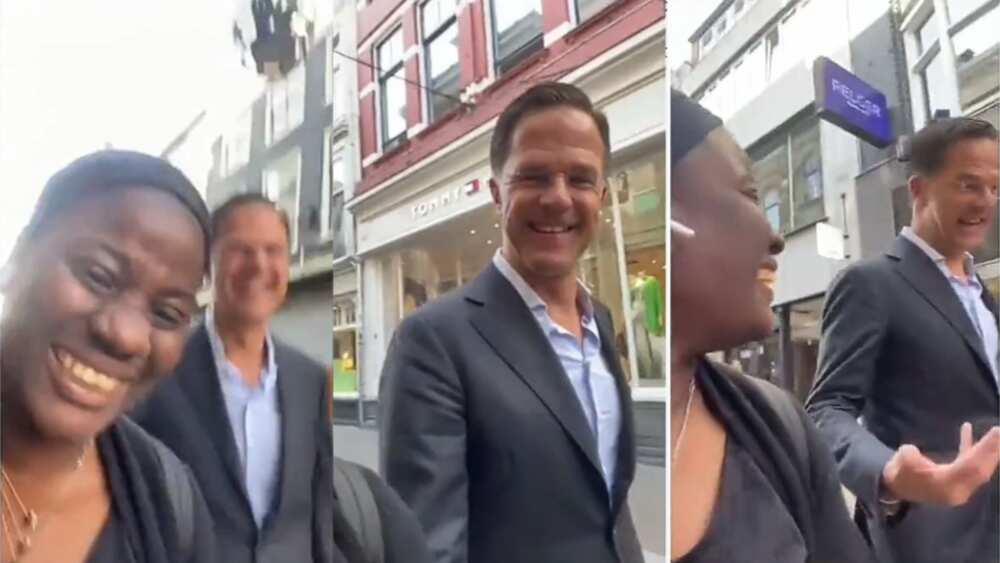 Prime Minister on his way to the hospital meets excited woman
The woman tells the prime minister that she is on her way to work and that she will have a wonderful day after seeing him, while the president reveals that he is about to change his glasses and wishes her all the best.
Prime Minister Mark Rutte
Mark Rutte is a politician from Netherland who has been the Prime Minister of the Netherlands since 2010 and the Leader of the People's Party for Freedom and Democracy (VVD) since 2006.
He is the longest-serving prime minister in the Netherlands' history, surpassing Ruud Lubbers on 2 August 2022.
He is known for his energy, survival skills and pragmatic approach to politics.
He is also a member of the Dutch Protestant Church and has received several honours, including the Order of Australia and the Order of Prince Yaroslav the Wise.
Find the video about the woman meeting the prime minister below:
Rich man who had two cars months ago spotted using bicycle after crypto crashed
Meanwhile, Legit.ng earlier reported that a young man named Sam had advised netizens to stay humble as he shared how his fortunes nosedived owing to crashes in the stock and crypto markets.
In a TikTok video, Sam flaunted his two cars, stating that he acquired them months ago when things were favourable in both markets.
Six months down the line, Sam said he sold one of the cars and abandoned the other after it developed a fault.
Source: Legit.ng