King Promise's Lookalike Spotted Dancing In Military Uniform In Video Amidst Alleged Arrest
King Promise's lookalike, Robest GH, in a video that has popped up, was spotted doing an "ungodly" dance in military uniform, which did not sit well with many peeps
The video dropped after his alleged arrest, which got social media folks speculating that it could be the reason he was arrested
Many are, however, are of the opinion that the arrest could be one of Robest GH's staged attention-seeking antics
Robest GH, a popular King Promise lookalike, has stirred up controversy with a recently surfaced video in which he is seen performing an "ungodly" dance while dressed in a military uniform. His choice of attire has raised concerns among many, who believe that it disrespects the armed forces and undermines the dignity of their uniform.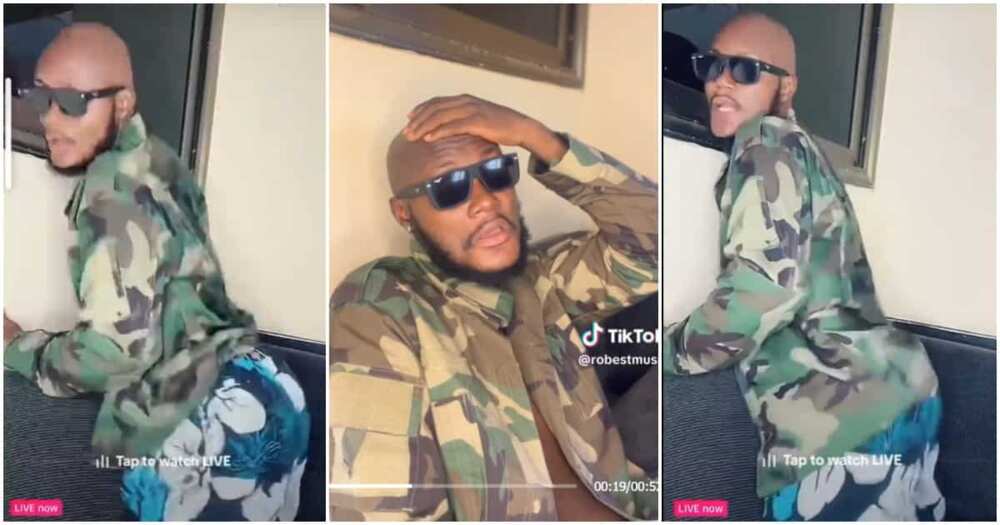 The emergence of the video coincided with Robest GH's alleged arrest, leading to widespread speculation on social media regarding a possible connection between the two events. Some online users speculated that the video might have played a role in his apprehension.
However, there is a growing sentiment among many that Robest GH's arrest could be just another one of his attention-seeking stunts.
The young artiste has become notorious for his staged acts aimed at garnering public attention. Some critics argue that his actions often lack sincerity and are intended solely for the purpose of generating buzz.
Robest GH gained considerable popularity due to his striking resemblance to the renowned Ghanaian musician Kin Promise
King Promise lookalike sparks reactions
KoduahJames said:
How can you be wearing military uniform and fooling with it on live. Gyimii saa
greys_wrld commented:
If u watch the video closely. He's wearing the same down. So am sure it because of the military uniform
skelewoan wrote:
Am sure he was arrested after this live video. The uniform part
Mr Eazi, others storm King Promise's 27th birthday party
Legit.ng reported that King Promise turned 27 years old on Tuesday, August 16, 2022.
As it has become the norm, the singer shared photos on Instagram to mark the occasion. Subsequently, the Chop Life singer had a birthday bash organised in his honour.
The party held at Bloom Bar saw family and friends coming through to support him. He also had a number of fans coming through.
Among the notable faces spotted at the party were Sarkodie, Nigerian singer Mr Eazi, and France Ambassador Anne Sophie Avé, among others.
Source: YEN.com.gh