It Took Him 2 Years: Man Uses 2,296 Pens & Paints to Cover Every Inch of His Mansion in Doodles, Video trends
An artist purchased a mansion and decided to make it stand out from other mansions around by having it entirely doodled
The young man used 2,296 pens, 401 cans of spray paint and 286 bottles of drawing paint to doodle on every inch and item in the six-bedroom property
A video showing the interior of the unique mansion has left many impressed while others raised concerns
Artist Sam Cox popularly known as Mr Doodle has continued to shock people with his doodle mansion.
In 2019, Sam purchased a six-bedroom neo-Georgian mansion in the quaint town of Tenterden, Kent, United Kingdom at £1.35m (over N776.7 million) and set out to fulfill his lifelong dream of transforming his house into a doodle-verse.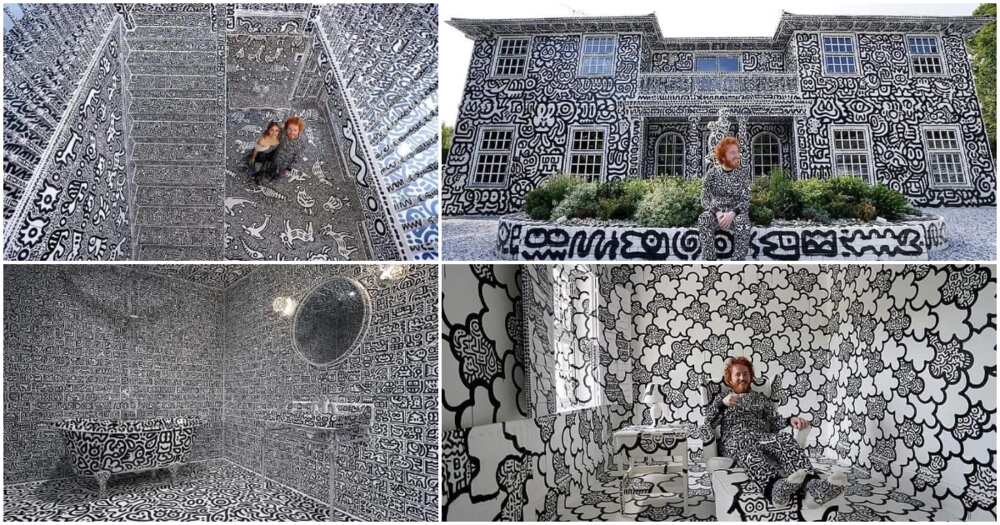 DailyMail reports that the world-renowned artist used a total of 2,296 pen nibs, 401 cans of spray paint, 286 bottles of drawing paint and 900 litres of emulsion over a period of two years to achieve his dream mansion look.
He gave netizens a tour of his doodle house with a video of it via his verified Facebook page.
For the interior, Sam said he used black acrylic paint and a bingo marker-pen in four different sizes, while spray paints were used for the outside.
All the surfaces have been lacquered to ensure they do not fade.
''The completion of the house is just the beginning of my childhood dream to doodle the entire planet and to encourage the art world to recognise doodles as an art form.
''I am so excited that my doodles now have a permanent home in the UK.,'' he told KentOnline.
Reactions on social media
Bruuklynn Danieelle said:
"If I did this I'd have some color. Everything is so simplistic. There's nothing in the house!! Also, it would make my anxiety SO BAD. It's too busy for me. But however to each their own, it's very cool to look at and if it makes him happy that's all that matters."
Rohail Ahmed Sheikh said:
"I love this, love your work man.
"It's a masterpiece.
"But not healthy to live in this house."
Fiona Hetherington said:
"WOWsers! I can't even imagine how many painstakingly hours you put in to making your amazing home. "
Sophie Salinas Stegelitz said:
"I would love to purchase furniture with your designs on it. Some chairs, sofas, even tiles with your artistic style would be awesome to have! Doodle house is a great achievement! For all of our eyes to feast!"
Jeneine Tate said:
"It is certainly a masterpiece it's beautiful one of a kind and very unique but it's a little too busy for me and it made me a little dizzy I have to have some color it must have taken him days even months to do that artwork he is very happy with it and I'm happy for him and his family."
Nigerian man builds house with plastic bottles
Meanwhile, Legit.ng reported that a man had built a three-bedroom house with 14,800 plastic bottles.
Explaining the process of building the house, Ahmed said workers filled the plastic bottles with sand and linked them at the neck by an intricate network of strings.
He said the building is the first in sub-Saharan Africa, adding that it is cheaper to build because the building materials are available on the streets and trash dump centres. The house has three rooms, a toilet and a kitchen.
Source: Legit.ng