Take this Huge Discount as your love Gift from vivo this Month
vivo is still in the business of putting smiles on the faces of consumers and offering them the best deals any chance they get. Starting from the 1st of February 2023 up until the end of the month, this offer will be available for consumers to take advantage of.
This love month, vivo is putting a huge discount on two star-player models, the Y22s and V25e. These models were recently launched and their performance is proving to outperform other models in the vivo portfolio.
You can now buy the Y22s for ₦149,900 and the V25e for ₦199,900 from any authorised retail store nationwide. That is, you get to save ₦4,200 and ₦10,000 respectively while at it.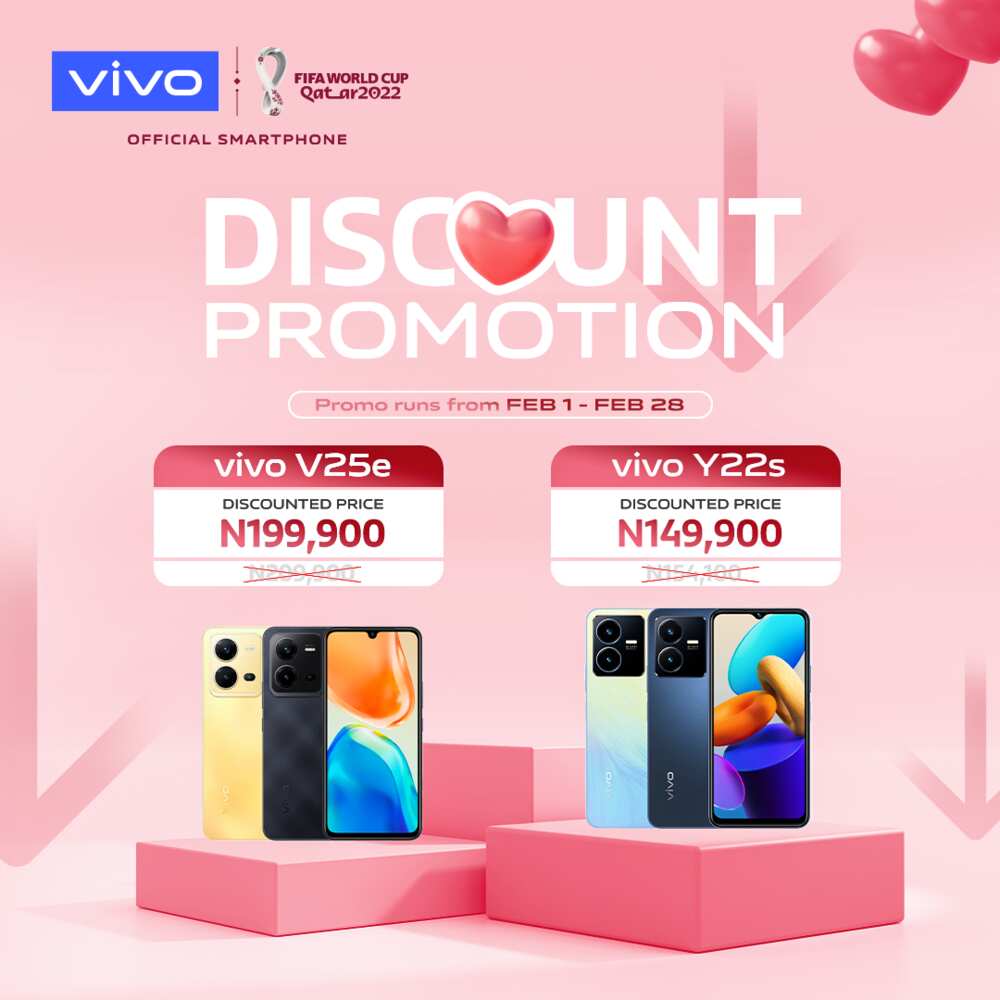 The outstanding camera quality of the Y22s, which produces professional-looking HD shots; the 128GB of expandable memory up to 1TB; 6GB+6GB Extended RAM; and the phone's 20% improved performance in game modes and other favourite app activities are just a few of the features that set these models apart from the competition.
The colour-changing V25e with 8GB+8GB Extended RAM packs a 44W Flash charge with security protection for safe charging, outstanding camera features—64MP OIS, 2MP macro camera, 32MP selfie cam—to allow you turn every shot into a masterpiece and a whole lot more.
A gift is only a gift if you take it. As vivo extends this love gift, receive it by taking advantage of the discount offer on the Y22 and V25e while it lasts. You could push back your alarm for five or even thirty minutes, but if you do that with this one, you'll wake up on March 1st and the vivo love gift won't be there. vivo won't be distributing tissues if you cry, you could only follow up on all the fun activities and hope that another amazing offer doesn't pass you by. But that doesn't have to be you.
As vivo extends this love gift to you, you can extend it to yourself or your loved ones. What's more, you get instant gifts alongside your purchase of any of these models. Share this with your friends and social network as a love gift idea for themselves and their loved ones this Valentine's season.
Follow us @vivo_nigeria on Instagram, Facebook @vivo, vivo Nigeria Facebook fans club and vivoMobileNigeria to shop and enjoy the best of technology coupled with the best deals on the #vivoWay.
[Sponsored]
Source: Legit.ng