Man Proposes, God Disposes: Alaafin Died 35 Days to Gbajabiamila's Chieftaincy Conferment Ceremony
An invitation by speaker of the House of Representatives, Femi Gbajabiamila is currently trending online
Gbajabiamila had lined up chieftaincy conferment ceremony as part of activities to mark his 60th birthday
The All Progressives Congress' presidential aspirant, Bola Tinubu, named as the chairman of the occasion
A trending invitation card surfaced online revealing how speaker of the House of Representatives, Femi Gbajabiamila, lined up a chieftaincy conferment ceremony.
The ceremony was expected to have been conferred by the late Alaafin of Oyo, Oba Lamidi Adeyemi III.
This was part of activities to mark his 60th birthday.
Gbajabiamila was conferred with the traditional title of Aare Baasofin of Yorubaland (the Supreme Lawmaker of Yorubaland) by the late Alaafin of Oyo, Oba Lamidi Adeyemi, in September 2021.
The invitation card shows that the installation is slated to take place on Friday, May 27, with the All Progressives Congress' presidential aspirant, Bola Tinubu, named as the Chairman of the occasion.
Also, the Ooni of Ife, Adeyeye Ogunwusi, was slated to be the Royal Father of the Day while Chief Commander, Ebenezer Obey and K1 De Ultimate have been named as the musicians to entertain guests at the event.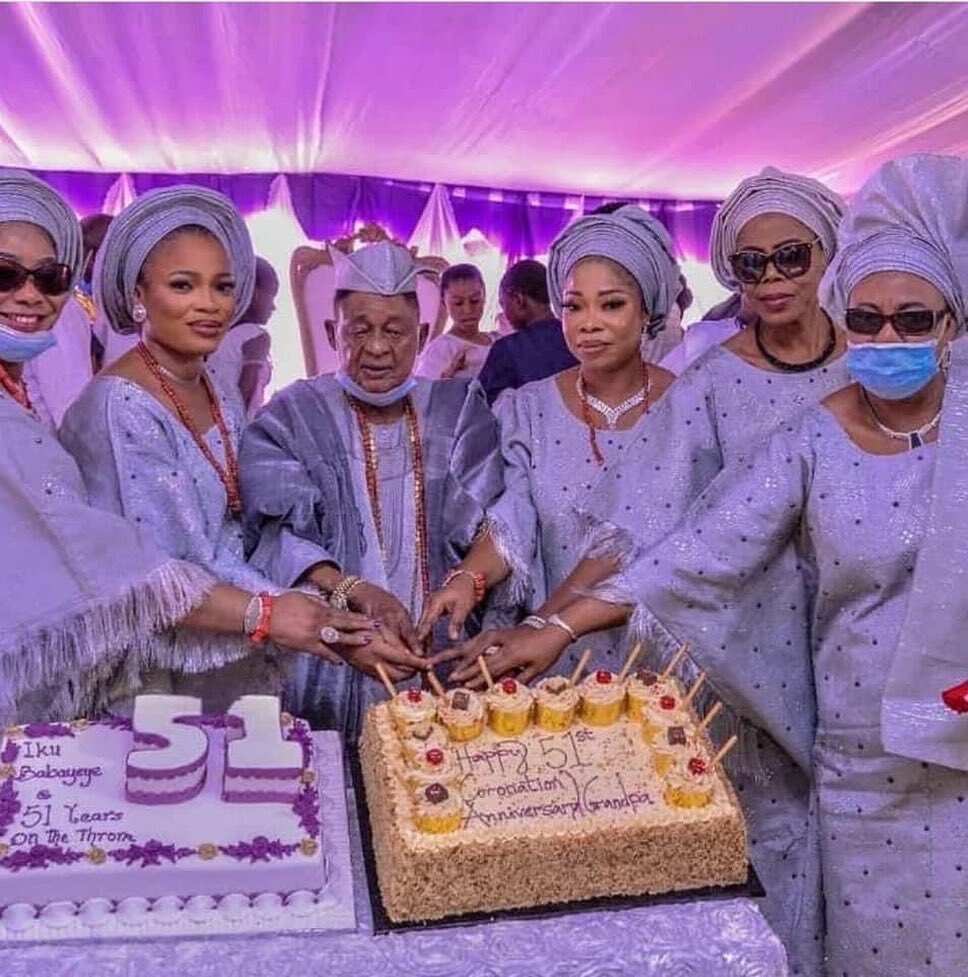 List, photos of the beautiful wives of late Alaafin of Oyo
Meanwhile, Legit.ng had reported that Alaafin of Oyo, one of the most respected Yoruba monarchs has passed on to join his ancestors. The respected monarch who, while alive had a good taste for pretty and young women left behind beautiful wives.
Recently, some Alaafin's picture with 7 of his beautiful, fair-skinned, younger wives went viral on the Internet and it became a topic of discussion as all the wives looked pretty in similar attire.
They were all gaily dressed in the same outfit with similar shoes and bags to complement their outing.
Strange times: When late Alaafin of Oyo invokes ancestors for Bola Ahmed Tinubu
The Alaafin of Oyo, Oba Lamidi Adeyemi before his passing had prayed that the ancestors of Yoruba land will back the presidential ambition of Bola Tinubu, National Leader of the All Progressives Congress (APC).
"If I check my list now, Asiwaju Bola Ahmed Tinubu is the first presidential aspirant to visit me. All you the chiefs and traditional rulers, you have heard what our visitor said.
"He said our prayers are needed. All the ancestors in Yorubaland, get up and assist your son."
Surprisingly, weeks after he made this comment, the traditional monarch died and became one of the ancestors.
Source: Legit.ng