Hungry Monkeys Invade Homes in Lekki, Ransack Kitchens and Food Racks in video; Agency Reacts
Hillarious reactions have followed a viral video that shows monkeys invading people's kitchens, ransacking their food racks in an apparent search for what to eat
A resident said they have been battling the funny creatures for several months and that the monkeys invade their homes in broad daylight
The monkeys are said to be from the Lekki Conservation Centre, a 78-hectare natural resource facility established since 1990
But in a swift rebuttal, the Lekki Conservation Centre said the monkeys are not theirs and that they could be from the bush
Hungry monkeys in Lagos State are taking extra measures to get themselves fed as they have started breaking into people's homes in the Lekki area of the state in search of food.
Residents of the high-brow Lekki area are not finding it funny as they say the ambitious monkeys have been hunting for edibles in their homes for several months now.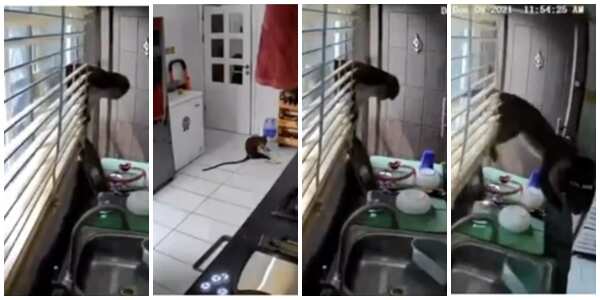 A short video shared on Instagram by Instablog9ja showed two monkeys gaining access in one of the homes through the window. One of the monkeys hopped from the window and landed on the sink before proceeding to what looked like a food rack. The second monkey hopped from the refrigerator to the floor in a move to join its counterpart.
They are not ours: Lekki Conservation Centre disowns stubborn monkeys
When Legit.ng contacted the management of the Lekki Conservation Centre (LCC), they said the accused monkeys did not come from the facility.
In a telephone interview, Rotimi who is an information officer in the facility said the monkeys could have come from any nearby bush to attack people's homes. Her words:
"Lekki is far from this area, and we are only accountable for monkeys from the Lekki Conservation Area. We have different monkeys in Lekki. They are not monkeys from this jurisdiction.
They are in another territory, they are not within our territory. Theere are other bushes within Lekki, and we can't just go and take them and bring them in because they are going to cause territorial issues and diseases for the monkeys that we have here.
The monkeys we have here have been living here, they grew up here. We just barricaded them. Animals here are restricted to the park."
No, animals here are well-fed, Lekki Conservation Centre denies starving its monkeys
A caption in the said video which was seen by Legit.ng, alleged that the monkeys from the Lekki Consertion Area were not well fed, prompting the creatures to go out in search of food. This was denied by Rotimi who spoke to our reporter. She said:
"Animals here are well fed and animals here, they don't attack. It is the tourists that come here that even made them get used to all these edibles because they want to feed them. Normally we don't encourage tourists to feed the animals all because what we have here is enough for them to feed and to survive with. We have a lot of food, we have different food here in the park that they feed on. If you even see their skin, they are different from other monkeys that you see outside. They are looking very fresh."
In a related development, Legit.ng previously reported how monkeys took over a hotel in Thailand.
The two monkeys were said to have toured around the facility and then decided to relax at the swimming pool found inside the hotel.
One of the staff of the facility capture the interesting moment and shared it online.
Source: Legit.ng