4 facts about Chief Funmilayo Ransome-Kuti, the First Woman to Drive a Car in Nigeria and How She Died
Chief Funmilayo Ransome-Kuti is the first woman to drive a car in Nigeria but she is also famed for many other things.
The amazon was a Nigerian educator and political campaigner who was at the forefront of women activism in the country before her demise.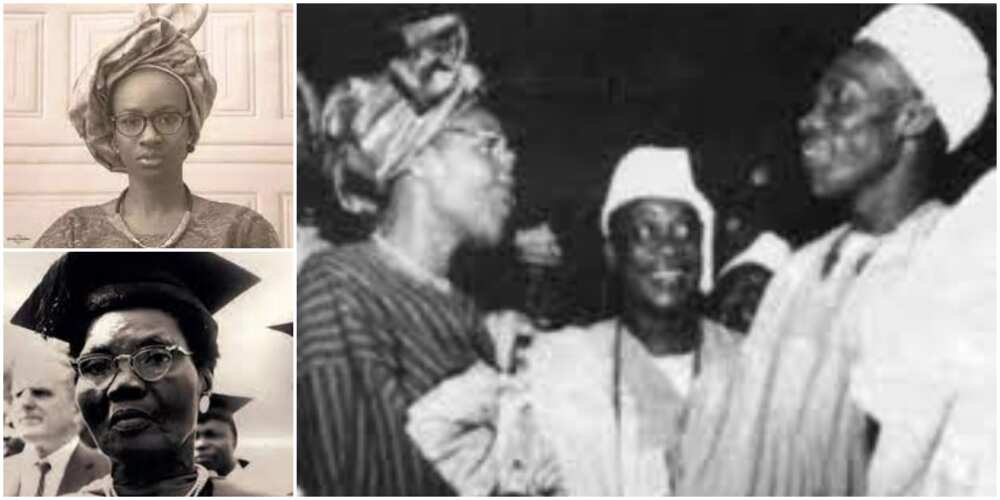 Legit.ng remembers the icon of fearless activism with 4 facts about her you may not be aware of.
1. Funmilayo is the mother of afrobeats legend Fela and is also related to Wole Soyinka
Funmilayo's family tree has birthed some great Nigerians that existed and are still in existence.
Do you have a groundbreaking story you would like us to publish? Please reach us through info@corp.legit.ng!
Some of these personalities include late afrobeats legend Fela Anikulapo-Kuti. Wikipedia reports that Sub-Saharan Africa first Nobel Prize winner, Wole Soyinka is her grand nephew.
The activist's husband's niece, Grace Eniola Soyinka is Wole Soyinka's mother but her own immediate family was blessed with four children namely Dolapo Ransome-Kuti, Olikoye Ransome-Kuti, Fela Anikulapo-Kuti and Beko Ransome-Kuti.
2. She dumped her Christian name
Funmilayo had Frances Abigail informally removed from her official names. This was done after she returned from schooling in Britain.
The reason for this, UNESCO posit, is due to the racism she encountered abroad.
3. She was the first woman appointed to the Western House
Apart from receiving the chieftaincy title of Oloye of Yoruba people, Funmilayo was also the first woman to be appointed to the Western House.
The Western House is a post-colonial assembly, either legislative or advisory, that is recognised by either a national or regional government as consisting of and providing a collective, public voice for an ethnic group's pre-colonial authorities.
During her lifetime, the well-travelled activist received numerous recognitions and honours.
4. How she died
Following injuries sustained from a military raid on her family property, Funmilayo died at the age of 77 on 13 April, 1978.
An account of how the raid happened has it that her family's property was surrounded by close to a 1,000 soldiers.
Upon gaining entry of the property forcefully, the soldiers assaulted residents and destroyed properties.
Funmilayo was said to have been thrown from a second-floor window which led to her being hospitalized and consequently entering coma which then led to her death.
How Google marked Funmilayo Ransome-Kuti's posthumous birthday with a special logo
Meanwhile, Legit.ng previously reported that Google had celebrated Chief Funmilayo Ransome-Kuti's 119th posthumous birthday with a special logo.
Google Doodle, a special feature that honours important personalities, recognised Chief Fumilayo Ransome-Kuti for human-centered activism and fighting for women's rights.
Fumilayo was also at the forefront of the women's campaign against unnecessary taxation in what was known as the Abeokuta Women's Revolt, a movement that unseated Oba Ademola II in 1949.
Source: Legit.ng