The bittersweet life of Funmilayo Ransome-Kuti
Some thread the life path as powerful forces created for the sole purpose of making history.
Many stories have been told about the supposed cause of death of Funmilayo Ransome-Kuti but all reflect a tragic end of a woman who lived for justice, survival and peace till her dying breath. They say she fell into coma for days before rejoining her creator, some others claim she laid in bed on the corridors of a hospital, fighting for her heart to beat actively again.
In reality, her heart did beat actively for 78 years. Years in which she brought hell to those who opposed the stance and strength of that which she was created as and those of members alike. A feminist, political leader, women's right advocate and as rightly described, Lioness of Lisabi and Mother of Africa. Legit.ng takes you back in history to the painful end of Funmilayo.
Born Frances Abigail Olufunmilayo Thomas on October 25, 1900 to Daniel Olumeyuwa Thomas and Lucretia Phyllis Omoyeni Adeosolu was the matriarch whose life reflected the solid definition of feminism.
READ ALSO: These historical facts about Ogun State will make you want to visit it
Frances began her formative years as the first female student at Abeokuta Grammar School, where she studied from 1914 to 1917. She moved on to be a teacher at the same school before traveling to England to study from 1919 to 1923, it was during her stay in England she became Funmilayo, deserting her other names.
Two years after her program in England, after her return to Nigeria, she married a clergyman and teacher, Reverend Israel Oludotun Ransome Kuti on January 20, 1925. As Funmilayo Ransome-Kuti, her destiny became instantly activated.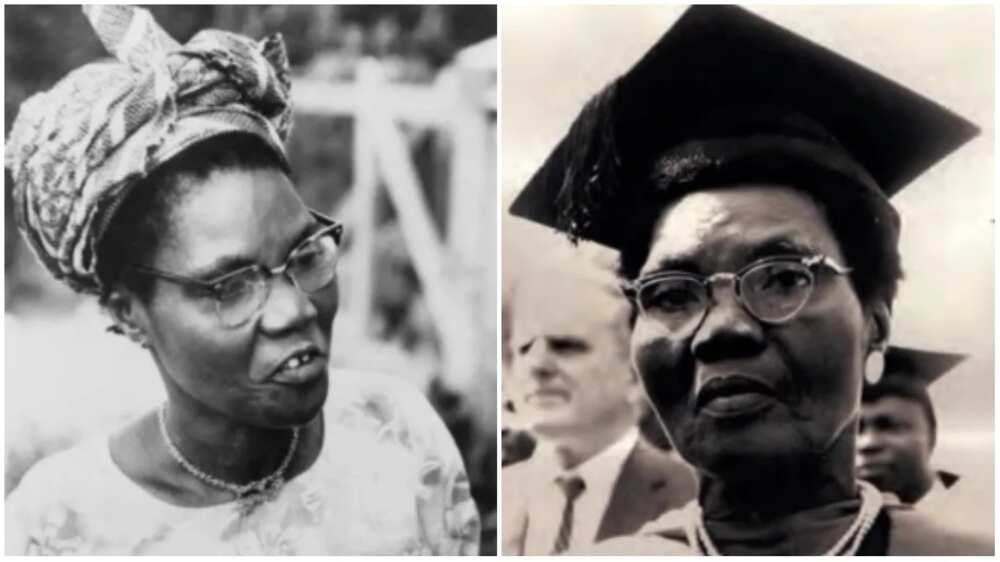 Funmilayo as her name implies; "give me joy" geared up to fight for the rights of women, consciously living for moments she ignited passion and purpose in the lives of the "skirt-wearers" in the Nigerian society, especially those in Egba. It pushed her to organise the Abeokuta Ladies Club, a strong movement birthed in 1932 made up of mostly, western-educated christian women.
In no time, it expanded to accommodate more women, including market women, illiterates and all who had suffered from the abject effects of colonial authority. Between 1935 and 36, Kuti made history as the first woman to ride a bike and drive a car. By 1946, her created club became Abeokuta Women's Club (AWU), open to all females residing in state capital of Ogun.
As the president of AWU, she led the rally against the so-called corrupt leadership of the then Alake of Egbaland who had been kept in charge of collection of taxes by the colonial suzerain. Funmilayo was outraged by the ill-treatment of female merchants in Abeokuta who were forced to pay obscene taxes and had the money demanded from them in them most dehumanising ways.
The agitation led by her, supported by hundreds of women lasted four years which in the end, resulted to the resignation of the Alake who was proven corrupt and unfit for the office in which affairs he ran. Having the Alake abdicated was however not all the AWU and its leadership were known for, they marched on fighting for greater educational opportunities for women and girls, the enforcement of sanitary regulations, and the provision of health care and other social services for women.
Funmilayo was not only the mother of modern Africa women's resistance in the roaring twenties, she was a proud mother of four, namely; Fela Kuti, Olikoye Ransome-Kuti, Beko Ransome-Kuti and Dolupo Ransome-Kuti. Of which Fela moved on to become a pioneer of the Afrobeat music genre, a human rights activist, and a bold political maverick.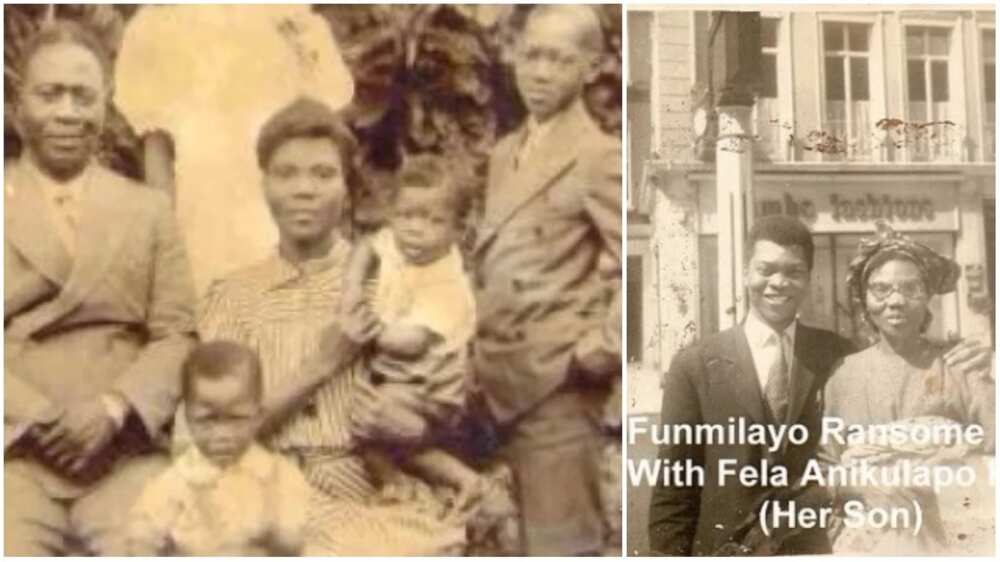 As a musician, Fela's songs were outlined to combat the social issues prevailing in the Nigerian society in the 1970s and thus, didn't sit well with the governance of the country. All the opposition didn't faze him however, he went on to create Kalakuta republic as well as adopting the name Anikulapo, meaning "death exists in my pocket."
Residing in Kalakuta was also Funmilayo who with her son, ditched the "Ransome" name as it originated from slavery. For years the republic stood as a force, running under its own terms, separate from the ideals of the government.
READ ALSO: Nigerian barber shows off his amazing hairstyle with Fela's face (photos)
That bold act of rebellion in the face of the then ruling party created an excuse for frequent visits from military men. In retaliation, Fela would release songs like Zombie to throw lyrical stones at the officers who made it their duty to storm his home and cause chaos.
In 1978, Kalakuta Republic witnessed the worst invasion when 1000 soldiers allegedly marched into the community and destroyed a lot of things and injured a lot of people. That "attack" reported the maltreatment of Funmilayo who was said to have been thrown down a story through a window by the angered soldiers.
In February of that year, mama, at age 78 slid into coma battling to regain consciousness. Some say she spent her last days in coma before passing on to the afterlife. Some others claim the injuries sustained from the fall eventually led to her death.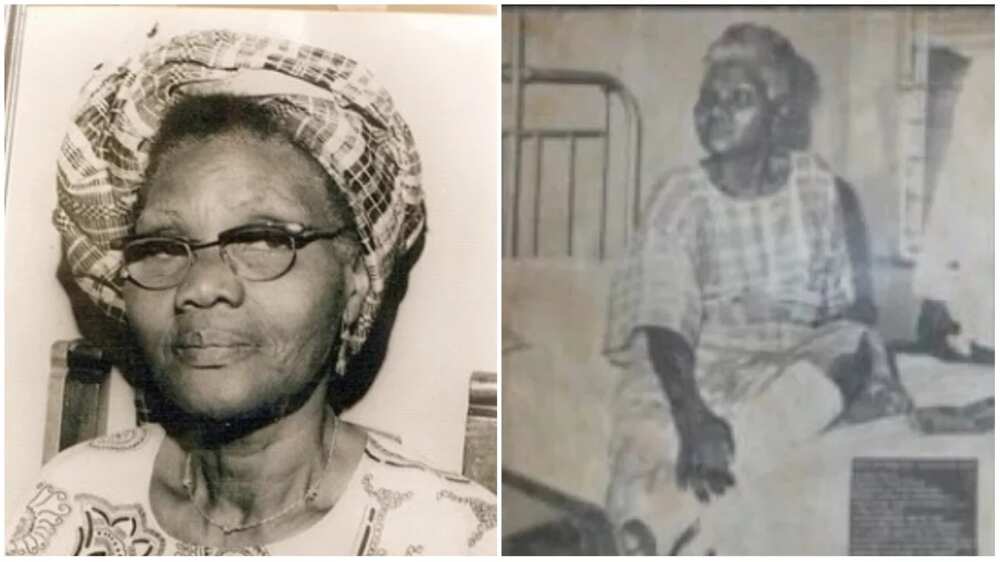 In Fela: The Life & Times of an African Musical Icon (pages 155 and 161), Michael Veal wrote: "His mother – then 78 years old – suffered a broken hip when she was thrown through a window. Fela's mother died in April, having never fully recovered from injuries she sustained in the Kalakuta attack."
On April 13, 1978, Funmilayo was pronounced dead with many variations to the actual cause of death. Attempts to tie the attack to the name of the soldier who started it was in vain. This led her son, Fela to sing a song about her perceived murderer titled Unknown Soldier.
Fela's next response to the death of his mother was to deliver her corpse to Dodan Barracks in Lagos, General Olusegun Obasanjo's residence and the release of another song titled Coffin for head of state. This clearly reflected the state of mind of the legendary singer as he was never the same until his death.
Her family wasn't the only one affected by her death. Mama's death became a powerful symbol, yet another tragic end of a force; mightier than a single soul. She is, till this day, a role model to many Nigerian women, young and old, embracing and preaching righteous feminism.
Funmilayo Ransome-Kuti may have died but the spirit of the revolutionary lives on. She is forever remembered as the fierce and brave woman who stood up for truth regardless of the consequences.
In all, her death activated even more awareness for women across the nation and every African who looked up to her as a saviour and deliverer of justice and fairness to every human.
PAY ATTENTION: Read best news on Nigeria's #1 news app
Do you have news to share? Contact Legit.ng instantly
Deji Adeyanju asks EFCC to investigate Tinubu on Legit TV:
Source: Legit.ng