1st Cruiserweight Champ in Africa: 6 Facts About Bash Ali who Wants to Fight at 64
Cruiserweight champion Bash Ali has been in the news lately after Nigeria's sports minister Sunday Dare sued him over alleged defamation of character and disruptive comments. Despite being a champion, there are those who may have never heard the name Bash Ali, which is the reason for this piece.
Legit.ng presents six facts about Bash Ali.
1. Birth and early career
He was born Bashiru Ali on February 27, 1956, in Lagos. He is popularly known as Bash Ali.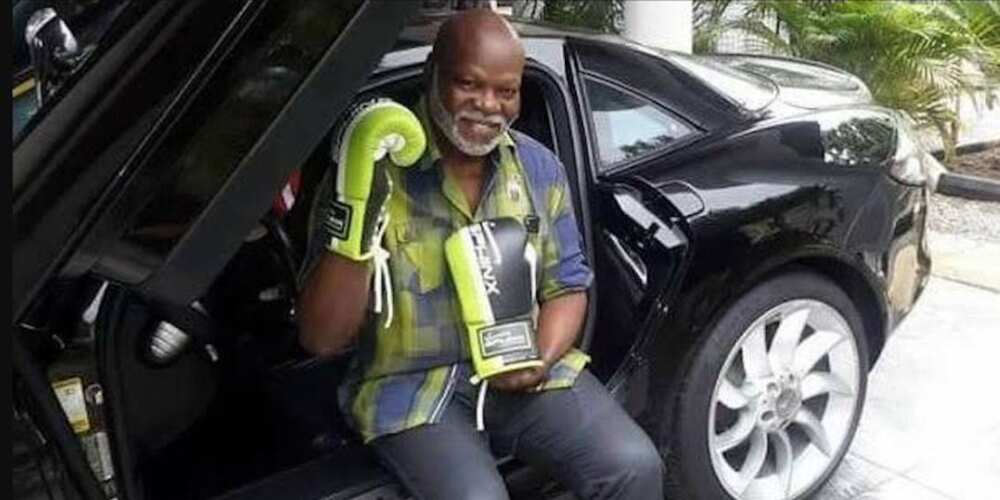 According to The Guardian, in 1985, Bash Ali made history as the first cruiserweight boxing champion from the African continent.
His parents are from Etsako in Edo state.
2. Left Nigeria for wrestling
Bash Ali left Nigeria on a wrestling scholarship which was awarded to him by Mildred Burke Professional School of Wrestling in the United States, Sport and Study reports.
Upon his arrival in the United States in 1974, he was scared after seeing 6feet 9inches wrestlers who weighed 400pounds.
In his words:
"I knew they would simply kill me. So, I went to school and was looking for work one day when I saw a poster of Mohamed Ali on the wall and I went in and saw two guys in boxing bout. So, I told the supervisor I would like to spar with one of them, and he told me to come the following day."
3. Began boxing career in 1978
Bash Ali began his boxing career in September 1978 and never fought as an amateur. He is the only boxer in the world to win every cruiserweight title conceivable.
4. He wants to fight again
The former cruiserweight champion wants to return to the ring and enter the Guinness World Records as the oldest man to fight in Nigeria and Africa.
5. His last fight
Bash Ali's last fight was in 2004 when he knocked out the then British cruiserweight champion, Tony Booth, in the fourth round.
6. Doesn't smoke and drink
The ex-world champion doesn't smoke and drink but loves clubbing, dancing and watching people dance.
Buhari's minister begs police for protection following Bash Ali's threat
Legit.ng previously reported that Nigeria's sports minister Sunday Dare urged police and other security agencies in the country to be on their toes following the threat he got from Bash Ali.
Bash Ali who was former world boxing champion is currently not on good terms with the minister and recently accused the 55-year-old of extorting money from him.
According to the report, Bash Ali is said to have made a video to threaten Dare, claiming that he would come to disrupt the ministry's activities.
Source: Legit.ng