Tinubu: FCTA Demolishes Abuja's Oldest Shopping Complex
The UTC shopping plaza located in Area 10, Garki-Abuja, has been demolished by the Federal Capital Territory Administration (FCTA)
It was gathered that the demolition started in the early hours of Saturday, June 3, before the arrival of occupants
Goods and other valuables were reported to be trapped inside some of the shops when the demolition started
FCT, Abuja - The Federal Capital Territory Administration (FCTA) has demolished the iconic UTC shopping plaza in Area 10, Garki Abuja.
The UTC plaza, which is over 30 years is the hub for printing and graphics design in Abuja, and it is regarded as the oldest plaza in the city, Vanguard reported.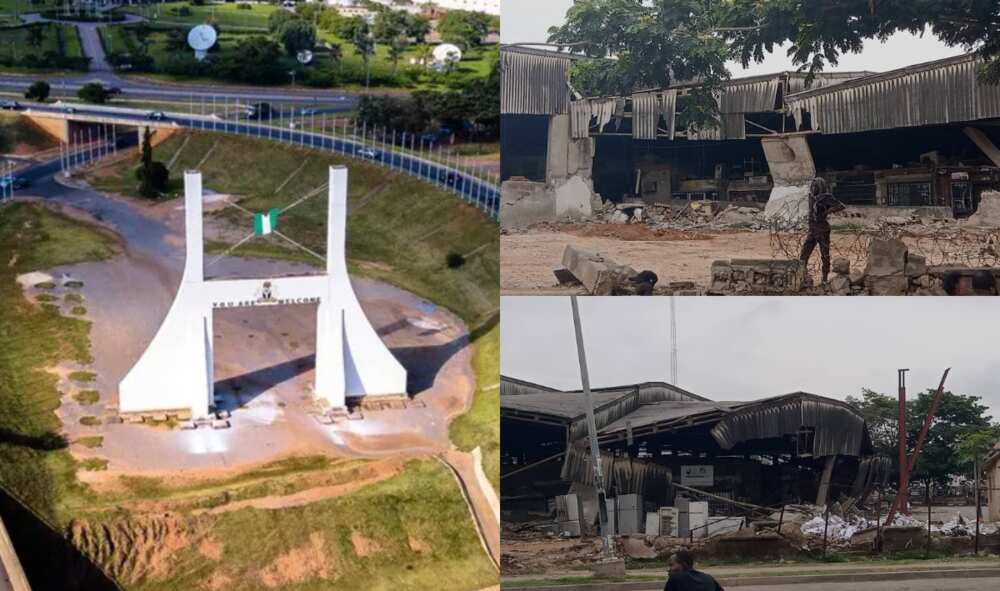 On why the structure was demolished, the Deputy Director of Monitoring and Inspection, Department of Development Control in FCTA, Hassan Ogbole, said the shopping plaza no longer meets the modern standards of what is obtainable for the growth of SMEs.
He stated that structural defects were also detected, and there was a need for an upgrade to meet global standards while noting that occupants of the plaza have been given alternatives pending the completion of the reconstruction.
Ogbole said:
"The place is in a state of disrepair. It is no longer habitable for occupation and business activities. The place has to give way for a new development.
"The company handling the development has informed Development Control and we are here to enforce compliance."
He further revealed that there were no inconveniences whatsoever for the occupants noting that adequate notice was issued to them.
Ogbole said:
" We have given them enough notice for them to remove their goods, to enable us to start the work".
Meanwhile, Peter Olumiji, the Secretary of Command and Control, FCTA Department of Security, revealed that the demolition was strategic to curb security breaches around the area.
An occupant of the complex, Samuel Onuchukwu, said he and his fellow occupants were not pleased with the conditions of the new developers as it is not secured for business.
He further revealed that most occupants had yet to remove their goods from their shops before demolition.
Onuchukwu said they all woke up to see that the structure had been demolished and the area was barricaded while their goods were still trapped in the complex.
Another occupant, John Sunday who spoke to Punch admitted that the FCTA had sent a notice earlier in the year.
He, however, noted that occupants relaxed because the issue was still being adjudicated in court for redress.
Sunday said:
"Yes, we were given notice earlier this year that they were coming. But the whole matter is still in court, according to what our leaders in the complex told us."
Tension As Newly Sworn-In APC Governor Orders Demolition of Police Station, Gives Reason
In another development, Governor Umaru Bago of Niger has created tension in his state as he ordered the demolition of the Chanchaga police station in Minna in his inaugural speech.
According to the governor, the police station is sitting on a water pipeline and would be marked for demolition on a date.
The governor said the decision was born out of the desire of his government to provide potable water for the people of the state.
Source: Legit.ng