Council of State Reveals Position on Naira Redesign Policy, Tells CBN Gov Emefiele What to Do
The Council of State has backed the controversial naira redesign policy of the Central Bank of Nigeria (CBN)
However, the council asked the CBN governor, Godwin Emefiele, to make new naira notes available or recirculate old notes to ease Nigerians' suffering
Members of the council made their position known during a meeting presided over by President Muhammadu Buhari at the Presidential Villa
State House, Abuja - The Council of State has expressed support for the Naira redesign policy of the Central Bank of Nigeria (CBN).
Council members made their position known at a meeting held at the Presidential Villa on Friday, February 10.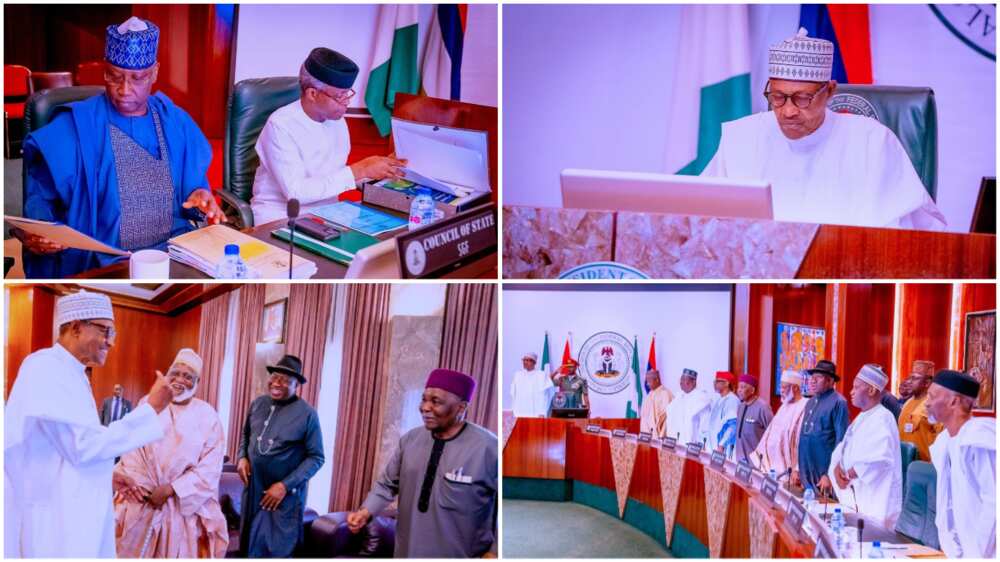 The meeting was presided over by President Muhammadu Buhari. Those in attendance include Vice President Yemi Osinbajo, Former Head of State Gen. Abdulsalam Abubakar, Former President Goodluck Jonathan, and Former Head of State Gen. Yakubu Gowon.
The Minister of Justice Abubakar Malami, Senate President Ahmad Lawan, and House Speaker Femi Gbajabiamila were also in attendance.
Former President Olusegun Obasanjo joined the meeting online.
Naira redesign policy: Council of State advises CBN governor Emefiele
Though the council members backed the Naira redesign policy, they asked the CBN governor, Godwin Emefiele, to make new naira notes available or recirculate old ones, TheCable reported.
The Nigerian leaders said the CBN should take the step to ease the suffering of Nigerians.
Legit.ng gathers that AGF Malami revealed this while briefing journalists at the end of the meeting.
He said it is part of the two significant resolutions reached by the council, the other being that the country is on course for the conduct of the general elections.
"The two major resolutions that were driven arising from the deliberation of are one: that we are on course as far as election is concerned, and we are happy with the level of preparation by INEC and the institutions.
"Two, relating to the Naira redesign policy, the policy stands, but then the council agreed that there is a need for aggressive action on the part of the CBN as it relates to the implementation of the policy by way of ensuring adequate provision being made with particular regard to the supply of the Naira in the system," Nigerian Tribune quoted the AGF as saying.
The Council of States is an organ of the Nigerian Government. Its functions include advising the executive on policymaking. It has no executive power but plays a vital advice and consent role in government operations.
Membership of the Council includes the President, Vice President, Secretary to the Government of the Federation, former presidents, former heads of state, former chief justices of Nigeria, President of the Senate, Speaker of the House of Representatives, governors of the 36 states of the federation and the Attorney General of the Federation.
Old Naira notes deadline: FG speaks on Supreme Court ruling
Earlier, Legit.ng reported that AGF Malami said the federal government would obey the Supreme Court ruling, which put the CBN's February 10 deadline for the old Naira notes swap on hold.
Malami, however, said the federal government would take necessary steps to set aside the interim order.
Recall that the Supreme Court, in a ruling on Wednesday, February 8, suspended the CBN deadline for the old Naira notes swap and fixed Wednesday, February 15, for the hearing on the matter.
Source: Legit.ng