Pastor Adeboye's Very Close Ally and RCCG Assistant General Overseer Is Dead
The Redeemed Christian Church of God (RCCG) has lost one of its leaders, Professor Folagbade Aboaba, to the cold hands of death
Professor Aboaba who was an Assistant General Overseer at the popular church reportedly died on Monday morning, January 23, after a brief illness
The deceased was reportedly one of the closest allies of the RCCG General Overseer, Pastor Enoch Adeboye
An Assistant General Overseer of the Redeemed Christian Church of God (RCCG), Professor Folagbade Aboaba, has died at the age of 90.
A report by The Punch indicates that Aboaba died on Monday morning, January 23, after a brief illness.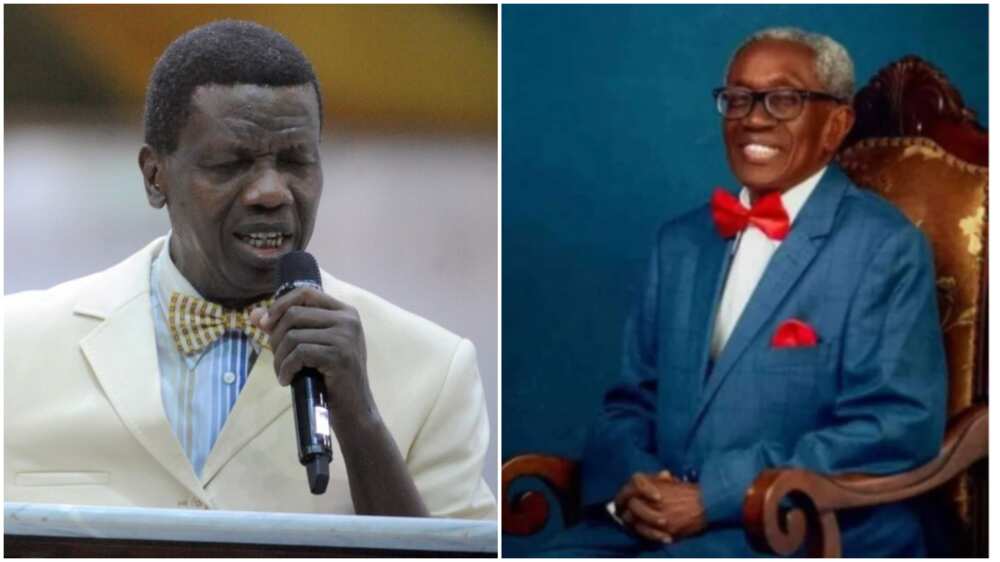 Legit.ng gathers that the deceased was one of the closest allies of the General Overseer of the RCCG, Pastor Enoch Adeboye.
The death was announced in a statement released by the national chairman of the Nigeria Institute of Agricultural Engineers, Professor Folarin Alonge.
Alonge pays tribute to Folagbade Aboaba
Alonge wrote a tribute to Aboaba's memory on the website of the institute, describing the late scholar as one of the founding fathers of the institute.
He said the deceased was always passionate about the growth of Agricultural Engineering and mechanisation in the country.
"One of our Fathers in the profession, Prof. Fola Aboaba, has gone home. He was a Professor of Professors of Professors.
"Prof Folagbade Olajide Aboaba was an Emeritus Professor of Agricultural Engineering at University of Ibadan and the Pioneering Dean of the Faculty of Technology (1976-1982). I was privileged to be taught by him at both undergraduate and Masters class. He was a mentor to several people and professors," Alonge wrote.
Along recalls last moments with late Assistant RCCG general overseer
In the tribute, Professor Alonge said he had a chat with the late scholar in September 2022.
He wrote:
"I had a chat with him on Sept 15, 2022, when we were preparing of NIAE conference in Asaba (Delta State). His response to my asking about him is 'Thank you. Ageing slowly but fine. Glory to God. God bless you'. Baba was a lovely, cheerful and good man."
He added:
"May his soul find eternal rest in God."
Some facts about Professor Folagbade Aboaba
Professor Aboaba was the Executive Secretary of the Committee of Vice Chancellors of Nigerian Universities from 1992 to 1998.
The late scholar also served as the founding Pro-Chancellor of Redeemers University from 200 to 2013.
He was the chairman of Governing Council of the Federal Institute of Industrial Research Oshodi (FIIRO), Lagos (1976-1979).
Professor Aboaba also a played significant role in the establishment of the National Centre for Agricultural Mechanization, Ilorin.
He was a member of the American Society of Agricultural and Biological Engineers (ASABE) as well as the Institution of Agricultural Engineers UK.
Reverend Dr Daniel Otoh is dead
In another report, the Shepherd's House Assembly, a popular Nigerian church, recently announced the death of its pastor, Reverend Dr Daniel Otoh.
A statement signed by Pastor Mrs Jackie Talena on behalf of the church indicates that Dr Otoh, a medical consultant, died on Sunday, December 4.
"It is with rude shock and great sadness but with consolation in His word, we at THE SHEPHERD'S HOUSE ASSEMBLY announce the passing on to Glory of our beloved pastor, husband, father medical consultant Rev. Dr. Daniel Otoh," the statement read partly.
Source: Legit.ng