My Wife Threatening To Leave Due To My Condition, Man Suffering From Elephantiasis Cries Out
The Nigerian government has committed to eliminating Neglected tropical diseases across the country
The commitment was made by the minister of state for health, Adeleke Mamora at a high-level roundtable meeting in Abuja
Also, other partners including health non-governmental development organisations operating in Nigeria made commitments to eliminate the numerous forms of NTDs in the country
A father of three children, simply identified as Yahaya has cried out for help after surviving surgeries to save his two legs from lymphatic filariasis popularly known as elephantiasis.
Yahaya made the appeal in Abuja on Monday, December 13, at a high-level roundtable meeting on the elimination of Neglected Tropical Diseases (NTDs) in Nigeria.
The meeting was organised by the Chairman Senate Committee on health and the chair of the National Task Team (NNTT) on NTDs, Senator Ibrahim Oloriegbe.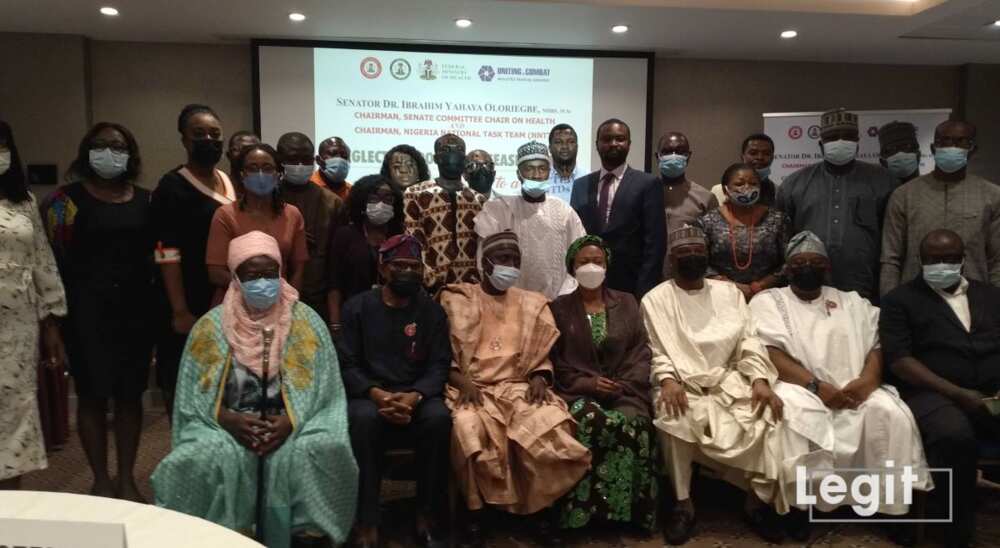 NTDs is a group of communicable diseases that affect over 1.7 billion people causing them immeasurable suffering. More often than not, the diseases leave the survivors debilitated, disfigured and can be fatal.
Do you have a groundbreaking story you would like us to publish? Please reach us through info@corp.legit.ng!
Some of these diseases which are mostly waterborne include Bilharzia (schistosomiasis), Blinding trachoma, Buruli ulcer, Chagas disease, Dengue and Chikungunya, Echinococcosis, Elephantiasis (lymphatic filariasis), Foodborne trematodiases, Guinea worm disease, snake bites, Intestinal worms (soil-transmitted helminths) among many others.
Further calling for help from Nigerians, the government and relevant stakeholders, Yahaya who has been suffering from the disease for the past 30 years said his wife has threatened to leave him due to his ailment.
Despite having undergone surgeries to alleviate the pain from the disease, Yahaya whose two feet are still heavily swollen said fluids were extracted from his legs.
He said:
"I have been operated upon with fluid removed from my legs, the swelling stopped for a while and continued again because I released from using my drugs."
The father of three said he would normally collect drugs for managing the ailment from the National Hospital but could not continue for some time because his drugs finished at the time leading to a relapse.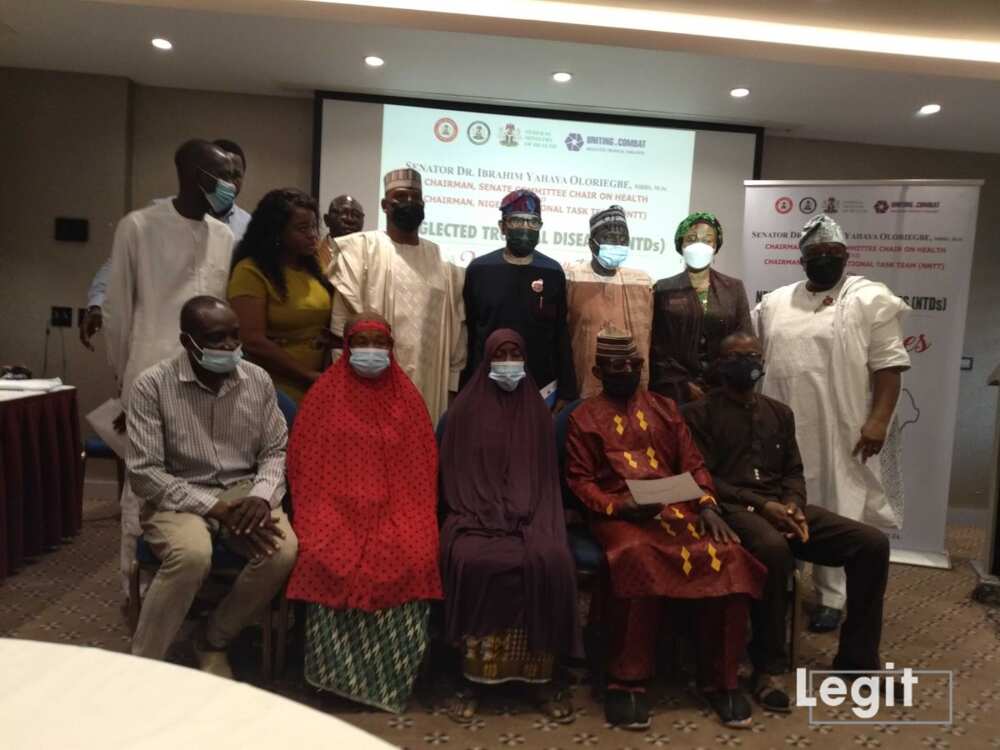 Another victim of the disease, Amina Maidaji, said her means of livelihood has been affected since she contracted the disease 20 years ago.
Maidaji who used to farm stopped going to the farm because she could barely move her legs.
In as much as she said she still can not go to the farm because of her swollen feet, Madaji said some sort of relief, however, came for her when she was able to access drugs from the local government area.
The World Health Assembly (WHA) at its 73rd meeting in November 2020 established a roadmap to tackle the 20 NTDs and other groups of diseases affecting millions of people around the world.
According to WHA, the decision-making body of the World Health organisation (WHO), the roadmap is aimed at improving the coordination and collaboration between health partners, integrating and mainstreaming approaches, and promoting greater ownership of tackling NTDs by governments and communities.
The 2021-2030 roadmap titled 'Ending the neglect to attain the Sustainable Development Goals: a roadmap for neglected tropical diseases 2021-2030' replaces the first of its kind which was published in 2012.
The new roadmap also sets global targets and milestones to prevent, control, eliminate, and eradicate the NTDs and other disease groups.
Speaking on the possibility of eliminating NTDs from Nigeria, Senator Oloriegbe said the meeting proceeds "100% Committed Campaign" Scheduled to kick off in Nigeria in January 2022.
At the campaign, President Muhammadu Buhari is expected to join other world leaders in endorsing the Kigali Declaration on NTDs as part of the events to mark World NTD Day and to commemorate ten (10) years of the London Declaration on NTDs.
Oloriegbe said that the prevalence of NTDs in Nigeria is not new but what is important is the commitment to fight the diseases to finish.
He said:
"Building on this, it is now time for us to have improved coordination of the efforts at the various levels aimed at eliminating NTDs in Nigeria by increasing oversight on the implementation of NTD programmes and more importantly accelerating the interventions aimed at eliminating the diseases."
"It is also no longer news that NTDs' are indeed 'Neglected', not just globally but within Nigeria. It is time to reverse this trend and pay more attention to the alleviation of the sufferings encountered by people affected by NTDs."
He further warned that the usual expiration of medical commodities for NTDs at the ministry health warehouses would no longer be acceptable while noting that strategic plan must be developed and implemented for the drive to eliminate NTDs in Nigeria.
Oloriegbe said:
"Developmental partners must continue to ensure that their support for Nigeria, being the second highest burden country for NTDs, is sustained and that these effort in Nigeria is a determinant in moving Nigeria from being the 2nd highest burden to being the last in the next five years."
"Partners also have a duty to report any anomaly or challenges noticed in their line of duty to the national task team on NTDs or directly to my office, as the Chair of the National Task Team.
"We need the organized private sector and corporate organizations to mobilize its members to urgently contribute towards this elimination drive. NTDs affect the quality of life of the citizens and often times causes severe disabilities."
In his address, the minister for state for health, Adeleke Mamora said Nigeria is 100 per cent committed to eliminating NTDs across the country.
Mamora said that is important for all stakeholders to work collaboratively towards eliminating the diseases.
He said the health ministry would ensure effective and efficient execution of NTDs programmes while guaranteeing that the best of the team in terms of competence and professionalism is deployed to the NTDs unit in the Public Health department.
Mamora said:
"This also includes efficient data gathering especially for IDM NTDs as well as adequate Monitoring, Evaluation and Learning (MEL) at state, local government and ward/ grassroot levels- because this is where the work really needs to be done."
"In addition, the ministry will ensure that medical commodities including drugs donated are immediately distributed to the last mile where persons who need them can have access to the items."
Also speaking, the lawmaker representing Lagos Central, Senator Oluremi Tinubu, said the elimination of the diseases would improve the productive capabilities of people living with NTDs.
Tinubu called for massive creation of awareness through strategic communication approaches that could target localities where these diseases are prevalent.
She said the proposed strategy should also target individuals and corporate entities that could join the already existing partnership to eliminate NTDs.
Three family members die of elephantiasis in Uganda
Podoconiosis, a rare form of elephantiasis, has affected a village in Uganda leading to the death of three members of a family.
This disease has caused Margaret Tindimutuma's family untold suffering after her two sons and husband died of elephantiasis.
Her daughter is also affected by the disease which has left the Ugandan village devasted.
FG needs substantial healthcare funding to prepare for future pandemics
Global public health advocate, Vivianne Ihekweazu, says funding to prepare for future pandemics should begin now.
Ihekweazu stated that resource allocation to the health sector in Nigeria, more than ever before, needs greater prioritization.
She noted that Nigerian authorities need to address the burden of communicable diseases ravaging the country.
Source: Legit.ng