Fani-Kayode: Three Questions His Estranged Wife Precious Chikwendu Needs To Answer
A former minister of Aviation, Femi Fani-Kayode, has been in a running battle with Precious Chikwendu, the mother of his four sons
The situation got to a point in which the mother of four accused the former minister of not active in bed
This allegation against the virility of Fani-Kayode consequently became a trending topic on social media
Following the controversies surrounding the marriage of former Minister of Aviation, Femi Fani-Kayode and his estranged wife, Precious Chikwendu, many Nigerians have waded in to the development.
While some supported Fani-Kayode, others lambasted him, describing him as a bully.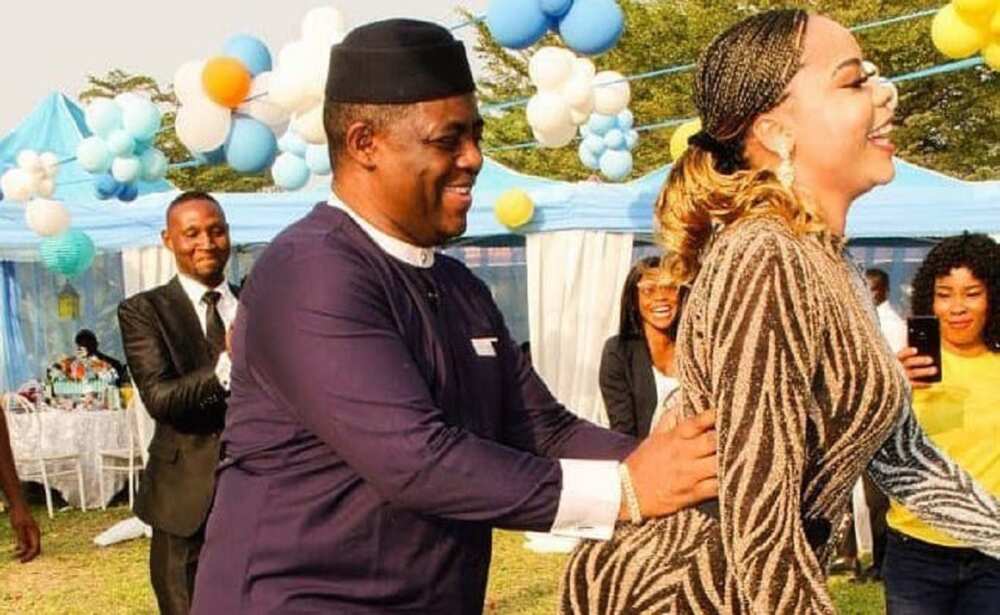 Recall that Chikwendu recently claimed that the former minster can no longer perform his duty as a man in the bedroom because he has erectile dysfunction.
In response, the former minister said Chikwendu is suffering from Severe Bipolar Disorder.
Reacting on the development, Dayo Williams, a journalist and social commentator posed some questions for the former beauty queen.
He said:
"I have deliberately refused the nagging urge to write about the virility or otherwise of Femi Fani-Kayode's manhood as claimed by his estranged wife for doing so will amount to invading the privacy of a private individual.
"And if"s true that he is no longer active in the Oza room matters, which I cannot independently verify or debunk, I honestly feel it amounts to body shaming him by saying he's impotent. And I mean this by every fibre left in me.
"In any case, I do not see the estranged wife as a witness of truth in this particular case. I very much doubt a young and virile girl will stay in an abusive and violent marriage as she portrayed it where the man's joystick is as dead as dodo.
"We gave been regaled with tons of stories of women enduring a joyless and abusive marriage simply because the man's an alpha performer when it comes to digging dip.
"Back to the main menu here:
What was Precious doing with FFK for six years when she knew the man could not deliver where it mattered most?
How was Precious able to satisfy her sexual desires for those six years? She peeped outside or she used vibrators when the man with the famous short-fuse is not around?
How was Precious, with her fragile body - seen a couple of times in Abuja- able to accommodate and endure the radioactive violence of FFK for six years?"
You are a bully, drop your ego: Toyin Lawani slams Fani-Kayode, begs Nigerians to support Precious Chikwendu
Meanwhile, Toyin Lawani has called out Femi Fani-Kayode for denying his ex-wife Precious Chikwendu of seeing her children.
Slamming the former aviation minister for talking about her but can't settle his home, the celebrity stylist stated that he has been torturing Precious by arresting her with police and making her run from one court to another.
Toyin noted that she heard Fani-Kayode is a bully, which is why people are not speaking up for Precious.
Source: Legit.ng