EndSARS: Lagos Government Releases Online Version of Judicial Panel of Inquiry Reports
The online version of the reports of the Judicial Panel of Inquiry which probed the EndSARS incident at the Lekki Toll Gate has been released
According to the Lagos state government, the panel report is now available to Nigerians who are interested in reading it
Going further, the commissioner for Justice, Moyosore Onigbanjo, said the public can contact the state for further enquiries
The Lagos state government says it has released the online version of the reports of the Judicial Panel of Inquiry which probed the EndSARS incident at the Lekki Toll Gate.
The commissioner for justice, Moyosore Onigbanjo, said in a statement on Sunday that the reports were submitted to Governor Babajide Sanwo-Olu on November 15 by the panel.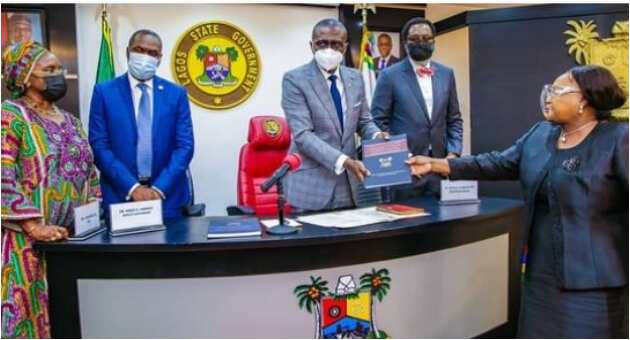 Mr Onigbanjo, who is also the attorney-general of Lagos State, said the reports are entitled "Report of Lekki Incident Investigation on 20th October 2021" and "Consolidated Report on General Police Brutality".
He said both reports were now available to the public.
"Members of the public can view and download the Certified True Copy (CTC) of the documents on the website of the Lagos State Ministry of Justice – https://lagosstatemoj.org/official-documents/
"'Further inquiries should be directed to the Office of the Hon. Attorney-General and Commissioner for Justice through info@lagosstatemoj.org."
Video shows moment Sanwo-Olu's representative was booed at The Experience 2021, Pastor Adefarasin apologises
Meanwhile, a representative of the governor of Lagos state, Babajide Sanwo-Olu, was on Friday night, December 3, booed by participants at the 2021 Experience concert organised by the House on the Rock Church.
Trending videos showed the moment the youths at the concert pointed their thumb downwards as the official gave his speech at the Rock Cathedral in Lekki Lagos. As the representative tried to pass across his message, the crowd did not let him as they made different sounds to show their disapproval.
The senior pastor of House on the Rock Church and convener of the yearly worship concert, Paul Adefarasin, later intervened and apologised to the Lagos state government. He chided the youths for their behaviour which he described as unscriptural. According to him, they should pray for the leader instead.
Source: Legit.ng