Sylvester Oromoni: Late PDP Senator's Son Involved in Pupil's Death? Revelation Springs Up
The Buruji Kashamu family has denied allegations that one of its sons, Michael Adewale Kashamu, bullied late Sylvester Oromoni
The late PDP's senator said the Dowen College pupil was the school son of Michael at a time but some time before he died, the relationship ceased
According to a statement released by the Kashamu, much of what is reported online by some commentators on the issue are lies
The family of late Buruji Kashamu has called for calm over claims that one of its sons, Michael Adewale Kashamu, was one of the bullies allegedly involved in the death of Sylvester Oromoni.
In a statement released by a family member, Mutairu Kashamu, the late senator's family admitted that Michael and Sylvester had a school father-son connection but explained that the relationship had ceased to exist at the time the latter died, Punch reports.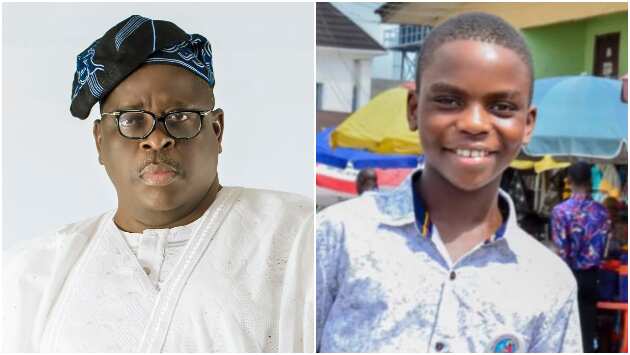 The statement p[arly read:
"Our son, Michael Kashamu, had acted as a school father for the late Sylvester in his first session in the school."
The PDP lawmaker's family regretted the death of the Dowen College pupil which is still being investigated.
Sahara Reporters has more of the statement:
"Some of the true facts now slowly emerging from under the mass of lies are that: Our son, Adewale Michael Kashamu, had acted as a school father for the late Sylvester in his first session in the school at the request of Sylvester's sister who is also a student of the school.
"However, in the 2021 session commencing in September 2021 Adewale Michael Kashamu was moved to a different floor in the boarding house and engrossed in his own studies and activities, he was no longer as close to Sylvester as in the previous session.
"Adewale Michael Kashamu is a compassionate and considerate boy. Sometime last session, some boys had been accused of beating Sylvester with belts and seizing his foodstuff but Adewale Michael Kashamu was not involved at all. He was in fact in sympathy with Sylvester over that incident."
Please come back: Late Dowen student Sylvester Oromoni's brother pens emotional tribute
Meanwhile, Sylvester's death had been met with widespread mourning.
The young boy reportedly died as a result of bullying at the hands of seniors at his secondary school.
The late Sylvester died just a few days to his 12th birthday and his big brother, Great Oromoni, took to social media to pen down an emotional tribute. In the touching note, Great noted that Sylvester was his only little brother and he begged him to please come back.
Source: Legit.ng