Haroon Adediran's Death: Investment Analyst Mourns, Recalls How He Lived With Him For Several Years
The way of life of Osogbo Deputy Chief Imam has been one that is truly worth emulating as an analyst shared stunning revelation regarding his years with the late cleric.
Ismail Rufa'l, an investment analyst described the late Haroon Adediran, as a man who is very accommodating and commands respect from young scholars
The financial guru has mourned the passing of Osogbo Deputy Chief Imam, Haroon Adediran whom he described as a devoted Islamic scholar.
Rufa'l who works with One17 Capital Ltd, Abuja, hails from Osogbo and lived with the deceased for many years.
In an interview with Legit.ng's Mudathir Ishaq, Rufa'i condoled with the late Adediran 's family, the people of Osogbo and the southwest in general over the passing of the Imam, saying Sheikh actually contributed to the growth of Islam in Osogbo and in Osun state and even the southwest in general.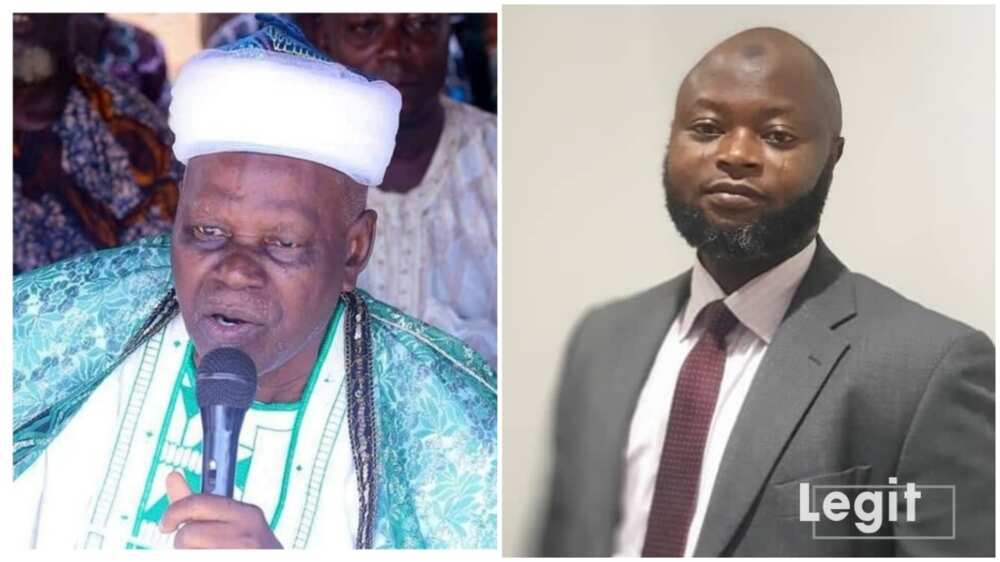 He said:
"The late Imam started as a Imam Raatib In a mosque in a local area in Isale Osun. From there he became the Imam of Islahudeen Central Mosque Central Mosque. He was then appointed as the Mufassir then as the deputy imam of the entire Osun state in Osogbo.
"The good thing about him is that he is one of the Islamic scholars that young scholars respect a lot because he believes in mentorship. And because of that he brought in young Islamic scholars into the leadership role at the central mosque level. So you have the Mufassir, who is a lecturer. And the young man due to his contribution is making sure they have a vibrant and young succession plan to accommodate the young people into the leadership role of various Islamic organisation.
The Imam's contribution and years he spent with him
The investment analyst also talked about the Islamic scholar's contribution to society.
According to him, the late Imam impacted lives and built Islamic school which accommodates western education.
He stated thus:
"Sheikh actually contributed to the growth of Islam in Osogbo and in Osun state and even the southwest in general. His dad was among the first migrant to travel to HaJJ using foot and animals. He was the first man generally to go to Hajj in Osogbo.
"Apart from him, he also has brothers who are religious scholars. Some of his sisters got married to chief Imam of Osogbo land.
"In a family that is well deep in terms of religious upbringing, for him also, he has children who are also Islamic scholars and some are also scholars in other areas of endeavor."
His Position
Speaking on how he used his position to change the narrative in his society, Rufa'l said:
"On his own, he has an Islamic school that also accommodate western education, in other to contribute to Islamic education in a very new areas, for people, parents so that their children will be able to go to school."
He added that the interesting thing about the Imam is that he is very accommodating.
He affirmed:
"One thing about him is that he accommodate people a lot.
"When you go to his house, you will see people who are not his close relatives. I stayed with him for like seven to ten years, and I can attest to his simplicity and humility because he is somebody that when you are with him, you will actually be willing to be a Muslim because he dress very attractive to change the narration he is a Muslim."
Governor Oyetola mourns as Osogbo Deputy Chief Imam Dies at 87
Meanwhile, Legit.ng had earlier reported that on Wednesday, December 1, the Deputy Chief Imam of Osogbo, Haroon Adediran, passed on at the age of 87.
It was reported that the deceased, who reportedly died after a brief illness, was later buried in Osogbo in accordance with Islamic rites.
In a statement signed by his press secretary, Ismail Omipidan, Governor Adegboyega Oyetola expressed shock at the passage of the cleric.
Source: Legit.ng