German Govt Moves to Train 30,000 Nigerian Policemen on How to Handle Protests
The German government seems to be worried about the inability of Nigerian police personnel to manage protesters effectively
The government has now made an offer to train 30,000 Nigerian police personnel in their country for free
Some Nigerians have reacted to the offer, warning that some of the policemen might not return after the training
FCT, Abuja - The German government has asked its Nigerian counterpart to release at least 30,000 Nigeria police personnel for special training in Germany on how to manage protests without using weapons.
A high-level delegation from Germany, which visited the chairman of the Police Service Commission (PSC), Musiliu Smith, specifically said it was willing to train the new crop of recruits into the Nigeria Police Force on best practices on street protest management.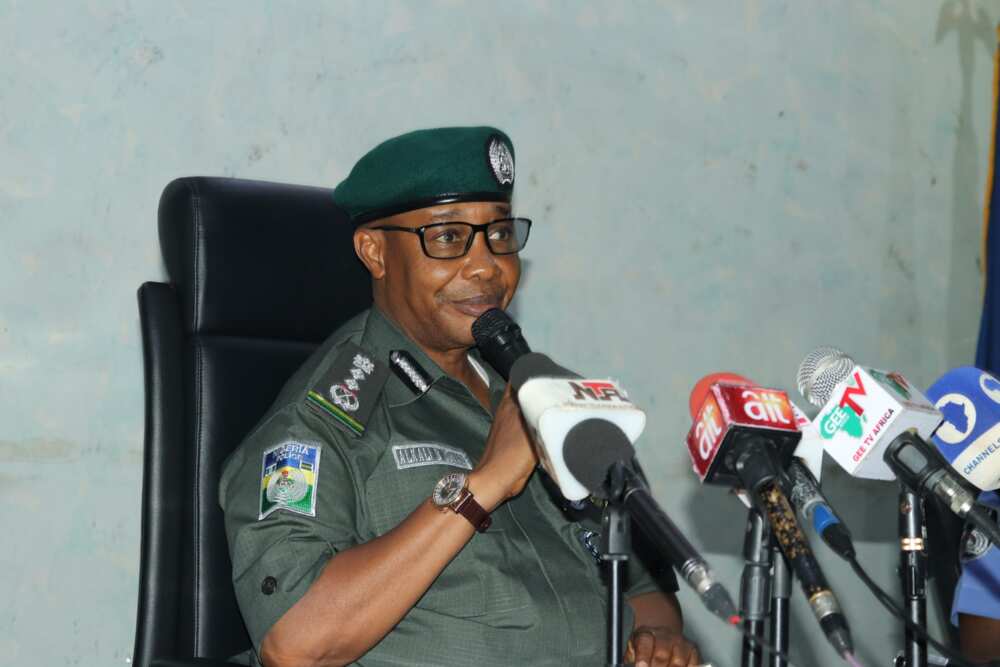 The team, led by a retired Inspector-General of the German Federal Police, Matthias Seeger, had earlier visited the force headquarters where they interacted with the Inspector-General of Police, Usman Baba.
Daily Trust newspaper quoted Seeger as saying:
"We offer to train for best practices. You have a great chance when you train 30,000 young women and men to become policemen, you take the best."
He stressed that there were many policing experts in Germany willing to support the reformation of the Nigeria police, adding that he was ready to engage with the authorities on the training modalities and start as soon as possible.
Nigerians react to the German government's offer
Some Nigerians have reacted to the news via social media.
Jackson Ainomhe wrote on Facebook:
"It's restructuring that the police need on the premise that their loyalty is not to the Inspector General and Mr. President but to all. Every Nigerian president is guilty of this.
"The military, police, and other paramilitary agencies owe their loyalty to the president which is not supposed to be so but to Nigerians. The police have the right to query and investigate Mr. President and others. Once this is established our police reformation is done."
Noble Akpan Johnson wrote:
"80% of NPF officers have never seen a rubber bullet and it is always in the annual budget of the Force."
Onwuka Chiedu Chris wrote:
"A confirmation that the world is aware that Nigerian police kill protesters with guns."
Lordson Royal Omo-Idahosa wrote:
"If they grant them a visa they will not return to Nigeria...German government be wise oh."
Bello Mustapha Bello wrote:
"Wow. This is an opportunity for some of the Nigerian police to escape this hell on earth."
Don't Give Any Policeman Your Phone at Checkpoint - Police Officer Tells Nigerians
Meanwhile, Bassey Ewah, a Deputy Commissioner of Police (DCP), has said no police officer has the right to check a civilian's phone unless there is a warrant for such.
He warned Nigerians to stop giving any officer their phones at checkpoints, saying if anyone is under investigation, the police will present a warrant.
According to DCP Ewah, after a warrant has been presented, the police can then demand the phone.
On his part, Delta state governor, Senator Ifeanyi Okowa, on Tuesday, November 16 urged the government at all levels to work hard to reduce unemployment and check rising insecurity in Nigeria.
Okowa made the call when he received participants of Course 44 of Armed Forces Command and Staff College, Jaji, at Government House, Asaba.
He said that the theme of this year's study, "Enhancing National Security Through Socio-economic Development'' was very apt considering the harm done to the economy by insecurity and poverty across the country.
Source: Legit.ng