FG Highlights 10 Discrepancies Found in Lagos EndSARS Panel Report
The Lekki Toll Gate incident of October 2020 is still a hot topic, especially after the Lagos panel submitted its findings recently
Reacting to the panel's report, the FG insisted that there were no bodies to prove a massacre occurred
Lai Mohammed, the county's information minister, who has maintained that nobody was killed at Lekki Toll Gate, picked holes in the submitted report
The federal government on Tuesday, November 23, rejected a report submitted by the Lagos state judicial panel of inquiry and restitution to investigate cases of police brutality.
Nigeria's minister for information, culture and tourism, Lai Mohammed, insisted that there was no massacre in Lekki Toll Gate.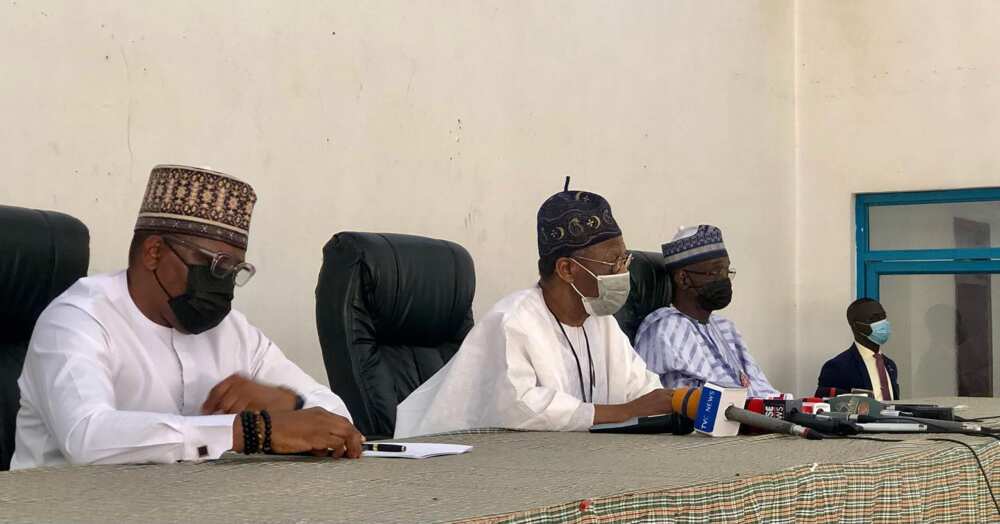 Mohammed who faulted the document submitted to the governor of Lagos state picked holes in the report.
List of discrepancies
Legit.ng in this piece lists the inconsistencies, discrepancies, and errors highlighted by the federal government.
Do you have a groundbreaking story you would like us to publish? Please reach us through info@corp.legit.ng!
1. The report threw away the testimony of ballistic experts who testified before it.
2. The panel deemed as credible the evidence of the Forensic Pathologist, Prof. John Obafunwa, that only three of the bodies on which post mortem were conducted were from Lekki and only one had gunshot injury went on to contradict itself by saying nine persons died of gunshot wounds.
3. The man whose evidence was found to be crucial by the panel never testified in person. Rather, the video of his 'testimony' was played by someone else.
4. The panel said trucks with brushes underneath were brought to the Lekki Toll Gate in the morning of October 21, 2020, to clean up bloodstains and other evidence, but still found bullet casings at the same site when it visited on October 30, 2020.
It also said soldiers picked up bullet casings from Lekki Toll Gate on the night of October 20th 2020, yet claimed that policemen came to the same spot to pick the same bullet casings on October 21, 2020.
5. The panel was silent on the family members of those reportedly killed, merely insinuating they were afraid to testify.
6. How did a man who reported seeing the lifeless body of his brother himself end up being on the list of the panel's deceased persons?
7. The judicial panel listed names of some casualties of the Lekki Toll Gate incident as numbers.
8. The panel concocted a ''massacre in context'' as a euphemism for ''massacre''.
9. The report never mentioned cases of police personnel who were brutally murdered or the massive destruction of police stations, vehicles, e.t.c during the Endsars protest.
10. The report didn't make any recommendation on the innocent people whose businesses were attacked and destroyed during the protest in Lagos.
US government reacts to the submission of the Lagos panel report
Earlier, Legit.ng reported that the US government had welcomed the submission of the panel's report to the Lagos state governor.
The US said it looks forward to a response by the Lagos state on the new report by the panel.
For the US, the Lagos state government's response to the panel's report is part of a process that showcases an important mechanism for accountability with regards to the event that took place during the #ENDSARS protests.
Source: Legit