Oyo Muslims Ready for Legal Battle over Hijab Controversy
Ibadan, Oyo state- Muslim Community of Oyo State has threatened to take legal actions against schools that prevent willing Muslims from adorning hijab.
Legit.ng's regional reporter in Ibadan, Ridwan Kolawole, reports that while speaking for the Community in Ibadan at a Unity Summit, the chairman, Alhajj Kunle Sanni described it as unwarranted depriving Muslim schoolgirls of wearing hijab.
The Summit drew representatives from different parts of Oyo state who came to deliberate on the unity of the Ummah in the state.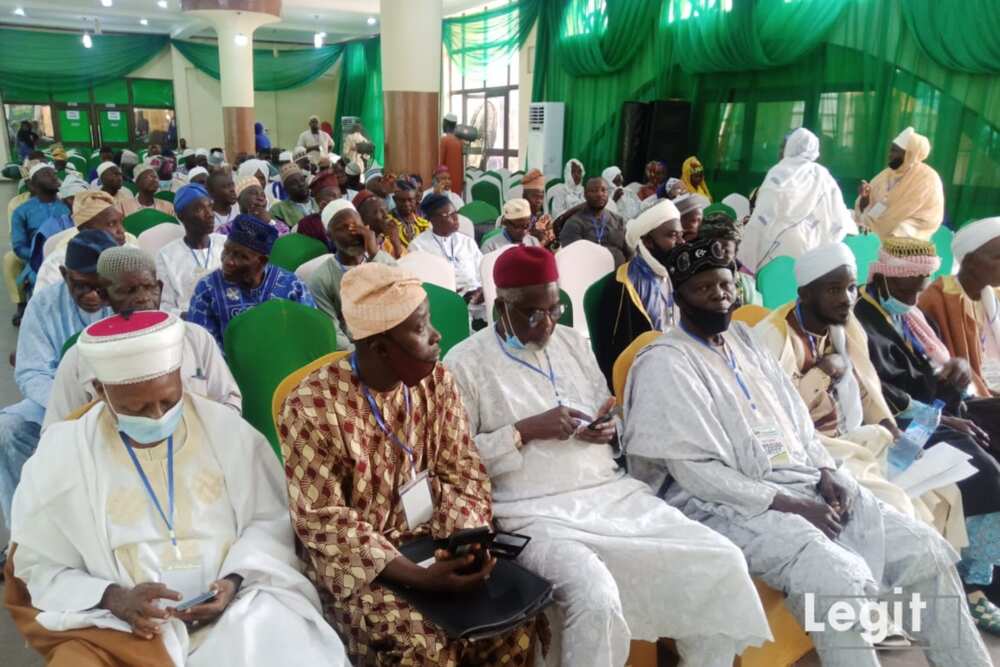 The Muslim Community of Oyo State (MUSCOYS), has vowed to drag to court Government-owned schools that prevent female Muslim students from wearing in the state.
The Chairman of MUSCOYS, Alhaji Is'haq Kunle Sanni stated this at a Unity summit held at the University of Ibadan Central Mosque Conference Centre.
Harassment of Muslim girls and women
Alhajji Kunle Sanni was speaking against the backdrop of cases of harassment of Muslim girls and women who wear hijab in basic schools, secondary and higher institutions of learning.
Alhaji Sanni said exploring the legal options will let the issue be resolved once and for all.
According to Alhaji Sanni, "What section 32:2 of the constitution says 'is that a Muslim is entitled not only to freedom of religion but freedom to manifest his religion' The use of the Hijab is a manifestation of Islam."
The defence of Muslim women's rights
The Muslim leader of the community was optimistic about getting a judgement in defence of Muslim women's rights.
He condemned what he tagged persecution of Muslim women in hijab in Oyo State Schools.
"With this persecution of our children in the so-called Christian schools where they even remove Hijab from their head we are no more comfortable with the situation."
Speaking at the event, the Chief Host and Aare Musulumi of Yorubaland, Edo and Delta, Alhaji Daud Akinola said it has become imperative for the Muslims to look inwards for the solution to a myriad of challenges facing the Ummah in Oyo State and beyond.
Strategies by other speakers
Other speakers at the event hinged on unity strategies coordination and proper upbringing of the children and empowerment of women.
Chief Mustafa Bayo Oyero in his goodwill message, said unity is a paramount and veritable instrument to development which Muslims urgently need at the moment.
Chief Oyero who is the Chairman of the Ibadan Muslim Community said:
"What the chairman, Alhaji Kunle Sanni said was the experience of over 40 years which has not changed.
"Muslims in power used Islam to nurture their own political ambition and empower their own selves."
He added that:
"Let us assume there is no hijab issue, let us assume we get all we need from the government. It is time we have developmental agenda to develop the Ummah. If we have Islamic Centre, it will help foster our unity. In shaa Allah, in the next 12 months, our chairman will have something to support."
Attitude of parents
Speaking at the event, the Ameerah of FOMWAN in Oyo state, Dr Bushrah Oloso decried the attitude of some parents who abandon their children in terms of providing them with education and giving them what they need.
Dr Oloso who shared her organisation's experiences in Oyo state lamented that some parents would rather marry off their underage and subject their wives to needed empowerment.
In his lecture, Sheikh Habeebullah Buhari enjoined the Ummah to hold on to the rope of Allah and shun tendencies capable of igniting conflict among the Muslims.
He said:
"If you truly want unity, avoid fighting each other. If you don't listen to commandments, you will lose out. Patience is imperative as this will enhance harmony and development."
Islamic Group, MURIC dismisses allegation of Christianisation levelled against Osinbajo
Meanwhile, Legit.ng had earlier reported that the Muslim Rights Concern (MURIC), has waded into the controversy surrounding the recent allegation of Christianisation levelled against Vice President Yemi Osinbajo.
The group related what it knows about the Vice President and insists on truth, fairness, and objectivity.
The clarification was due to a circulated opinion piece suggesting that the vice president was not accommodating people of other faith in his office.
Source: Legit.ng