FG Finally Identifies Sunday Igboho's Sponsors, Links Him to Boko Haram's Financier Jailed in UAE
The federal government has revealed the details of the findings of a committee that investigated Sunday Igboho, the Yoruba Nation agitator
AGF Abubakar Malami said investigations revealed that Igboho was being mainly financed by a member of the National Assembly
The AGF added that the investigations also found some transactions between Igboho's company and a company that is being investigated for terrorism financing
FCT, Abuja - The federal government says it has uncovered the financiers of the self-acclaimed activist and Yoruba Nation agitator, Sunday Adeyemo, better known as Sunday Igboho.
Abubakar Malami (SAN), the Attorney General of the Federation (AGF) and minister of justice disclosed this at a press conference in Abuja on Friday, October 22, Daily Trust reported.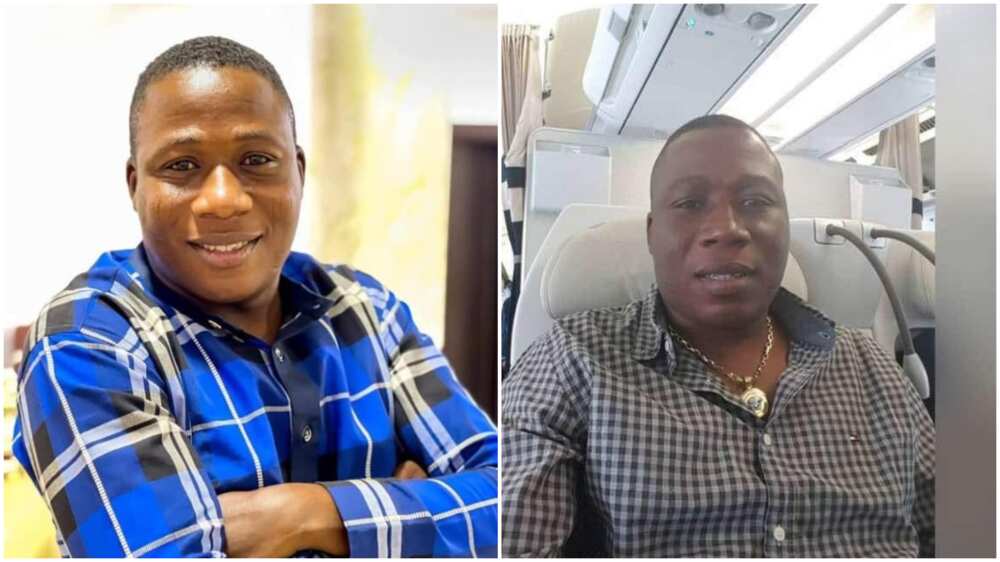 The AGF explained that a committee set up by the federal government unravelled how Igboho got monies from 43 bank accounts across nine banks.
He said:
"The federal government has received the report on financers of Adeniyi Sunday Adeyemo a.k.a Sunday Igboho. The report revealed that Sunday Igboho is a Director and signatory to Adesun International Concept Limited registered on 23rd April, 2010.
"Adesun International Concept Limited also has Oladele Oyetunji and Aderopo Adeyemo as Directors. Sunday Igboho is linked to 43 bank accounts in 9 banks."
Sunday Igboho's major financier
According to Malami, Igboho's major financier has been found to be a federal lawmaker in the National Assembly.
He further gave details about how Igboho received money from his sponsors through the bank accounts of his company.
The AGF said:
"The major financier of the fugitive and separatists was found to be a Federal Law Maker in the National Assembly. A total sum of ONE HUNDRED AND TWENTY-SEVEN MILLION, ONE AND FORTY-FIVE THOUSAND NAIRA ONLY (N127, 145,000.00) was received by Igboho from his financiers between 22nd October, 2013 and 28th September, 2020 through Adesun International Concept Ltd accounts.
"A total sum of TWO HUNDRED AND SEVENTY-THREE MILLION, ONE HUNDRED AND NINETY-EIGHT THOUSAND, TWO HUNDRED NAIRA ONLY (N273,198,200.00) transaction outflows was recorded from Sunday Igboho's account between 15th March, 2013 and 11 the March, 2021."
Connection with suspected terrorism sponsors
Malami further stated that investigations reveal that Igboho's company, Adesun International Concept Ltd, transferred N12, 750,000 (N12.7m) to Abbal Bako & Sons, The Nation stated.
The AGF noted that "Abbal Bako & Sons and its promoter Abdullahi Umar Usman are suspects in the on-going Joint Terrorist Financing Investigation."
He added that "Abdullahi Umar Usman is by way of financial transaction connected to SURAJO ABUBAKAR MUHAMMAD (who was sentenced to life imprisonment in UAE on charges of financing terrorism [Boko Haram])."
According to Malami, the investigation shows the connection between separatists' agitation, terrorism financing and disruptions of peace in the country.
Member of National Assembly sponsoring Sunday Igboho, Nnamdi Kanu - Buhari
Meanwhile, before the AGF's statement, President Muhammadu Buhari had earlier made the same claim in his Independence Day speech.
He said:
"The recent arrests of Nnamdi Kanu and Sunday Adeyemo, and the ongoing investigations being conducted have revealed certain high-profile financiers behind these individuals.
"We are vigorously pursuing these financiers including one identified as a serving member of the National Assembly."
Yoruba Nation: Don't hold any protest, rally in my name Now, Sunday Igboho warns supporters
Meanwhile, the embattled Yoruba Nation agitator, Igboho, has warned his supporters against staging demonstrations in his name "for the time being."
The 48-year-old agitator is currently at Prison Civile de Cotonou — Cotonou Civil Prison.
Legit.ng gathered that Igboho's counsel, Yomi Aliyu, claimed in a statement on Thursday, September 16, said Igboho also asked his supporters to ignore any message to the contrary.
Source: Legit.ng