"Ipeleng wasn't a Rebound, I genuinely Liked Her": BBTitan's Miracle talks about getting turned down by Khosi
Former housemate of the Big Brother Titan (BBTitan) show, Miracle OP, finally talks about his love escapades during his time in Biggie's house
During a recent conversation with Legit.ng Miracle revealed who between Ipeleng and Khosi his heart belongs to and why he tried to spoil Yemi Cregx's game in the house
Also, during our chat, Miracle disclosed why he is rooting for Khosi to emerge as the winner of the show and described her as the ultimate player
One of Nigeria's representatives at the Big Brother Titan (BBTitan) reality TV game show, Miracle OP, recently told it all about his experience in Biggie's house and why his relationship with Khosi didn't work out and why he became attracted to Ipeleng.
He shared during an interview with Legit.ng, why he thinks of Khosi and Ipeleng. And why he believes nobody knows how to play the BBTitan games show better Khosi.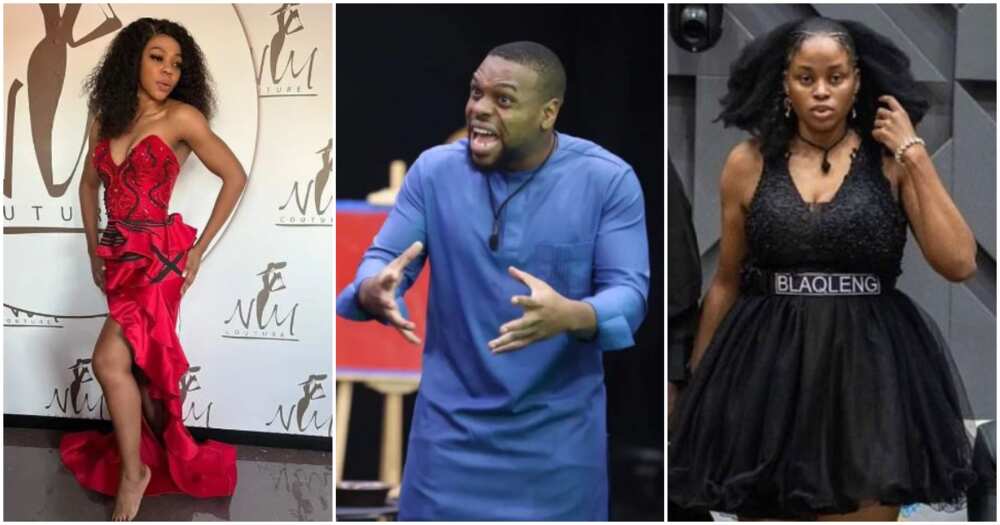 Miracle also touched on his friction with Yemi Cregx and why he thinks his playboy game plan wasn't smart or, instead, put in his words, "solid enough".
When we asked Miracle what he thinks of Ipeleng and if she was a rebound to Khosi, he said;
"Ipeleng wasn't a rebound, she's a very attractive woman, not just physically alone; I was more attracted to her intelligence."
He continued clarifying his position with Khosi.
"Khosi and I would never happen, but we have a bond that can't be broken. We were paired together and constantly put up for eviction for nine weeks. We went through that together there was no way we wouldn't share a bond or some connection. For Ipeleng, I would see how things would go outside the house."
Miracle also talked about how he felt when Ipeleng didn't use her veto to save him and make him a finalist. He said;
"I am not angry; people let emotions cloud their judgement I think what Ipeleng did was smart. She picked Ebubu because she thinks he is less of a competition to her. She was playing the game. Though if it were me, I wouldn't have picked Ebubu."
"You can't play a player" - Miracle talks about Khosi and Yemi Cregx's relationship
When we asked Miracle if he thinks Yemi Cregx played Khosi and used her for the game, he said;
"I don't think Yemi played khosi, you can't play a player. I actually think Khosi played Yemi; Yemi came trying to be a playboy but his game wasn't solid enough. Plus I didn't vibe with that because of how I felt about khosi. I was emotionally invested in khosi, yemi wasn't. Also, I don't Yemi was the right guy for Khosi."
"I feel honoured and graced for the opportunity the platform provides" - Miracle says
Miracle also spoke about the opportunity the show presented him and how much he cherished every moment he spent in Biggie's house.
"I feel honoured, blessed and graced with the opportunity the platform has availed me. It was a blast. I have no regret at all because I enjoyed every moment I spent in the house. And I can't wait to explore what is to come outside the show, including going into acting and many other things."
Miracle also touched on why he loves and respects women a lot, noting that he was raised by a single mum, which significantly impacted his life. The Nigerian reality TV star also revealed during the Interview who his top pick was to win the BBTitan 2023 show. He noted that Khosi was his favourite choice to win.
BBTitan's Nana talks about getting depressed while in Biggie's house
Meanwhile, Legit.ng recalls reporting that Nana, one of the Big Brother Titans housemates evicted from the show last Sunday, March 19, 2023, recently revealed her biggest regret while in Biggie's house.
She talked about her sexuality during her chat with Legit.ng, as she put to bed the narrative that she is homosexual.
The reality TV star's sexuality was questioned after she was caught on camera kissing another female housemate, Tsatsi.
Source: Legit.ng