BBTitans: Chaos in Biggie's House As Yemi and Miracle Almost Get Physical Because of Khosi
The truth or dare game played by the BBTitans housemates almost led to a physical fight, thanks to intervention
Khosi was about to explain her situation with Miracle when Yemi stopped her, which got Miracle angry
Yemi refused to tolerate disrespect which led to an almost physical brawl that the rest of the housemates had to separate them
The Big Brother Titans show has started to deliver the much needed drama, and netizens are having fun with the chaos.
South African housemate Khosi has two men Yemi and Miracle on her hands and during their truth or dare game, she was asked to explain what exactly she is doing with Miracle.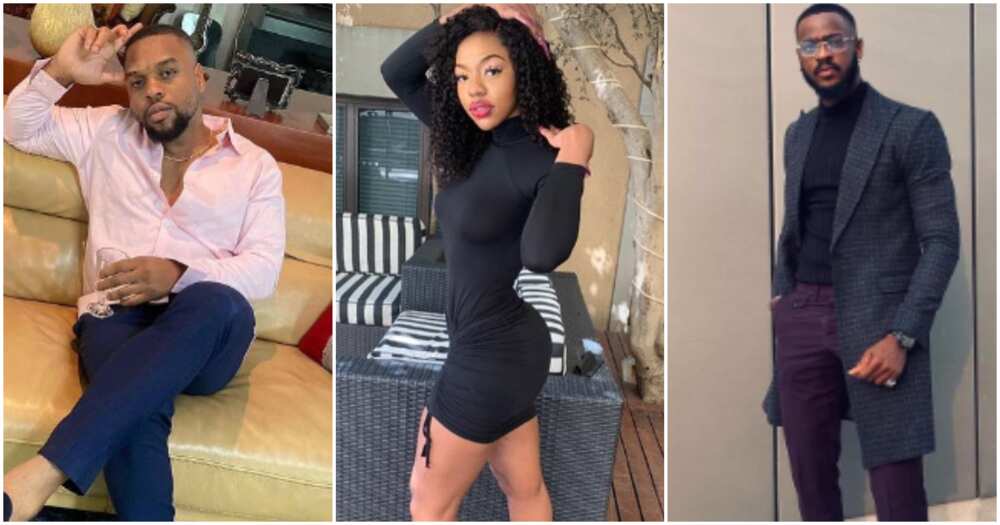 Yemi who seems to be the most favoured of the two stopped Khosi from explaining and Miracle demanded that she did regardless, telling Yemi to shut up.
The disrespect didn't go down well with Yemi who got up to attack Miracle, a physical fight was eventually avoided because the other housemates rushed to intervene.
Watch the clip below:
Miracle says he no longer has feelings for Khosi
When the atmosphere became less tense, Miracle apologised to Yemi for disrespecting him, and affirmed that at that moment, he no longer has feelings for Khosi.
Watch video below:
Reactions to the fight
ellen_daterush2022:
"Miracle saw the game was centered around Yemi and Khosi and he said , lemme get in there"
megxquisite_collections:
"I love miracle ooo, kai, this game is complicated, this dude knows how to buy fans, he understands how the human mind works... Kai., Na this week big brother start."
enny_berry22:
"It's the way khosi thinks yemi will be loyal after this."
evlyn_sylvester:
"I respect this miracle sha. Takes a great guy to apologize."
ellen_daterush2022:
"Miracle looks like he planned this, is big brother scripted? Cos I don't understand."
dr_posh:
"No be everytime 2 women dey fight for man, make 2 men fight for woman make we watch...."
Blue Aiva confesses feelings for Yemi
After making her fellow South African contestant Khosi look insecure, Blue Aiva in a video confessed to liking her Nigerian colleague Yemi to an extent.
Yemi has somehow managed to put himself between the two ladies even though he says he is with Khosi.
In a video sighted online, another housemate asked Blue Aiva if she likes Yemi to the point of getting jealous a little when she sees him with Khosi.
Source: Legit.ng