Peter Obi: "You Can't Fire Who You Did Not Hire", Okon Lagos Says, Begs Nigerians to Vote Wisely
Popular Nigerian actor Okon Lagos outlined his scrutiny on the chances Nigerians will have if Peter Obi wins the forthcoming elections
The movie merchant emphasised the power citizens will have if Obi's government eventually does not favour them
Okon disclosed that Nigerians can easily decide to impeach him, knowing well they were the ones who put him in power
Famous Nigerian actor and comedian Okon Lagos has given his deliberate thoughts on reasons why Nigerians should elect Peter Obi in the forthcoming general elections.
The comic merchant gave an analytical view as to how Nigerians would have a better chance if they thumb-printed for the Labour Party presidential candidate in the forthcoming elections.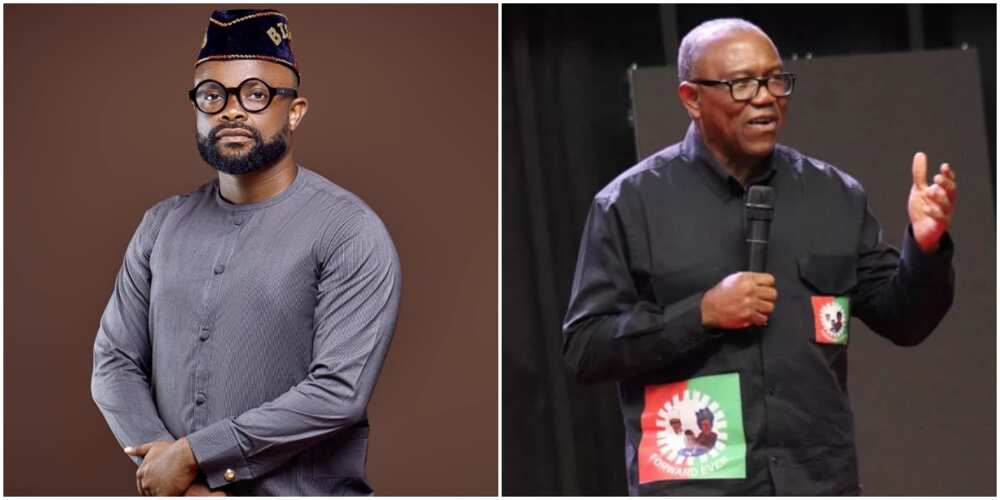 In his statement on Instagram, Okon argued that only a fool would hire someone they could not fire.
Okon pleaded with his countrymen to rethink and consider the universal fact that one cannot fire someone they did not hire because it only works with the former.
"Nigerians, please hire who you can fire. It is easier to fire Obi in the very unlikely event of bad performance. As for the other two, if they enter, E don be o! Another eight wasted years of suffering like this one now! 25th is just here! Have sense!"
See post below
Nigerians react to Okon Lagos' statement
charlesinojie:
"I RECEIVE SENSE: "
excitementjasonjordan:
"Peter obi is my first and last choice …"
miracleseed4flattummy:
"Peter Obi if he fails to perform is one we can ask to step down and he will because he has integrity."
pule_tau:
"I am a South African but also wish to urge Nigerians to vote for change. They should let old people enjoy their oldage pension in peace and bring in people who will move with speed in effecting changes that the Nation desires. Nigeria is a giant of Africa. How they vote will paint the future they desire."
olive_etukudo_:
"Brother is this statement complimentary. Please we will not fire him because we know the system we are in. We will understand and support him because certainly he wishes us well. Remember that's how Jonathan was frustrated. We are now wiser. ❤️"
realcaroline0:
"Peter obi is my entire family member, first and the last. No going back.❤️"
Court gives verdict on Peter Obi's candidacy in 2023 election
In another report, an appeal court sitting in Abuja dismissed a lawsuit seeking to disqualify Obi, as the LP presidential candidate in the 2023 election.
The president of the court, Justice Monica Dongban-Mensan, dismissed the suit which was filed by the Allied Peoples Movement (APM).
The APM's appeal was dismissed over lack of merit.
Source: Legit.ng