"My Kids O": Actor Charles Okocha Trembles in Fear During Flight Turbulence, Video Stirs Hilarious Reactions
Actor Charles Okocha has shared a video of him reacting in an unexpected way on board a plane during a flight turbulence
The actor looked all scared as he repeatedly did the cross sign as the only thing on his mind was his kids
While it was a scary moment for the actor, some of his colleagues as well as fans laughed over it as they shared funny reactions
Nollywood actor Charles Okocha, who is known for forming 'hard man' in movies has shared the moment he got scared during flight turbulence.
In a video he shared on Instagram, Charles was seen looking scared while shaking his legs in a way that showed his fear.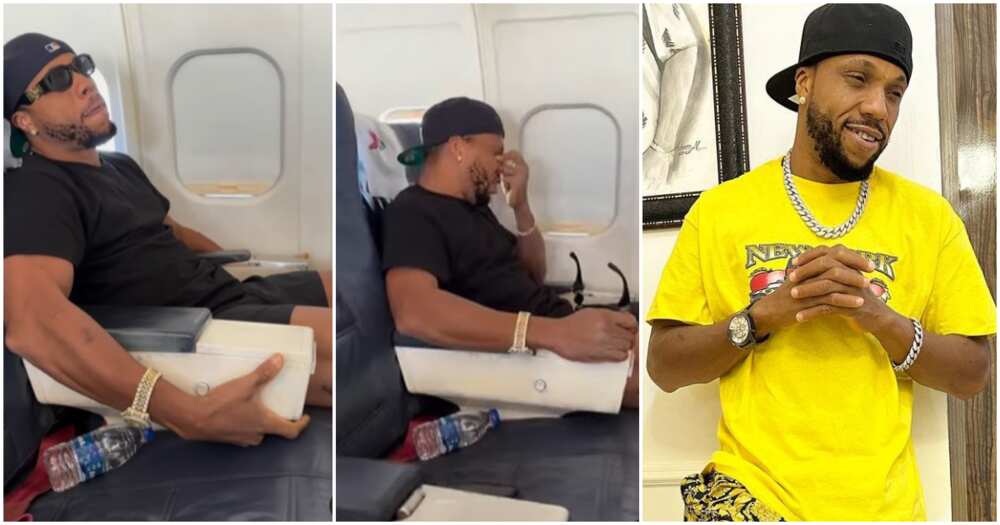 The movie star was also seen fearfully making the sign of the cross as the only thing on his mind was his children.
Sharing the video, Charles wrote:
"My kids oooooooo."
See the video below:
Fans react to video of Charles Okocha looking scared
See some of the reactions below:
iambyno:
"Turbulence will Humble U...JayZ won't be Proud of this Footage."
pinky_prada:
"My liver Dey fail sometimes for Nigerian flight."
marshall0071:
"Nooo Mehn…What would JayZ say Mehn….That's not how we do in Californayeaa."
sunniesnaresglobal:
"I no like this thing at all ."
lala_pzzy:
"Lmao I came to look for todays motivation and this is what I get lmao my guy!! Much love n respec tho!! ."
alexmagash:
"Comon bro.. how would Jay z feel that you are scared? OG ."
getrich4urspeakers:
"Celebrity and wahala, if u Dey fear turbulence the camera man non Dey fear, Abi non be human being dey video u, all for the gram."
iambelemz:
"Thank God am not alone."
naija_lebanese:
"Jayz isn't scared of turbulence... why are you? Lol."
Charles Okocha visits his daughter at boarding school
Legit.ng reported that Charles Okocha visited his daughter's school where he created a scene.
In a video sighted online, the movie star showed up at his daughter's school to see her, and the young girl, followed by her friends, shyly ran to meet him.
Okocha embraced his child and covered her in kisses as he gushed over her in his usual 'jargon' manner.
Source: Legit.ng