Netizens Amused as Bride Battles Breathlessness in Tight Corset Wedding Dress: "She Swallowed Her Pride"
A video of a Ghanaian bride struggling to breathe in a tight corset dress has gone viral on social media, prompting reactions from netizens
In the video, the beautiful bride is seen posing for some photos with her beau, looking uncomfortable in the dress
Meanwhile, a seasoned fashion designer shared some important tips to consider before making a corset dress
While corset dresses are a popular choice for Ghanaian brides, a viral video of a bride from the Black Star nation has left social media users buzzing with amusement.
In the video, the beautiful bride is dressed in a bedazzled gold corset dress that perfectly cinched her body.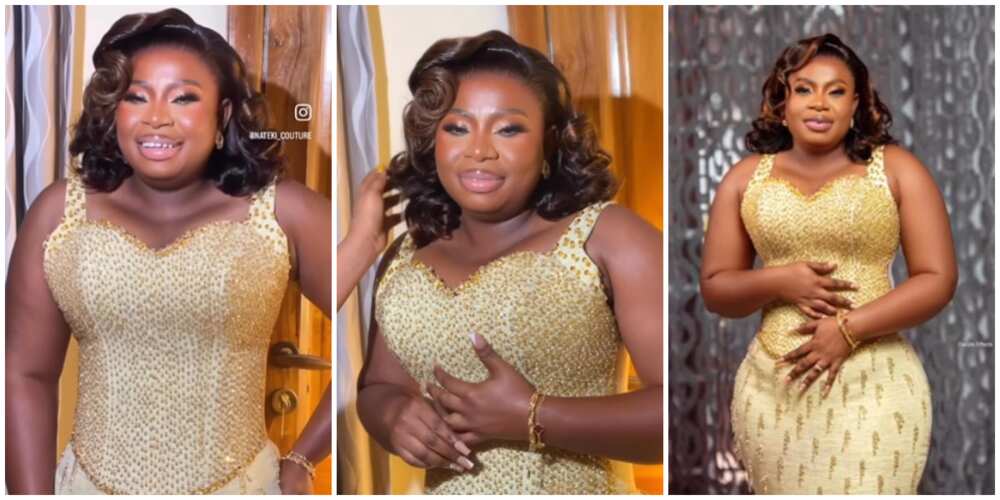 As beautiful as she looked, the bride didn't seem comfortable in the tight dress.
The video highlights the pressure brides face to conform to traditional beauty standards, which often prioritize aesthetics over comfort and practicality.
Check out the video below:
Social media users react to bride in tight corset dress
dooshimaingya:
"It's the smile for me."
belindaoma:
"If CORSET hear GHANA and NIGERIA for in next life, e go run pass cheetah."
ekwitous:
"Who dey breathe? Definitely Not the bride."
cherry25634:
"Breathe baby breathe."
just_prudence_:
"When you ask for a "Breathtaking dress", and the tailor takes your word for it."
crazeclown:
"She swallowed her pride."
edos_artistry:
"She resemble who get pride as her shoulders come dey heavenly places."
sinachpackaging:
"It's the way women go through this level of discomfort just to look snatched...I just can't, let me carry my shape in peace,i can't maltreat myself like this.IT CAN NEVER BE ME!"
Asoebi corner: Things to consider in order to perfectly slay a corset dress
The trend of women in corset dresses has since sparked a conversation about the importance of choosing wedding attire that allows for ease of movement and breathability.
Due to women's fascination with the hourglass figure, which comprises a tiny waist and broader hips, corset styles have become the go-to for many fashion lovers.
Nigerian designer, Penchu Swaddles, has shared some tips that will help you slay in a corset effortlessly and comfortably.
Source: Legit.ng