Sisterly Love: North and Chicago West Style Each Other's Edges in Adorable New Video
North West recently shared a video in which she and her little sister, Chicago, got to style each other's edges
In the video, Chicago works on her big sister's edges amidst words of encouragement after which North styles her own
The video which has since gone viral on social media has left many internet users impressed with their sisterly bond
The first child of Kanye West and Kim Kardashian, North, recently showed another side to her that has left many people impressed.
A video of the 9-year-old and her little sister, Chicago, has gone viral on social media over the sisterly bond witnessed.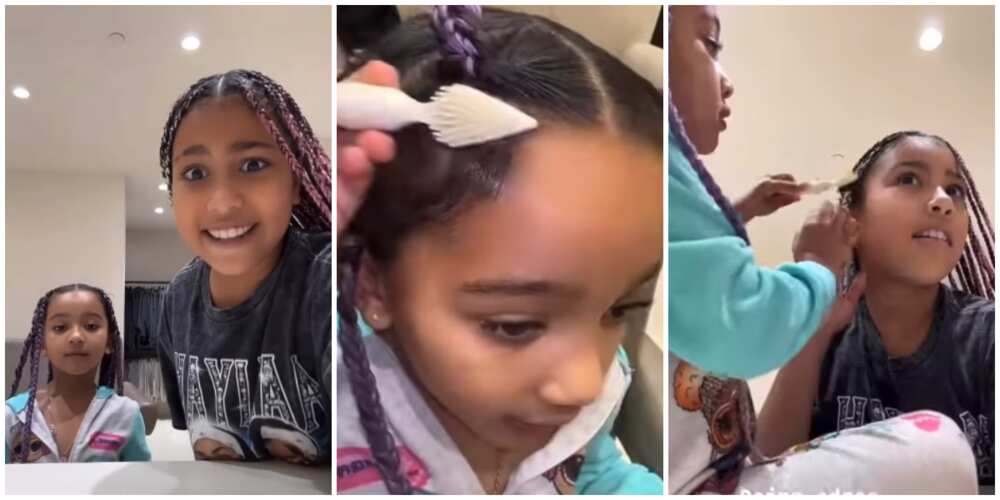 In the video which was recorded by North, the sisters work on each other's edges with Chicago going first.
Despite laying the edges in a wonky manner, North compliments Chicago's work like a big sister would.
After which, she works on the 5-year-old's edges as well.
Check out the video below:
Internet users react to video of North and Chicago West
The video which has since gone viral left many people impressed with the sisters' interaction and how patient North was with Chicago.
Check out some comments below:
la_doosh:
"Sooooo cute ❤️❤️❤️ Chicago is going to be definitely stylish."
seseafrique_:
"So adorable."
bjrnck:
"North is a good big sis."
mizz_budge:
"The patience for one another comes directly from how Kim talks and interacts with her children. All the Kardashian sisters are so patient with their kids. The kids are emulating what they live in their everyday lives. Love it so much. ❤️"
starflow:
"Their parents doing a good job teaching them to be there for each other edges. It starts at home."
stoney_love22:
"I absolutely love to see this side of Northi ! Often times I feel like the media likes to show her acting like " spoiled brat" but I absolutely love this and you can tell the way Chi move her sister's head like I don't know how to put it in the right words, but you can just tell that there is a soft, gentle love that they see and know, and I absolutely love how she was encouraging her and complementing her and just giving her that approval most little sis/bro wants from the older sibling. ❤️"
livinglavidalashel:
"This is so precious watching them help each other most siblings that age be fighting."
ayumi.lashley:
"North is such a great big sister ❤️"
Reactions as fashionista shows off her mullet hairstyle in viral video
Valentine's Day is in a couple of weeks but it appears some people are already gearing up for the special day.
A video has gone viral on social media in which a young lady is posing for the camera after getting her hair done.
While mullets are making a comeback in the western world, it isn't exactly a popular hairstyle choice in Nigeria.
Source: Legit.ng