DJ Azonto Explains Why He Named His Children After Cars Brands Corolla And Benz: "My First Bitter Experience"
Ghanaian Afrobeat artiste Mark Kwesi Arthur, popularly known as DJ Azonto, has revealed that he named his children after cars
DJ Azonto said that he has two children who are named Corolla and Benz due to some experiences, he had with the two car brands
He explained that he named his first daughter Corolla because, on the day she was born, he lost his Corolla, which he liked a lot
These came to light when DJ Azonto took his turn on Wheels On YEN, YEN.com.gh's new series on celebrities' cars
Ghanaian Afrobeat singer Mark Kwesi Arthur, popularly known as DJ Azonto, said he named his first two children after cars.
The Fa No Fom hitmaker said his car was stolen on the day his wife delivered his first child, making him name his first child after the vehicle.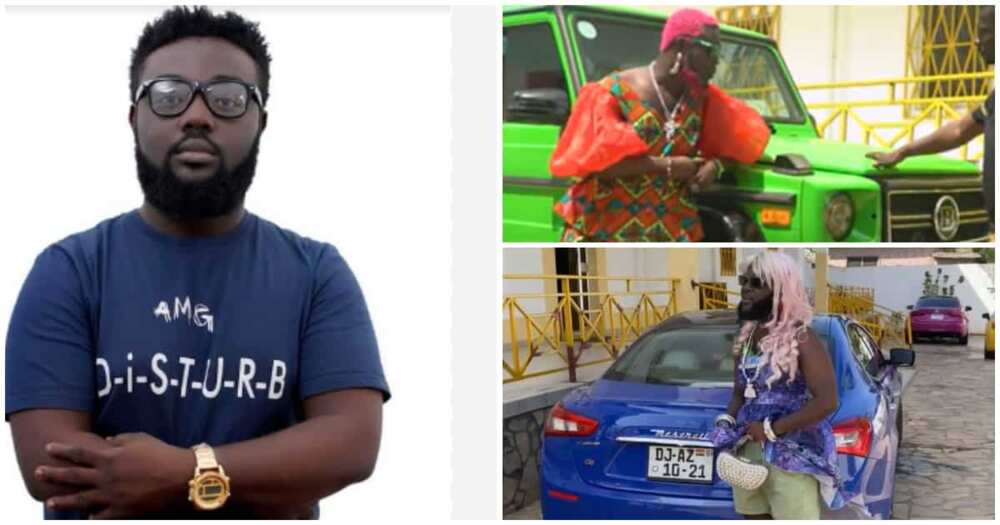 In an exclusive interview with the Ghanaian award-winning artiste, he stated that he had always loved cars, but his most-loved car got stolen on the day his daughter was born, which inspired him to name her after his most-loved car, a Corolla S.
The artiste, who currently owns a fleet of luxurious cars, including a Maserati, said that about ten years ago, he bought his first car, a Geo Prizm and quickly changed to a Corolla S, which was the "hottest cake" in those times, just like his current Maserati.
PAY ATTENTION: Share your outstanding story with our editors! Please reach us through info@corp.legit.ng!
DJ Azonto's car gets stolen
However, on the day his wife delivered his first daughter, his car was stolen, and he had to pursue the thief to no avail.
When my wife was giving birth, my Corolla S was stolen, this was my first bitter experience. We followed the case for some time and then decided to forget about it. So because of that, I named my daughter Corolla, DJ Azonto stated.
He added that his love for the Benz car brand inspired him to name his second child after him. Azonto stated that his children bear the names Corolla and Benz Arthur, and he had already planned a name for his third child.
Some time ago, my wife was in the hospital, and I needed money to take care of her, I called my friend Yeboah for his help, and he loaned me GH¢400. I could not pay on time, I was in the hospital for over a month, and when I could not pay back, he told me that we did not go by the agreement we talked about, so I lost my Benz C400, Azonto stated.
The generous artiste said that some experiences with his cars are experiences he would never forget, and a good example is his experience with his Corolla, which inspired his beautiful daughter's name.
Watch DJ Azonto's video about his children's names below
What is Wheels On YEN?
What is Wheels On YEN? Wheels On YEN is the latest editorial project from YEN.com.gh dedicated to Ghanaian celebrities' lifestyles.
Centred around cars (vehicles), Wheels On YEN gives celebrities an opportunity to share their preferences in cars and reasons for choosing what they drive.
DJ Cuppy shares photo of cats that disturbs her every night
Meanwhile, Legit.ng reported that Cuppy went online to complain about a cat that has been disturbing her.
On her official Instagram page, via her IG stories, the celebrity disk jockey shared a photo of the cat on her car and noted that it disturbs her every night.
According to Cuppy, the feline is an enemy of progress because it keeps at it every single night.
Source: YEN.com.gh