Mariah Carey Mourns Tina Turner With Moving Tribute: "Her Music Will Continue To Inspire Generations"
Mariah Carey has added to the long list of celebrities and fans who are mourning Tina Turner's death
Tina Turner's representative confirmed that the star passed away at her home in Switzerland, aged 83
Reacting to the iconic singer's death, Mariah Carey said her music will continue to inspire generations to come
Mariah Carey has joined the world in mourning legendary singer and performer Tina Turner's death. Stars like Oprah Winfrey, Tyler Perry, Barack Obama and Beyoncé Knowles, have released statements to mourn Tina Turner.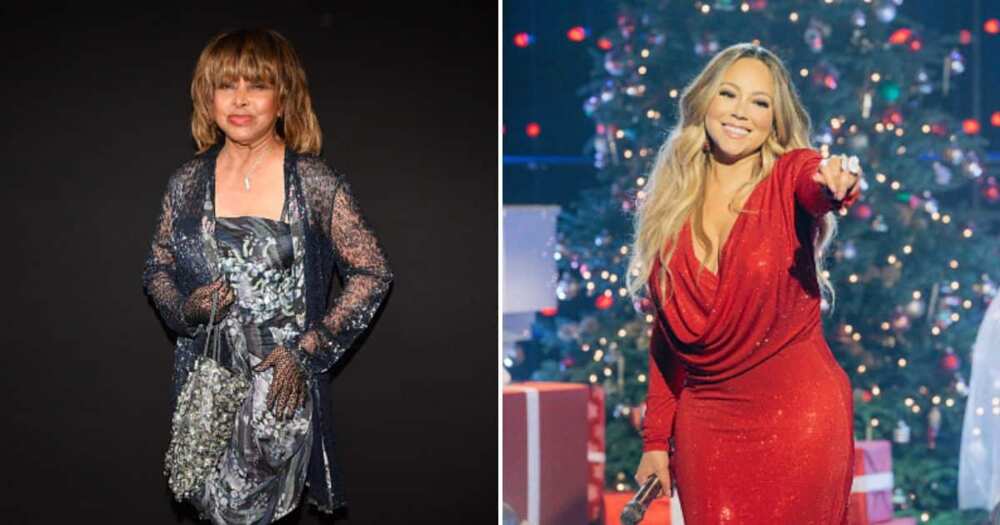 Mariah Carey pens touching tribute following Tina Turner's death
The world is still trying to come to terms with Tina Turner's death. Undoubtedly one of the greatest performers of our time, the star is being mourned by fans and fellow celebrities.
TMZ reported that the We Belong Together singer took to her social media pages to share a picture of the late Queen of Rock 'n' Roll and a touching tribute.
Mariah said words like icon superstar and legendary are often used where they do not fit, but Tina Turner embodied them all. She also added that the I Don't Wanna Lose You singer was an inspiration to many, and her music will continue to inspire the world. She wrote:
"The words legendary, iconic, diva, and superstar are often overused and yet Tina Turner embodies them all and so many more - an incredible performer, musician and trailblazer.
"To me, she will always be a survivor and an inspiration to women everywhere. Her music will continue to inspire generations to come. Rest in Peace, Queen ❤️."
Mariah Carey's followers join their fav in mourning Tina Turner's death
Social media users were moved by Mariah Carey's touching tribute. Fans said the star's death will impact the music industry.
@MarcosQuintal said:
"Beautiful words Mariah! Tina will be remembered for eternity."
@RIH_ISSUE added:
"Beautifully written Mariah."
@England20124 commented:
"She was awesome. I love her music. "
@Michele808 noted:
"Beautiful words from one Queen to another.. Her music will always live on.. Rest in Peace to the legend, Ms. Turner✨"
Ophrah Winfrey mourns Tina Turner
Celebrated TV show host Oprah Winfrey paid a heartfelt tribute to music legend Tina Turner after she passed on at her home near Zurich, Switzerland.
Oprah shared a throwback video that showcased her electric connection to the iconic Turner.
media mogul, known for her deep admiration of the legendary singer, posted the touching clip on her Instagram account, bringing back memories from the singer's Wildest Dreams Tour.
Source: Briefly.co.za